China's Slowdown Doesn't Look So Bad in Data From Alibaba, Baidu
Baidu searches show smaller companies seeing more interest

UnionPay gauge of luxury-hotel spending climbs to a record
Data culled from China's most-used search engine, biggest online outlet and main bank-card network are signaling stabilization in the nation's economy.
Three alternative indicators suggest less of a deceleration in the world's second-largest economy, and reduced risk of a hard landing. That was also the conclusion of a private survey released this week showing little danger of economic collapse after the stock-market plunge and currency devaluation.
"The economy is still stable and we don't see much volatility in consumption," said Zhao Meng, Shanghai-based founder of UnionPay Advisors Co., which tracks bank-card spending data in real time to measure consumption patterns across various industries. "People still have the buying power."
With China's economy set to be a key focus of his first state visit to the U.S. this week, President Xi Jinping told the Wall Street Journal his government will emphasize "developing an innovation and consumption-driven economy" and stick with reforms despite a slowdown. The Shanghai Composite Index rose 0.9 percent Tuesday to close at 3,185.62, paring its loss since June 12 to 38 percent.
* Rebounds at smaller businesses
Online interest in small- and medium-sized enterprises is seeing a rebound in September after recently falling to the lowest level since 2010, according to a preliminary reading of an index developed by Beijing-based Baidu Inc., which handles more than 6 billion searches a day.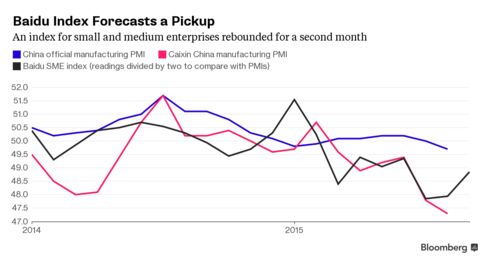 Baidu tracks how often users click links to smaller companies. "Internet users' search requests can reflect the market demand, and indicate the state of the businesses," the company said in an e-mailed response to Bloomberg News.
The preliminary reading is released on the 18th of each month, usually earlier than the the flash reading of the Caixin China Manufacturing Purchasing Managers' Index, which is often the first economic indicator released for each month.
* Rising prices in Alibaba shopping carts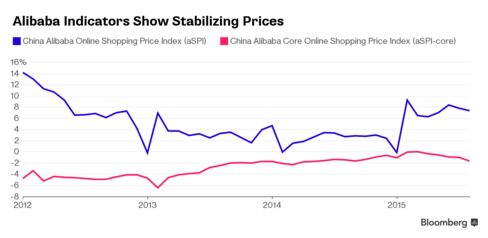 Consumer-price inflation has picked up amid gains in food prices while a three-year streak of factory-gate deflation deepens. An index developed by Alibaba Group Holding Ltd., China's largest e-commerce company, shows consumer prices quickening more than the government's official reading.
Prices for all goods sold online rose 7.4 percent in August, an index developed by the Hangzhou-based company's research arm shows.
Among 10 categories of goods Alibaba tracks, prices for a group that includes collectibles and financial services rose 14.1 percent from a year earlier, while the category for entertainment and education increased 13.7 percent. Food was 13.1 percent more expensive compared to a year earlier.
Still, there were some signs of deflation. Another indicator tracking a fixed basket of about 100,000 products showed prices for consumer staples fell compared with a year earlier, due mostly to cheaper clothing.
* Booming business at luxury hotels
An index of spending at luxury hotels in China rose to a record last month, indicating that wealthier travelers indulged themselves this summer, according to UnionPay Advisors, a research unit of China UnionPay Co., operator of the network that handles transactions for almost all of the nation's bank cards.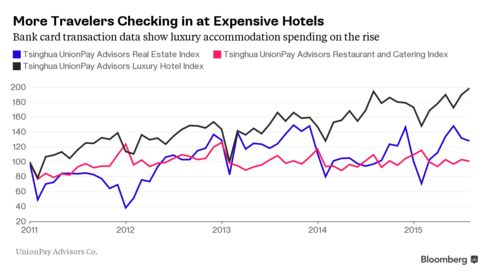 Real-estate transactions have rebounded from last year's lows, UnionPay data and official gauges show. UnionPay's Zhao said he also sees signs of risk with spending at restaurants at about the same level as 2011, representing a sharp decrease from last year, according to his company's data.
— With assistance by Xiaoqing Pi
Before it's here, it's on the Bloomberg Terminal.
LEARN MORE