Global Equities Sell Off With Commodities While Treasuries Climb
Stock volatility spikes as investors revert to haven assets

Volkswagen scandal sparks rout in automakers around the world
The trepidation that characterized last month's turmoil is seeping back into global financial markets.
U.S. stocks joined a decline in equities worldwide as a selloff in commodities resumed. The widening Volkswagen AG emissions scandal did little to calm nerves, dragging down car shares on speculation it may lead to tougher regulations. Brazil's real fell to a record as emerging-market assets sank, while demand for haven investments bolstered the yen and Treasuries.
Equity volatility spiked from Europe to America as renewed concern over China's slowing economy sent raw-material prices tumbling to an almost 10-year low. Volkswagen is torpedoing industrial shares and the world's biggest mining companies are coming under pressure just days after the Federal Reserve muddied the waters on its policy plans. While citing market turmoil as a reason to stand pat on interest rates last week, central bankers have since been claiming the U.S. economy is strong enough for a hike this year.
"When you see a rise in volatility it leads to investor uncertainty and any bad news has the opportunity to shake things up," Joseph Betlej, who helps oversee $33 billion as vice president of Advantus Capital Management, said by phone. "People are questioning the strength of growth in the domestic economy and second guessing that the Fed must see something."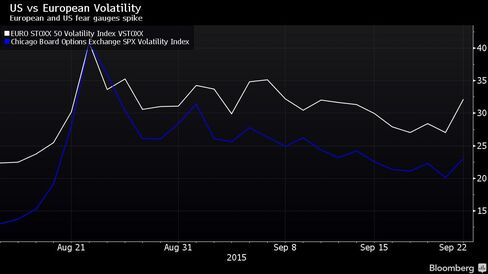 Stocks
The Standard & Poor's 500 Index tumbled 1.2 percent by 4 p.m. in New York, its third loss in the four days since the Fed's Sept. 17 decision to hold rates near zero.
The Chicago Board Options Volatility Index, or VIX, jumped 11 percent for its biggest gain since Aug. 24 on a closing basis, while Europe's volatility gauge surged 19 percent.
Ford Motor Co. and General Motors Co. lost at least 1.8 percent as automotive stocks in the S&P 500 tumbled 2.9 percent. Dow Chemical Co. and Alcoa Inc. led losses among materials producers. Apple Inc., Google Inc. and Facebook Inc. declined at least 1.5 percent as technology shares also sank.
"It's a combination of confusion after the Fed deal and then the catalyst is the renewed drop in commodities and fear about China," said Jim Paulsen, the Minneapolis-based chief investment strategist at Wells Capital Management Inc., which oversees $351 billion. "The market still needs to find a bottom here and I'm not sure we've done that yet."
The Stoxx Europe 600 Index plunged 3.1 percent, with all but nine shares declining. Glencore Plc slid 14 percent, after slumping below 100 pence for the first time, to lead mining shares toward the lowest close since 2009.
Volkswagen tumbled 20 percent after sinking 19 percent on Monday. The manufacturer set aside about $7 billion to cover fallout from a scandal affecting 11 million cars.
The MSCI Asia Pacific excluding Japan Index lost 0.3 percent, and Chinese shares were mixed. The Shanghai Composite Index added 0.9 percent, while the Hang Seng China Enterprises Index, a gauge of mainland Chinese stocks listed in Hong Kong, dropped 0.7 percent.
Bonds
Treasuries advanced after a U.S. bond-market gauge of inflation expectations dropped to the lowest level in six years and as the drop in stocks and commodities boosted demand for haven assets. Yields on 10-year notes fell seven basis points, or 0.07 percentage point, to 2.14 percent.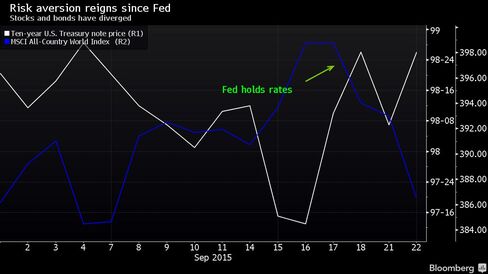 The cost to insure against default on high-grade bonds as measured by the Markit CDX North American Investment Grade Index rose to the highest level in two weeks. The gauge typically climbs as investor confidence deteriorates.
Markets are being whipsawed as investors digest conflicting signals from the Fed. Four officials have talked up prospects for higher rates in 2015 after rates were left on hold on Thursday. Despite this, traders continue to put the chance of a hike in 2015 at less than 40 percent, according to fed funds futures.
"The Fed is clearly mindful of global disinflation pressures evident from lower commodity prices," said Nick Stamenkovic, a fixed-income strategist at RIA Capital Markets Ltd. in Edinburgh. "Waning risk appetite is also providing a boost for Treasuries."
Currencies
The dollar reached its strongest level in almost two weeks against the euro amid diverging expectations on monetary policy in the U.S. and Europe. The shared currency weakened 0.6 percent Tuesday to $1.1120.
Fed Bank of Atlanta President Dennis Lockhart said he remains confident the U.S. will tighten policy this year, while European Central Bank Executive Board member Peter Praet said on Monday that policy makers "would forcefully react" if the central bank's inflation goal is at risk.
The yen climbed 0.3 percent with local markets in Japan shut for a holiday. It's the best-performing major currency in the past month, with the biggest gains coming versus those of commodity-producing nations including South Africa's rand, the New Zealand dollar and Brazil's real.
Emerging Markets
The MSCI Emerging Markets Index fell for a second day, dropping 0.9 percent, with equity benchmarks in India, Russia, South Africa and Poland falling by at least 1.5 percent.
Emerging-market currencies retreated for a third day, with a gauge tracking 20 developing-nation currencies down 0.9 percent. Brazil's real sank to as low as 4.0665 per dollar, the weakest intraday level since it was created in 1994.
Commodities
Industrial metals dropped amid renewed concern over China's slowdown and as the Asian Development Bank reduced its growth forecasts for the country, the world's biggest metals consumer.
Copper sank 3.6 percent to $5,078 a metric ton in London, while aluminum, nickel, lead and tin also retreated. Zinc slid as much as 2.1 percent to the lowest level since June 2010.
The Bloomberg Commodity Index lost 1 percent. West Texas Intermediate crude dropped 1.8 percent to settle at $45.83 a barrel after rallying 4.5 percent on Monday. Brent oil slid 16 cents to end the session at $49.08, with data on U.S. stockpiles due Wednesday.