Amazon Wins First Emmy for 'Transparent'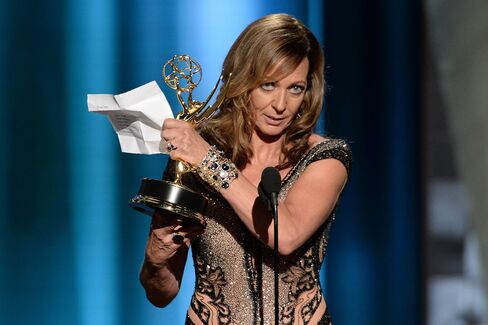 Jeffrey Tambor wins acting award for transgender family man

`Transparent' director Soloway also wins award for comedy
Jeffrey Tambor and Jill Soloway delivered Amazon.com Inc. its first major Emmy awards for the show "Transparent," as the online retailer went toe-to-toe with Time Warner Inc.'s HBO.
HBO won nine of the first 14 awards handed out Sunday in Los Angeles, including six for "Olive Kitteridge," a four-hour miniseries based on the novel of the same name. Frances McDormand won an Emmy for her performance as the title character, a retired school teacher who suffers from depression, bereavement and jealousy.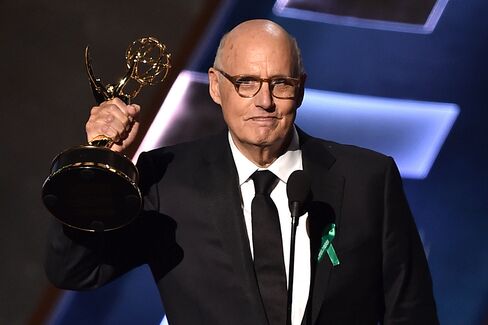 HBO's "Veep" vied for top comedy prizes with "Transparent," in which Tambor plays the patriarch of a Los Angeles family who reveals to his children that he has long felt he's a woman and is going to dress like one. The face-off between the companies highlighted the growing competition between newer players like Amazon Studios and longtime leaders like HBO, which demonstrated its dominance again Sunday.
Soloway created "Transparent" and won an award for directing, one of 11 nominations the show received. Both Tambor and Soloway called out Amazon and advocated for transgender rights in their speeches.
"I'd like to dedicate my performance to the trans community," Tambor said. "Thank you for your patience, thank you for your courage, thank you for your stories, thank you for your inspiration, thank you for letting us be part of the change."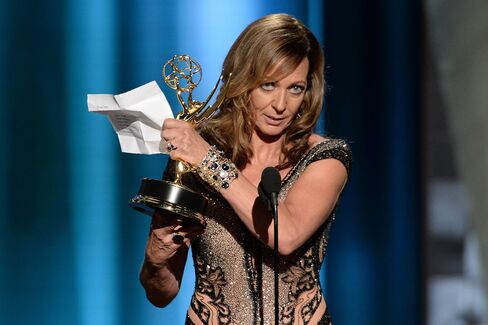 "Veep," a parody of American politics adapted from a British satire, won three of the early awards handed out tonight, two for acting and one for writing. Julia Louis-Dreyfus won the lead actress Emmy for her performance as President Selina Meyer, her fourth consecutive win. Tony Hale won for his supporting role in the series.
Allison Janney won the only comedy Emmy that didn't go to "Transparent" or "Veep," taking home an award for her supporting role in the CBS series "Mom." The Emmy was the seventh for Janney, who has garnered awards for "The West Wing," 'Masters of Sex" and now her second for "Mom." That ties her with Ed Asner and Mary Tyler Moore for the most awards of any actor or actress in Emmy history.
Comedy Awards
The comedy Emmys were among the first handed out by the Academy of Television Arts & Sciences, which is presenting the 67th Emmy Awards in a live telecast on the Fox broadcast network. Comedian Andy Samberg is hosting the show from the Microsoft Theater.
HBO headed into the show with 126 nominations, three times more than any other network. It aired three of the four shows with the most nominations, including "Game of Thrones," which has already won eight prizes in technical categories and is competing for best drama. HBO hasn't won the coveted drama prize since 2007, the final season of "The Sopranos."
The fantasy series about feuding families and dragons led the Emmy nominations with 24 after completing its fifth season in June. The conclusion drew the show's largest audience ever at 8.1 million viewers. It's based on George R.R. Martin's book series "A Song of Ice and Fire" about noble families fighting for control of the mythical land of Westeros.
The annual Emmy awards show coincides with the debut of new and returning shows for major broadcast and cable companies and is a platform to promote their best hits and stars. Last year's telecast on NBC drew 15.6 million viewers.
Before it's here, it's on the Bloomberg Terminal.
LEARN MORE