Investors Think It's Time to Buy AirAsia Shares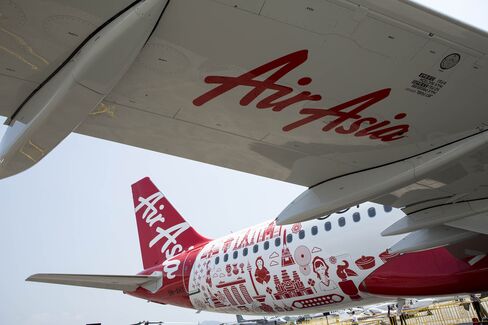 Southeast Asian budget carrier hit record low last month

Value of AirAsia's fleet exceeds market capitalization
Investors are saying it's time to buy into AirAsia Bhd.
Shares of Southeast Asia's largest low-cost carrier reached a record low in August after dropping more than 70 percent from a 16-month high in December, when it suffered its first plane crash. Then concerns surfaced about its accounting method and the ringgit declined. The stock's tumble convinced fund manager Danny Wong Teck Meng there was value in buying the stock.
"We think that most of the bad news has been factored in and this is overly done," said Wong, chief executive officer of Kuala Lumpur-based Areca Capital Sdn., which purchased AirAsia shares in August. "One of the upsides is because of the low oil price, which could benefit AirAsia. So that's why we went in."
Wong said he has never liked holding aviation stocks because of the high risk associated with the industry. AirAsia is an exception, bought for "tactical reasons" given a "deep discount" between the price and the company's value, he said.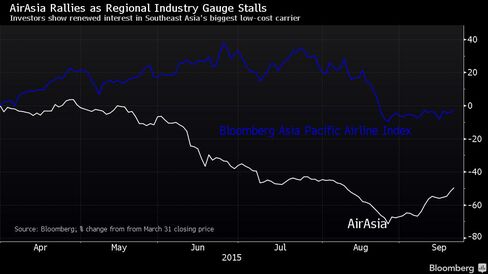 A June 10 report by GMT Research questioning AirAsia's accounting helped send the stock down 63 percent over the next two months to its lowest ever on Aug. 26.
The drop was later exacerbated by an exodus of foreign funds from Malaysian shares amid a global rout in emerging markets and as the ringgit fell 12 percent against the dollar in the past six months. A requirement by Indonesia's government that the local AirAsia venture bolster its equity position or have its license revoked also hurt the stock.
Regaining Favor
Since AirAsia hit bottom in August, at least six funds have bought the stock, according to data compiled by Bloomberg from filings. The stock rose for a third straight day in Kuala Lumpur Monday after the airline said it plans to buy back 10 percent of its share capital. The shares are down 49 percent this year.
Oil is trading around $45 a barrel, down more than 20 percent from this year's peak in June amid a global glut. The company may be able to save $160 million in fuel costs next year when its hedging ends, Malaysian state news service Bernama reported Aug. 18, citing AirAsia group Chief Executive Officer Tony Fernandes.
AirAsia's fleet value exceeds its market capitalization, Mohshin Aziz, an analyst at Malayan Banking Bhd., wrote in a Sept. 10 report. The current balance sheet doesn't reflect the real value of its planes "because all the aircraft have been booked at a much stronger MYR rate against the USD."
Mohshin is one of 19 analysts tracked by Bloomberg who has the equivalent of a buy rating on AirAsia, with the most bullish price estimate more than double the current level. Four analysts recommend holding the shares, and one rates the stock a sell.
Before it's here, it's on the Bloomberg Terminal.
LEARN MORE