Tsipras Wins Big Again in Greece as Voters Ignore Euro Showdown
Ballot was called after former government agreed to bailout

Syriza set to form same coalition as after January vote
Alexis Tsipras will return to power in Greece following another emphatic election victory, securing a new mandate after he yielded to the demands of European leaders for more austerity in the crisis-hit country.
The former prime minister's Coalition of the Radical Left, or Syriza, received 35.5 percent of the vote, according to an official projection by the Interior Ministry based on more than half of votes counted. The center-right New Democracy, whose leader Evangelos Meimarakis conceded defeat, was expected to get 28 percent.
https://twitter.com/tsipras_eu/status/645688555294081025
https://twitter.com/tsipras_eu/status/645692395749707777
With Syriza set to fall short of a majority in the 300-seat parliament, Tsipras, 41, will enter negotiations to build a viable government with the same coalition partner as before, scotching expectations he might do a deal with a more moderate party. In a year marked by the standoff between Greece and its European creditors, the difference now is that the new government will have little room to maneuver after Tsipras acceded to more spending cuts and tax increases in exchange for a new bailout.
"On the one hand, the Greek electorate voted in exactly the same government: In short, nothing changed," said Stathis Kalyvas, a professor of politics at Yale University. "On the other hand, the electorate brought in a party promising to implement a completely different set of policies. In short, everything changed. The Greek political saga is set to go on."
Bailout Test
An international review of Greece's progress on reforms is due before the end of the year, with a positive verdict necessary for money to flow from the 86 billion-euro ($97 billion) aid package. Of particular importance will be the disbursement of funds to recapitalize Greek banks, which have been battered by deposit outflows that prompted capital controls.
The most important question for Greece now "is whether the incoming government will be able to successfully conclude the bailout's first review," Mujtaba Rahman, the head of the Europe practice at political consultancy Eurasia Group, said in an e-mail. "That is what economic and political stability will depend upon."
https://twitter.com/EP_President/status/645659861137641472
https://twitter.com/J_Dijsselbloem/status/645698664338292736
The vote was Greece's sixth national ballot since 2009, including the election in January that brought Syriza to power and the surprise July referendum on austerity measures called by Tsipras as he upped the stakes in talks with euro-region leaders.
Both Syriza and New Democracy said in the campaign that they would not challenge the bailout agreement and would push to implement its terms. Investors signaled confidence in recent weeks that the worst is over for Greece, with government bonds posting the biggest returns in the euro zone over the past month, and the Athens stock market also rallying.
Thin Majority
Independent Greeks, the junior coalition partner in Tsipras's last government, was forecast to take 3.7 percent, exceeding the threshold to enter parliament. Leader Panos Kammenos, the former defense minister, said he would seek to form a government with Tsipras.
A Syriza official, Lefteris Kretsos, confirmed talks would take place and they planned another coalition. Interior Ministry projections showed the two parties would have 155 seats, or a majority of five, down from 12 after the Jan. 25 election.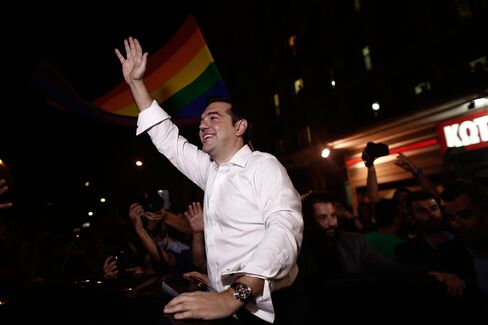 "We now have to do our homework so that Greece becomes a well ordered state, to fight corruption and vested interests," Kretsos, who is also the Greek government's general secretary of communications, said in a telephone interview. "We have a roadmap agreement with creditors, we want to implement it to the full. There are open issues, which give us the opportunity to ease the pain of austerity and promote reforms that will bring economic growth."
Tsipras struck his deal with creditors in July despite the emphatic decision by Greeks to vote "no" to further austerity measures in the referendum. The agreement came amid threats to expel Greece from the euro if it continued to reject creditors' demands and was a major about-face for Tsipras, whose first election victory was on a platform of strident opposition to austerity.
No Change
A subsequent split in Syriza led to Tsipras's resignation as prime minister in August, triggering the election. Syriza lawmakers who revolted against the bailout agreement formed a new party, Popular Unity, to advocate a return to the drachma. Popular Unity was projected to garner less than the 3 percent needed to enter parliament.
The centrist To Potami, or The River, did worse than polls before the vote had predicted, gaining about 4 percent. It had been mooted by analysts as a more pro-European coalition partner for Syriza or a member of a New Democracy government.
"An electoral battle has been concluded, one given with seriousness, dignity, in a civilized manner," New Democracy leader Meimarakis said in a statement as he congratulated Tsipras. "It seems that in six months our citizens did not change their opinions,"
Before it's here, it's on the Bloomberg Terminal.
LEARN MORE