Greeks Keep Tsipras in Power; VW CEO Apologizes: Sunday Wrap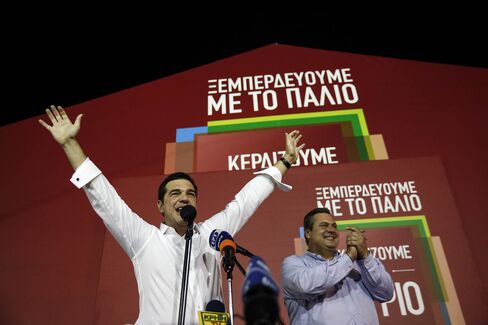 Prime minister handily wins election thought to be dead heat

Volkswagen orders probe; halts sales of clean diesels in U.S.
Here are highlights of Sunday's top news stories from around the world:
After a high-stakes call for elections and another campaign, Greek voters left things pretty much as they were. Prime Minister Alexis Tsipras will remain in charge with a coalition of moderate parties. Tsipras won a vote much more decisive than indicated by polls that had the outcome too close to call.
Volkswagen AG Chief Executive Officer Martin Winterkorn apologized for the "defeat devices" installed on about 500,000 cars to cheat U.S. emissions-control tests, and the company suspended sales of those clean-diesel models in the U.S. Winterkorn, who just survived a power struggle to keep his job, is now under pressure again given that VW's supervisory board was already scheduled to meet on Friday to discuss extending his contract.
The U.S. upped its commitment to take in refugees, saying it will take in at least 10,000 Syrians over the next year and up to 100,000 total refugees in 2017. Chancellor Angela Merkel said Germany can only take in so many, and she pressed her European partners to share responsibility for handling the crisis.
Republican presidential candidate Ben Carson said Muslims shouldn't be able to be president of the U.S. Even Donald Trump wasn't willing to go that far.
This time, it was the newly rising Carly Fiorina rather than Trump getting flogged by usually Republican-cozy Fox News. Challenged to say how she couldn't have known that Hewlett-Packard was selling so many printers in Iran in violation of sanctions that it had a 41 percent market share while she was CEO, she said the U.S. Securities and Exchange Commission exonerated her. Better news for Fiorina was that she rose to second among Republican candidates in the latest CNN poll.
It was a busy day on the deals front in Europe: Dialog Semiconductor Plc, the German company whose chips are used in the iPhone and iPad, agreed to buy Silicon Valley's Atmel Corp. for about $4.6 billion. Blackstone Group's Intertrust Group BV, a Dutch business that offers legal and financial administrative services to companies and funds, is set to go public, as is German auto-parts maker Schaeffler AG. Deutsche Wohnen AG, Germany's second-largest residential landlord by market value, offered to buy rival LEG Immobilien AG in that nation's biggest real estate transaction ever -- about $5.2 billion excluding debt.
Iranian President Hassan Rouhani kinda-sorta raised the potential for a prisoner exchange that would involve Washington Post reporter Jason Rezaian.
Before it's here, it's on the Bloomberg Terminal.
LEARN MORE