Saudi Stocks Drop Most in Mideast as Fed Stirs Growth Concerns
Tadawul All Share Index fell for 7th day to lowest since Aug.

BGCC 200 premium over emerging markets dips to 5-month low
Saudi Arabian equities fell the most in the Arab world after the Federal Reserve's decision to keep interest rates unchanged sparked concern over global growth and the price of oil capped its third week of losses.
The Tadawul All Share Index fell 1.4 percent to 7,365.98 at the close in Riyadh to the lowest in almost a month, marking a seventh day of losses. Banks made up four out of the top five contributors to the decline. Abu Dhabi's ADX General Index advanced 0.6 percent. The Bloomberg GCC 200 Index, made up of the biggest and most liquid shares in the six-nation Gulf Cooperation Council, slipped 0.6 percent. That sent the premium it commands over MSCI Inc.'s emerging markets index on a future price-to-earnings basis to the lowest in almost five months.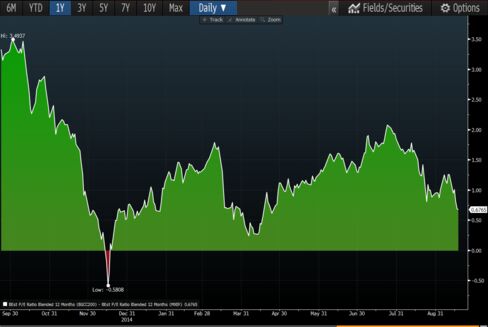 U.S. stocks declined after Fed policy makers sounded caution over slowing growth in China, leaving the possibility open for near-zero interest rates through this year. The Fed's warnings also spurred a 3.3 percent retreat in Brent crude prices on Friday on concern demand for oil could slump amid a supply glut. For economies in the six-nation Gulf Cooperation Council, home to about 30 percent of the world's proven crude reserves, lower prices lead to a drop in government revenue.
"Some investors have taken bets anticipating the Fed rate increase" by buying shares in Saudi banks before last week's decision, said Sebastien Henin, the head of asset management at The National Investor in Abu Dhabi. "That's why these names are under pressure today in Saudi Arabia."
Alinma Bank's 4.2 percent loss was the biggest drag on the Tadawul. Banque Saudi Fransi declined 3.9 percent, Bank AlBilad tumbled 7.6 percent and National Commercial Bank retreated 1.6 percent.
GCC Stocks
The BGCC 200 Index traded at about 11.6 times estimated earnings in 12 months compared with almost 11 times for the MSCI EM Index. That's the narrowest gap since April, according to data compiled by Bloomberg.
In Dubai, the DFM General Index was little changed at the close after declining as much as 1.1 percent. Trading patterns on Dubai's stocks gauge on Thursday showed its 50-day moving average fell below that for 200 days, forming a so-called death cross, a bearish signal to some investors. Saudi Arabia's Tadawul has declined about 10 percent since its own moving averages entered a death cross last month.
"At times like this, you should be prepared to walk in, find where the value is and start buying," said Ahmed Shehada, the head of advisory and institutions at NBAD Securities LLC, the brokerage of the United Arab Emirates' biggest bank. "I think we may see strong dips over the next few sessions."
Qatar's QE Index and Bahrain's BB All Share Index fell 0.6 percent, each, while Kuwait's gauge added 0.5 percent. Oman's MSM30 Index retreated 0.1 percent.
Most stock markets across the Middle East will be closed on Wednesday and Thursday for the Islamic Eid Al Adha holiday, one of the holiest periods of the Muslim calendar. Israeli Markets will close on Tuesday and Wednesday to mark Yom Kippur, the most sacred Jewish holiday.
Israel GDP
The Fed's decision came after Israel reported the slowest quarterly expansion in six years and subsequently cut its outlook on economic growth for this year and next. Israel's TA-25 Index dropped 1.5 percent, the most this month, led by Perrigo Co.'s 2.3 percent loss.
"Locals are concerned over the reduction of the Ministry of Finance's GDP forecast and will unlikely get any help from the Bank of Israel's rate decision on Thursday," said Saar Golan, a Tel Aviv-based trader at Bank of Jerusalem Ltd.
Shekel forward-rate agreements, used to speculate on rate moves for the next three months, retreated to 0.04 percent on Friday, the lowest in almost four months and 6 basis points below the central bank base rate. One-year interest rate swaps, an indicator of where traders see borrowing costs in the period, also fell to the lowest since May. The Bank of Israel will hold its next monetary policy meeting on Thursday.
The government's bond due August 2025 rose, as the yield on the notes dropped 19 basis points, the most since they were issued in May, to 2.24 percent.
Egypt's EGX 30 Index decreased 0.5 percent, snapping a five-day winning streak. President Abdel-Fattah El-Sisi swore in a new government on Saturday under Prime Minister Sherif Ismail. The central bank kept interest rates on hold on Thursday.
Telecom Egypt, the country's monopoly fixed line phone company, fell 2.6 percent after Chairman Mohamed Salem's resignation. Alexandria Mineral Oils Co. surged 8.7 percent, the most in more than two years, to 37.78 Egyptian pounds after it declared a dividend of 5 pounds a share as of Oct. 11.
Before it's here, it's on the Bloomberg Terminal.
LEARN MORE