Not Even Glencore Can Lift the Sagging Copper Market
Copper gained almost 5% in the week of Glencore's output cuts

Market focus has since shifted to renewed concerns on China
The biggest cuts to copper production this year haven't been enough to overcome the drumbeat of China's slowdown.
While copper is still up about 2.5 percent after Glencore Plc said it would reduce its output, the advance has stalled on renewed fears about consumption in the country that accounts for more than 40 percent of global demand. Even an 8.3-magnitude earthquake in Chile, the world's largest copper miner, failed to send prices soaring.
"The market has been very much focused on these supply-side changes, only to be surprised when China prints a range of weak downstream macro data, making everyone a bit bearish again," Tom Price, a commodities analyst at Morgan Stanley in London, said by phone. "It's typical short termism in this uncertain market."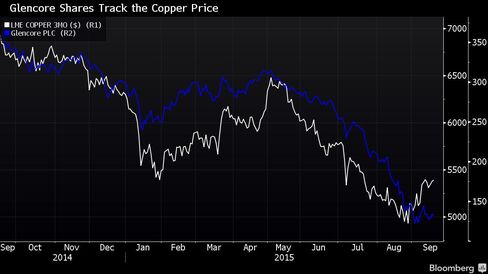 Glencore, the world's second-largest refined copper producer, plans to trim output of the metal by about 20 percent over the next 18 months by shutting two of its flagship operations in Africa. The cuts are part of a wider $10 billion debt-reduction plan designed to help it protect its credit rating amid a rout in commodities that's eroding profits at all of the biggest mining companies.
Weekly Slide
Copper for delivery in three months fell 2.2 percent last week to $5,254 a metric ton. Prices sank more than 2 percent on Friday as the Federal Reserve sounded caution over slowing growth in China and held off raising interest rates. The metal added 0.2 percent to $5,266 by 4:40 p.m. in London Monday.
Glencore slumped 5.6 percent to 119 pence in London, the lowest close since the company's initial public offering in 2011. The shares, which fell to 118.1 pence on an intraday basis on Sept. 15, slid 60 percent this year.
The week that Glencore cut output, prices rallied 4.9 percent on the London Metal Exchange. The metal is still near the lowest in six years, dragged down by China's slowest growth in a quarter of a century.
Even Glencore's Chief Executive Officer Ivan Glasenberg has said no one can read the Chinese commodity market. Recent economic data from fixed-asset investment to housing and manufacturing all point to a deeper slump.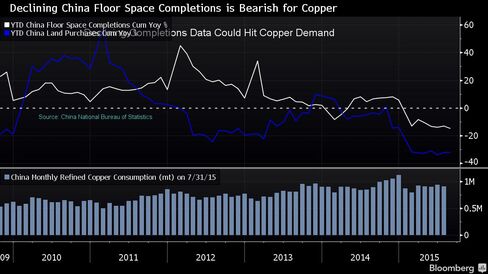 Demand is "structurally deteriorating" because of slowing consumption in China and a growing risk of users substituting copper for other metals, Nomura International Plc analysts led by Patrick Jones wrote in a note Monday.
In July, Goldman Sachs Group Inc. lowered its forecast for copper as much as 44 percent through 2018 and expects the price to reach $4,500 by the end of next year.
Miner Cutbacks
The Glencore curbs may result in as much as 75,000 tons of refined metal production lost this year and about 300,000 tons in 2016, according to CRU Group, a London-based researcher. The miner isn't the only one pulling back. Freeport McMoRan Inc. and Asarco LLC also curtailed a total of about 90,000 tons, Morgan Stanley said. At least 500,000 tons in cuts are needed to balance the market, Bank of America Corp. said in a report dated Sept. 18.
"This is significant but it's not what somebody calls a game changer," Stephen Briggs, an analyst at BNP Paribas SA in London, said by phone. "It's happening precisely because the company knows the market is weak. China is growing much more slowly. Demand looks worse."
CRU expects demand in China to grow by less than 3 percent this year, the slowest pace since 2006.
Stockpiles Increase
Another drawback for the market: there's plenty of supply. Warehouse inventories expanded 69 percent this year, according to data from exchanges in London, Shanghai and New York. LME stockpiles almost doubled this year, reaching a 20-month high in August.
Still, there's reason to be positive. The output reductions tipped forecasts at Macquarie Group Ltd. to a deficit next year. Glencore's move also makes it easier for rivals to follow without attracting too much criticism from investors, according to Morgan Stanley's Price.
"We should expect more production cuts to come through if copper's price remains" near current levels, he said.
Supply constraints may push prices above $5,700 a ton by the fourth quarter, Citigroup Inc. analysts wrote in a report Sept. 15. Immediate-delivery copper has been trading at a premium to the the three-month contract on the LME since mid-August. The market structure, known as backwardation, signals supply may be limited.
Improvement in China's property market and a belief that the government will add stimulus if the economy slows too much underpin Rio Tinto Group's optimism on copper, Jean-Sebastien Jacques, head of copper and coal operations, said earlier this month.
Peter Grauer, the chairman of Bloomberg LP, the parent of Bloomberg News, is a senior independent non-executive director at Glencore.
Before it's here, it's on the Bloomberg Terminal.
LEARN MORE