Wall Street's Mr. Fix-It Faces His Toughest Test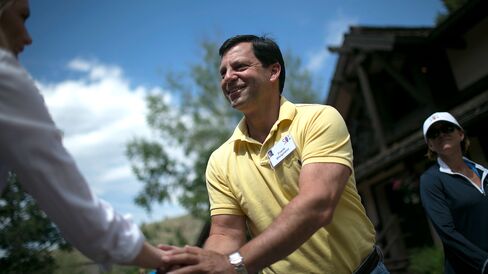 Frank Bisignano has spent 30 years cleaning up banks' messes

KKR & Co. took the payment-technology firm private in 2007
Las Vegas. Aria hotel. Electric violins. Strobe lights. Frank Bisignano takes the stage. A woman in silver leggings struts down the aisle. She's delivering what the audience really came to see: a new system for accepting credit-card payments.
That November 2014 extravaganza was Bisignano all over: a heap of dazzle and a dash of self-promotion to make what could be boring fun. Now Bisignano, a 56-year-old who's spent 30 years cleaning up messes at Citigroup Inc. and JPMorgan Chase & Co., faces what may be his biggest challenge yet: taking First Data Corp. public for Henry Kravis and George Roberts, co-founders of KKR & Co. It's a tall order for the man colleagues call Wall Street's Mr. Fix-It, especially with world financial markets in one of their most volatile runs in years. KKR took the payment-technology firm private in 2007 in a top-of-the-market purchase that loaded the company with $22 billion in debt. First Data's finances are in better shape now, but it's still debt-saddled, and revenue is growing slower than rivals.
"He's going to have a tough job convincing investors that First Data's growth can be a lot faster than it is now," said Gil Luria, an analyst at Wedbush Securities Inc. "The business is what it is. There's only so much he can do to make it look better."
Still, he didn't get the nickname for nothing. A son of middle-class Brooklyn, Bisignano did so well at JPMorgan there was talk at one time that he might be among potential candidates to succeed Jamie Dimon as CEO.
Dimon recruited Bisignano to work for him after Bisignano transformed Citigroup's transaction-services division into a profit machine. "That's still one of Citi's greatest businesses," said Robert Druskin, the bank's former chief operating officer. At JPMorgan, Bisignano worked on the integration of Bear Stearns after its emergency acquisition in 2008, helped turn around the troubled mortgage business inherited from Washington Mutual Inc. and handled tough negotiations at its London business as the government weighed new taxes on compensation.
When it came to getting things done, "he was above politics and would always do the right thing," said Greg O'Hara, a former chief investment officer of JPMorgan's special investments group. "He fosters loyalty among his employees, he can really get the best out of people."
Still, he sparred with some members of JPMorgan's operating committee at the time, according to people with knowledge of the matter. By 2013, Bisignano was looking for a new job.
Fateful Omelet
Executives at JPMorgan, via a bank spokesman, declined to be interviewed. Bisignano and First Data executives also declined to comment because of regulatory restrictions ahead of the company's IPO.
Scott Nuttall, KKR's head of global capital and asset management, jumped when he heard Bisignano was available. KKR had acquired First Data in 2007, sinking $2.7 billion into the company in a buyout completed just before the financial crisis. KKR then watched as the value of its investment tumbled 40 percent by 2009 during a downturn in consumer spending. Less than a week after Nuttall and Bisignano met for breakfast at the Short Hills, New Jersey, Hilton in 2013, Nuttall had his man.
"We call it the fateful omelet," Nuttall told Bloomberg last year. "I left the breakfast knowing he was our guy, the person we'd been looking for for five-plus years. It was very clear he could tackle hard issues and was not afraid to drive change."
To announce his new job at First Data, Bisignano invited professional contacts and friends to dial into a conference call so he could tell them all at once, according to people who were on the call.
Strained Relationship
First Data processes payments for banks and merchants and offers a variety of other services and products, such as systems for accepting credit cards and preventing fraud. Once Bisignano was there, JPMorgan accused him of poaching executives, including Guy Chiarello and Christine Larsen, who became president and chief operations officer respectively.
First Data settled the dispute by agreeing to pay JPMorgan millions of dollars. Bisignano has since been in contact with his former boss, calling Dimon after he was diagnosed with throat cancer last year.
In 2014, KKR led a $3.5 billion equity deal that shaved debt to $21 billion. That hiked its investment to $3.9 billion, KKR's biggest ever in a company.
Silicon Valley
Bisignano has cut costs, revamped the company's operating structure and invested in bolstering First Data's sales team, in some cases driving to client calls himself. To fend off competition from new technologies, he's forged ties in Silicon Valley and introduced smarter products. Last year the company posted its first profitable quarter since being taken private.
First Data's revenue has been climbing at a 2 percent rate, compared with 11 percent growth in global payments volume -- a sign First Data is losing share, according to Lisa Ellis, an analyst at Sanford C. Bernstein & Co. After the IPO, assuming the company raises $2.5 billion, it will still have more than $18 billion of debt. That could make it harder to invest in new technologies to stave off competition from startups such as Square and Stripe.
While First Data's revenue growth has accelerated under Bisignano's leadership, rivals such as Vantiv Inc. and Total System Services Inc. are boosting their revenue at more than five times First Data's pace.
First Data filed for an IPO in July and selected 15 underwriters to manage the offering. JPMorgan is absent from that list.
Awkward Time
It's an awkward time for Bisignano to pitch the IPO. After a surge in deals last year, the U.S. IPO market has cooled. It's easy to see why. Among the biggest companies that have gone public in the past 12 months, about 40 percent have fallen below their debut price. And stock markets are all over the place. The Chicago Board Options Exchange's Volatility Index jumped last month to levels not seen since the financial crisis.
"KKR needed someone just like Frank who could shift First Data from its excessive focus on cost-cutting to a position where the company could really grow," said Jim Robinson, the former CEO of American Express Co. and ex-First Data director who helped negotiate its sale to KKR. "Now, it's all about execution, execution, execution."
(An earlier version of this story corrected the name of a First Data rival.)
Before it's here, it's on the Bloomberg Terminal.
LEARN MORE