Utilities Discover No News Is Good News on Fed's Rate Decision
Sector beat broader market after Fed leaves rates unchanged

Steady dividends attractive in near-zero rate environment
Sometimes no news can be great news -- just ask U.S. utility companies.
Owners of electric utilities outperformed every other sector in the Standard & Poor's 500 Index Thursday as the Federal Reserve decided not to raise interest rates. Utility stocks are especially sensitive to rates because of the companies' huge expenditures on capital projects and the threat of lagging rate increases from regulators when costs increase. They also offer investors steady dividends when rates are low, making them attractive in the current near-zero environment.
The surge may not last much longer. The Fed is expected to raise rates eventually, and when it does, analysts with Sanford C. Bernstein said utility stocks tend to lag the broader market.
"Interest rate increases are historically negative for utility stocks," said Kit Konolige, senior utility analyst for Bloomberg Intelligence. "They react a lot like the way the bond market does when interest rates rise, which is negative."
The S&P 500 Utility Index rose 1.3 percent to 215.83 at the close in New York, with Edison International and American Electric Power Co. ranking as two of the top 10 gainers for the day.
Utilities out-gained the S&P 500 for much of this quarter as concern about lower Chinese demand for global goods weighed on the stock market. Investors flocked to the sector that offer reliable, regulated returns and steady dividends.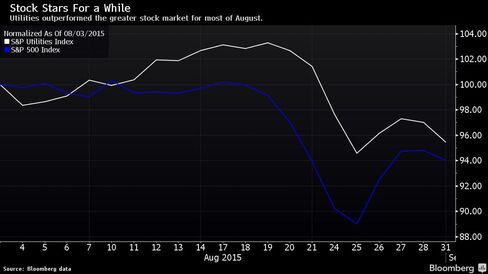 With analysts divided on whether the Fed would raise rates this month, anticipation weighed on markets for everything from equities to commodities.
"The single most important risk to the relative performance of the regulated utilities over the next 12 months is the possibility of rising Treasury bond yields," analysts at Sanford C. Bernstein led by Hugh Wynne wrote in a Sept. 9 note.
Higher interest rates would be "credit-negative" for the U.S. utility sector and would mean higher borrowing costs for the capital-intensive industry, according to a Moody's Investors Service research note Wednesday. Producers that sell power at wholesale market rates instead of state-regulated prices are the most vulnerable because there's no guarantee they can recover higher capital costs, Moody's said.
Fed Expectations
The utility sector still faces headwinds. It's now fairly valued against the broader market based on earnings expectations after beating the S&P 500 this quarter, Bernstein analysts said. So utilities are poised to lag behind the broader market.
The Bernstein analysts looked back 43 years and found that utility stocks trailed the S&P 500 by 1.9 percent when interest rates rose less than a percentage point. When rates rose more than a percentage point, they underperformed by more than 11 percent most of the time.
Before it's here, it's on the Bloomberg Terminal.
LEARN MORE