U.S. Stocks Tumble as Fed Decision Spurs Global Economy Concerns
S&P 500 erases weekly gain as energy, financial shares slump

Stocks face return of volatility amid quadruple witching
U.S. stocks tumbled, erasing the week's gain in the Standard & Poor's 500 Index, as the Federal Reserve's warnings over the global economic outlook rippled across financial markets.
The S&P 500 lost 1.6 percent to 1,958.03 at 4 p.m. in New York. Financial companies took a hit for a second day after the central bank decided to delay raising interest rates. Energy shares plunged with the price of oil. The VIX, a measure of market volatility, climbed for the first time in four days.
"There's some concern that the Fed sees something we're not seeing in the data," said Eric Green, director of research and senior managing partner at Penn Capital, which oversees $4 billion in Philadelphia. "Some investors wanted them to rip the Band-Aid off and get the first one done. Then we wouldn't have to obsess about it for the two weeks before each meeting."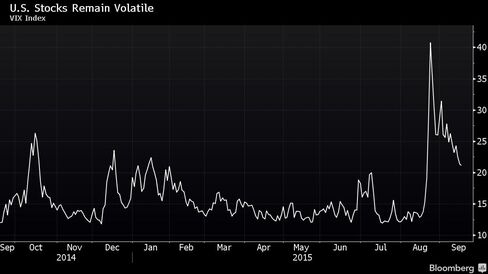 Trading on U.S. exchanges was 11 billion shares, the second-highest level of the year. Equities were subject to volatility as some futures and options on stocks and indexes expire today in a process known as quadruple witching.
The operator of the S&P 500 is also rebalancing the index in a quarterly move to adjust member weightings. About $41 billion of shares was expected to be traded as investors buy and sell stocks to mimic the changes, according to a Sept. 8 estimate by Howard Silverblatt, an index analyst at the New York-based S&P Dow Jones Indices.
Equity markets have been turbulent amid concerns about a China slowdown and the Fed's intentions. The Chicago Board Options Volatility Index endured its biggest weekly gain on record in August, and has closed above 20 for 20 straight sessions, the longest stretch since June 2012. The VIX rose 5.4 percent to 22.28 today, paring an advance of as much as 13 percent in the final half hour of trading.
"We're going to continue to have periods of volatility in this market," Penn Capital's Green said. "The moves we're seeing could easily be profit-taking from a very big run we've had over the last week and a half. We have options expirations today which is going to cause volatility."
The S&P 500 erased its gain for the week after rallying as much as 1.5 percent. The Dow Jones Industrial Average dropped 290.16 points, or 1.7 percent, to 16,384.58 today, as all 30 members in the gauge declined. The Dow Jones Transportation Average slumped 2.2 percent.
All 10 major groups in the S&P 500 declined, with energy shares tumbling 2.6 percent. ConocoPhillips and Schlumberger Ltd. lost more than 3.5 percent as oil prices slumped a second day. Crude futures plunged 4.7 percent in New York.
Raw-materials, industrial and financial companies slid more than 1.9 percent. Utilities, which tend to attract investors in a low interest rate environment, had the best performance, with a decline of 0.6 percent.
Goldman Sachs Group Inc., Morgan Stanley and JPMorgan Chase & Co. declined more than 2.7 percent.
Freeport-McMoRan fell 9.7 percent after the world's biggest publicly traded copper producer said it may sell as much as $1 billion of new shares. The move is in response to a 22 percent slump in copper prices in the last 12 months.
La Quinta Holdings Inc. tumbled 15 percent after its longtime chief executive officer resigned and the hotel chain cut its full-year forecast.
Fed Chair Janet Yellen kept interest rates on hold Thursday and sounded caution over slowing growth in China. While she said most policy makers still expect a rate increase this year, central bank officials said in a statement that "recent global economic and financial developments may restrain economic activity somewhat and are likely to put further downward pressure on inflation in the near term."
Traders are now betting on the outcomes of the Fed's October and December meetings -- odds of a move higher are 18 percent and 46 percent, respectively.
"Markets are sensing that the Fed is not only worried about the U.S. economy, but also global growth," said Pedro Ricardo Santos, a broker at X-Trade Brokers DM SA in Lisbon. "There are very real reasons for concern on this front. Without doubt things have changed. The Fed would have to hike in 2016."
Before it's here, it's on the Bloomberg Terminal.
LEARN MORE