Just How Bad Was the Fed's Non-Hike for Bank Stocks? Take a Look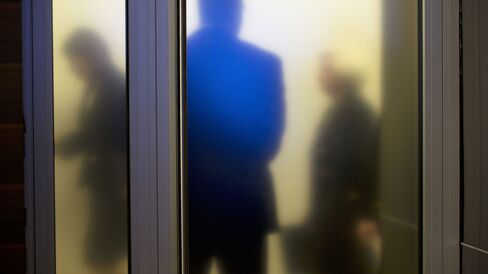 Financial stocks close to falling below a chart support level

Group hits 4-month relative low as selloff continues Friday
The Federal Reserve's decision to hold off raising interest rates has only helped to spur bearish bets on financial stocks, capping a month in which the group fell almost 10 percent.
Financial stocks emerged as the whipping boy of the U.S. equity market Thursday, falling within minutes of the central bank's post-meeting announcement. It continued Friday with the Standard & Poor's 500 Financials Index slipping to a four-month low relative to the benchmark.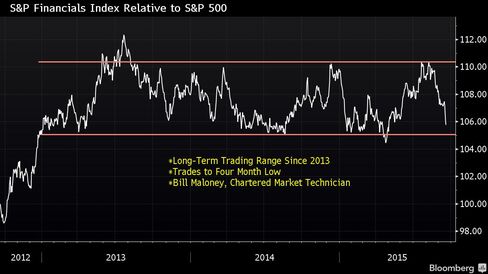 The group now hovers above a key resistance level against the broader market, indicative of the sentiment shift after the Fed's announcement, said Jim Stellakis, founder and director of research at Greenwich, Connecticut-based Technical Alpha Inc. "You're not going to find anyone who thinks we're going to get higher rates anytime soon because of what happened yesterday."
Genworth Financial Inc. has slumped 7.7 percent since Wednesday, followed by Charles Schwab Corp., which hit a seven-month low after dropping 3.7 percent Friday.
Relative to the S&P 500, financial stocks have "gone nowhere" since August 2013, trading within a band of less than 6 percentage points, Stellakis said. "Everybody gets excited about these stocks for a couple months, and then the whole thesis gets thrown out the window."
The Fed's dovish stance and Chair Janet Yellen's post-meeting statement are entirely to blame for the selloff, as these stocks have become "very under-owned and unloved," said Dave Lutz, the Annapolis, Maryland-based head of exchange-traded fund trading for JonesTrading Institutional Services. "The yield curve has just flattened like a pancake. This was a bet on a hope that we'll be seeing a more steepening curve."
The financial stock index has fallen 9.8 percent since Aug. 18, the most of any of the 10 sectors. Trading volume has been "extremely thin" in the past month, which will weigh on earnings for the investment banks, Lutz said. "From a technical perspective, we could have a lot of momentum traders jumping on that weakness and trying to short."
While the recent weakness bears watching, Stellakis said he'll "wait and see" if financials go below the technical support level. Unless traders are "playing a range," they may be disappointed by shorting this group because they've been left for dead only to rally in the past, he said.
"These stocks have a cult following," Stellakis said. "It's a very emotionally driven group. A lot of people are rooting for them."
Before it's here, it's on the Bloomberg Terminal.
LEARN MORE