Gas Bears Rattled by Shrinking Shale Cut Bets to 6-Month Low
Money managers cut net-short position in gas by 34 percent

Shale gas production set to decline for fourth straight month
Speculators cut bearish bets on natural gas to a six-month low after late-breaking summer heat stoked demand for the power-plant fuel and as shale supplies start to slide.
Money managers reduced short-only gas contracts 3.5 percent to the lowest level since March while long wagers rose 2.7 percent in the week ended Sept. 15, U.S. Commodity Futures Trading Commission data show. Their net-short position in four gas contracts shrunk by 34 percent.
Energy drillers are idling so many rigs in response to low energy prices that gas supplies may fall short of demand next year, Bank of America Corp. and Citigroup Inc. said this week. Production is set to decline in October for the fourth straight month, a record slump in government data going back to 2007.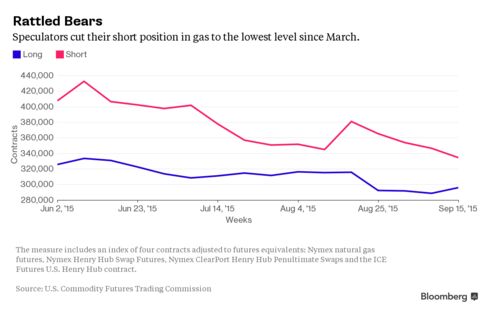 "What you are seeing now is people a bit worried about natural gas production volumes," Nicholas Potter, an analyst with Barclays Plc in New York, said in a telephone interview Friday. "If people want to make a bullish argument as we head into 2016, they could point right now to production levels."
Gas futures rose 0.7 percent to $2.728 per million British thermal units on the New York Mercantile Exchange in the period covered by the CFTC report. Prices briefly jumped to a one-month intraday high of $2.794 on Sept. 15 before ending the week at $2.605, the lowest settlement since June 5. The futures extended declines Monday, slipping 1.3 percent to $2.57 at 11:28 a.m.
Gas output from the seven largest U.S. shale deposits will fall 0.5 percent in October to average 44.784 billion cubic feet a day, the lowest since March and the fourth straight decline, the Energy Information Administration said Sept. 14. The biggest declines are projected in oil-rich fields such as the Eagle Ford formation in Texas, where drillers pull associated gas out with crude.
Oil Producers
Oil producers cut rigs by eight this week to 644, the least since July 17, Baker Hughes Inc. data show. The total has fallen 60 percent over the past year, tracking a 52 percent decline in West Texas Intermediate crude prices. Gas rigs are down 40 percent.
"For nat gas, everything points to" a drop in production, especially as associated gas supplies shrink with the pullback in oil drilling, Bank of America analysts Sabine Schels and Francisco Blanch wrote in a Sept. 14 note to clients.
"We see balances tighten sharply next summer and expect Nymex prices to gradually appreciate from mid of next year," they said.
Before it's here, it's on the Bloomberg Terminal.
LEARN MORE