1) Yale Is Still Collecting Interest on a Bond From 1648
Some perpetual bonds are more eternal than others.
Yale University will receive €136.20 ($155) in interest on a perpetual bond issued in 1648 from Dutch water authority de Stichtse Rijnlanden.
The 1,000 guilder-bond ($509), which is written on goatskin, is among five of the world's oldest bonds that still pay interest, according to Clarion Wegerif, a spokeswoman for the water authority. The money will be paid out on Monday.
2) Bitcoin Is a Commodity
The regulatory framework around Bitcoin keeps getting more complicated, and this week the U.S. Commodity Futures Trading Commission ruled that the virtual currency is a commodity and trading in it can be regulated as such.
For decades, commodities were things such as corn, crude oil, or coffee, and the CFTC oversaw their markets. Later, along came futures and options on financial assets—think futures on U.S. Treasury bonds or contracts on the S&P 500—and the CFTC oversaw those, too.
While market participants have long discussed whether Bitcoin could be defined as a commodity, and the CFTC has long pondered whether the cryptocurrency falls under its jurisdiction, the implications of this move are potentially numerous.
By this action, the CFTC asserts its authority to provide oversight of the trading of cryptocurrency futures and options, which will now be subject to the agency's regulations. In the event of wrongdoing, such as futures manipulation, the CFTC will be able to bring charges against bad actors.
At least one market participant found a bright side to the ruling. "I'd rather Bitcoin were regulated as a commodity because commodity regulations are the lightest," said Mark Lamb, chief executive officer of Coinfloor Bitcoin exchange.
Read more: The Bitcoin Community Disagrees on What Happens Next
2) Giant Deal Would Create an OPEC of Beer
Anheuser-Busch InBev said it may make a takeover offer for SABMiller, a $100 billion deal that would create what would be by far the world's biggest brewer. The two companies are the largest players in the industry by almost every metric.
Market share could spark interest from regulators: Combined, the two companies would control almost 30 percent of the global beer market. To put that in perspective, oil group OPEC controls about 41 percent of the world oil market.
In the chart below, we couldn't put the two companies together without effectively breaking the scale.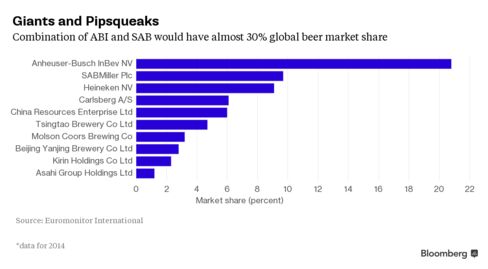 3) The Fed Is Watching China
Here's the latest sign of China's arrival as a global economic power: It has roiled financial markets enough to nudge the Federal Reserve away from raising interest rates.
Fed policymakers left their benchmark rate near zero Thursday, saying the U.S. economy and inflation may be restrained by "recent global economic and financial developments." Fed Chair Janet Yellen elaborated in a press briefing, saying the financial turmoil reflected investor concerns about risks to Chinese growth.
"If it weren't for China and all the turmoil surrounding China, I think the Fed would have hiked rates," said Mickey Levy, chief economist for the Americas and Asia at Berenberg in New York, who has analyzed Fed policy for more than 30 years.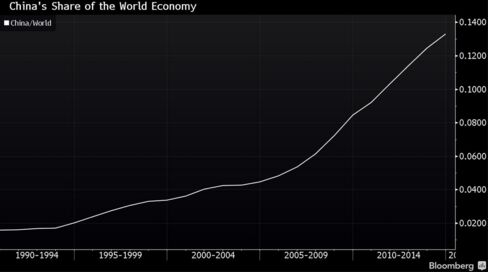 —By Luke Kawa, Phil Serafino, Enda Curran, Christopher Condon and David de Jong. Edited by Tim Coulter
Before it's here, it's on the Bloomberg Terminal.
LEARN MORE