Commodity Outlook Leads Wells Capital to Favor Non-U.S. Stocks
Strategist Paulsen expects producers to gain `pricing power'

Leadership seen swinging to industrials from consumer shares
It's time for investors to consider shifting their stock holdings to overseas markets and away from the U.S. in anticipation of a commodity-price rebound, according to James W. Paulsen, Wells Capital Management Inc.'s chief investment strategist.
International stocks usually do better when producers are gaining economic "pricing power" at the expense of consumers, Paulsen wrote yesterday in a report. While that hasn't been the case the past few years, it's coming as the pace of economic growth accelerates, the Minneapolis-based strategist wrote.
The chart below, consisting of two ratios, is similar to one Paulsen cited. One ratio tracks total returns, including dividends, on the MSCI U.S. Index relative to a gauge of shares in other developed markets. The other compares U.S. consumer and producer prices for items other than food and energy.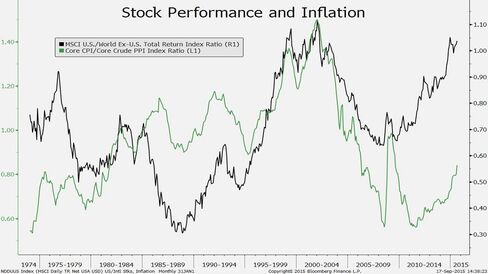 MSCI's U.S. indicator and its international counterpart, the MSCI World Ex-U.S. Total Return Index, both had year-to-date losses of about 2 percent through Sept. 16. Returns were higher on the U.S. index last year and the year before as core producer prices fell, causing the inflation-based ratio to climb.
"The U.S. economy is more consumer-centric compared to foreign economies," Paulsen wrote in explaining the link between stock performance and pricing power. The pendulum is due to swing against domestic shares, he wrote, as an economic growth spurt similar to those near the end of 1970s, 1980s and 1990s expansions lifts commodity prices.
Industrial stocks may assume market leadership from consumer-related shares as well, the report said. This year, the MSCI World Industrial Index declined 5 percent through yesterday, surpassing the MSCI World's loss of 3.3 percent. By contrast, two indexes of consumer-related shares were beating the broader index.
Before it's here, it's on the Bloomberg Terminal.
LEARN MORE