U.S., EU Said to Prepare to Keep Russian Sanctions Next Year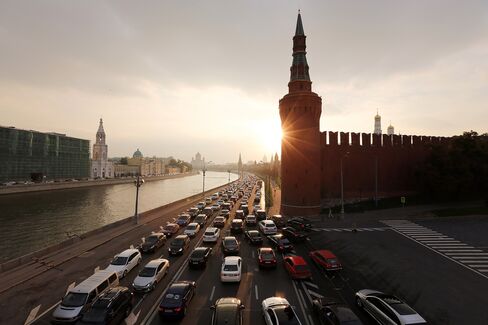 U.S., EU said to see Ukraine peace deal missing 2015 deadline

EU said to face hard debate, may have to drop some sanctions
The European Union and the U.S. are preparing to keep sanctions against Russia in place in 2016 amid weakening prospects for implementing a peace agreement on Ukraine by the end of this year, according to EU and U.S. officials.
The leaders of France, Germany, Ukraine and Russia are set to discuss extending the Minsk peace accord at a summit in Paris on Oct. 2, according to a person involved in Kremlin policy. Prolonging the truce means sanctions will stay, according to four German, French and U.S. officials, who spoke on condition of anonymity, citing the sensitivity of the issue.
A Kremlin aide signaled last week that an extension may be necessary, even as Russian President Vladimir Putin said the warring sides should stick to the negotiated year-end deadline. Ukraine's leaders have said they oppose granting more time to carry out obligations under the accord.
Russia's economy is in recession for the first time since 2009 after oil prices slumped by more than half and the U.S. and the EU imposed curbs last year on financing for major state companies and energy technology transfers. European countries dependent on trade with Russia have lost billions of dollars from Russian counter-sanctions on imports of food products.
One official from a pro-sanctions EU country predicted a difficult debate, saying some sanctions may have to be dropped as part of a compromise. Other issues unrelated to Ukraine -- Russia's peacemaking efforts in Syria and the fallout from the discussions over refugee policy -- may make unanimity on sanctions elusive, the official said.
Sticking Points
U.S. Assistant Secretary of State Victoria Nuland said last week in Kiev, the Ukrainian capital, that sanctions on Russia will stay in place until the Minsk accord negotiated in February is fully implemented. The U.S. measures, adopted by presidential order, remain effective until they are canceled. The EU's sanctions expire at the end of January and an extension requires the approval of all 28 members.
The U.S. remains in close communication with its EU partners and is prepared to maintain sanctions if Russia doesn't fulfill its commitments under the peace deal, a senior Obama administration official in Washington said, speaking on condition of anonymity.
Despite the accord's recent success in enforcing a fragile cease-fire after a 17-month conflict that's killed almost 8,000 people, its implementation remains deadlocked over disagreements surrounding local elections and autonomy for the rebel-held territories in Ukraine's east. While the timetable for fulfilling the agreement has grown increasingly challenging, all sides are formally still committed to it.
It will take at least until mid-2016 to overcome the differences and hold elections in separatist areas that comply with Ukrainian law, the person involved in Kremlin policy said.
'Dead End'
The self-declared Donetsk People's Republic is planning elections on Oct. 18 after failing to agree on procedures and a date with the government in Kiev, Denis Pushilin, chief negotiator for the Russian-backed separatists, said by phone.
Ukraine has criticized the rebels' plan as a violation of the accord agreed with Russia, Germany and France in Minsk, the Belarusian capital. The proposed elections "again drive the situation into a dead end and demonstrate Russia's desire to disrupt the peace plan," Oleksandr Turchynov, head of Ukraine's National Defense and Security Council, said on its website.
Spain, whose foreign minister said in February that the EU had lost exports worth 21 billion euros ($24 billion) because of sanctions over Ukraine, doesn't want to see the measures prolonged but won't seek to block the decision, a Spanish official said.
Germany expects the Minsk deal won't be fulfilled by the deadline and that the parties will keep working beyond it without a formal extension, an official in Berlin said. This means the EU will have to roll over sanctions, according to the official.
Extending Minsk is being discussed and would automatically mean U.S. and EU sanctions stay in place, an American official said.
Before it's here, it's on the Bloomberg Terminal.
LEARN MORE