Everyone knows that the world's economic center of gravity is shifting toward Asia. What's less obvious is the impact that can have on major reserve currencies.

The European Central Bank has shed some light. The Frankfurt-based ECB has published its periodic reassessment of the relative weights of the 38 currencies it tracks to calculate the effective exchange rate of the euro. Those reflect the importance of a country as a trade partner for the single-currency bloc.

The latest update, which takes account of trade developments between 2010-2012 and was published by the ECB this week, makes China's rise to prominence unmistakable. It now accounts for almost 18 percent of the ECB's basket of currencies, from little more than 4 percent in 1995-1997.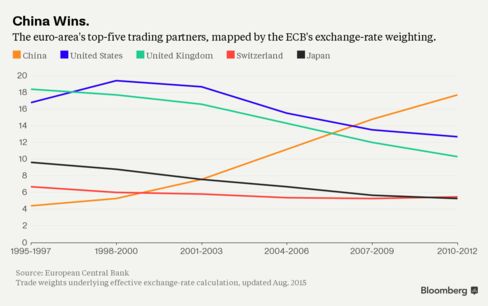 The data also show how other emerging economies such as Russia, Turkey or Indonesia, as well as eastern European countries like Poland and the Czech Republic, have become more important for the currency bloc in recent years. Conversely, the United Kingdom's role is gradually fading: its weight in the currency basket almost halved since 1995.

In light of the new composition of its currency basket, the ECB concludes that the single currency's depreciation has been slightly stronger than previously thought.

Between the beginning of 2010 and July 2015 the euro lost 12 percent of its value, in both nominal and real effective terms, compared with the 11.6-percent depreciation that resulted from previous calculations, according to the report. That revision was down to the increased trade weight of the Chinese yuan.
Before it's here, it's on the Bloomberg Terminal.
LEARN MORE