Ray Dalio Is Worried About Next Downturn as Fed Prepares Move
Says quantitative easing less effective next time around

Asset returns over next decade will average 3% to 4%
Ray Dalio, founder of $154 billion Bridgewater Associates, said he's worried about the next economic slowdown because monetary policy will be less effective than in the past.
"I don't care whether they raise 25 basis points," Dalio said Wednesday in an interview with Tom Keene and Michael McKee that was broadcast on Bloomberg radio and television. "What scares me, or what worries me, is what the next downturn in the economy looks like, with asset prices where they are and a lesser ability of central banks to ease monetary policy."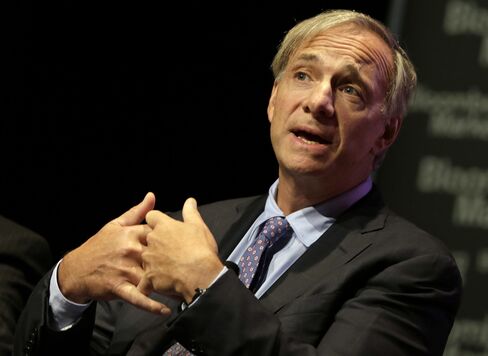 He predicted that returns across asset classes over the next decade will only average 3 percent or 4 percent. Narrower spreads will make it much harder for asset purchases to have a big effect on the market, he said.
As the U.S. Federal Reserve meets Thursday to decide whether to raise interest rates, Dalio said a big increase in the near future is impossible because the global environment requires lower borrowing costs. He reiterated that the central bank will eventually return to quantitative easing.
Dalio, who manages the world's biggest hedge fund, is among a small number of prominent money managers who have urged the Fed not to raise interest rates. Jeffrey Gundlach, co-founder of DoubleLine Capital, has said the Fed would have to reverse course if it raises rates prematurely.
'Downturn' Coming
"We will have a downturn," Dalio said in the interview.
Futures contracts show a 28 percent probability that the Fed will boost rates when it meets this week, according to data compiled by Bloomberg. That was down from 48 percent on July 30. The calculation is based on the assumption that the effective fed funds rate will average 0.375 percent after the first increase, versus the current target of zero to 0.25 percent.
Economists are split on what action Fed policy makers will take on Thursday. More than half of 111 analysts in a Bloomberg survey predict no change, while 50 say the rate will be increased by 0.25 percentage point and four see a 0.125 percentage-point increase.
Dalio's Pure Alpha hedge fund strategy, which accounts for roughly half his assets, has gained 6 percent this year, he said. His passive, long-only strategy, known as All Weather, is down about 6 percent, he said.
Dalio said August was a "lousy" month for his firm, as concern about slowing growth in China sent global markets tumbling, erasing more than $5 trillion from stocks around the world. He said that in the longer run, China will manage its challenges, even if it won't return to growth rates of the past.
"I think China is going to be just fine," Dalio said. "But its going to be weaker."
Before it's here, it's on the Bloomberg Terminal.
LEARN MORE