Eight Things That ZIRP Did for the Corporate Bond Market
Is this the end of the ride?
The market remains deeply divided about whether the Federal Reserve on Thursday will embark on its first interest rate hike in almost a decade, but it's worth taking a moment to appreciate just what nearly seven years of near-zero interest rates (what's affectionately called ZIRP, for zero interest rate policy) accomplished for the U.S. corporate bond market. In two words: a lot.
1. For a start, it led to a huge boom in corporate credit. Low interest rates have encouraged companies to lock in lower borrowing costs by selling their bonds to eager, yield-hungry investors. The overall size of the U.S. corporate bond market has jumped from $5.4 trillion at the end of 2008 to almost $8 trillion currently—an astounding 47 percent increase. As Hans Mikkelsen, credit strategist at Bank of America Merrill Lynch, put it in a recent research note: "The U.S. corporate bond market benefited more than most asset classes from the environment over the past five to six years of extremely easy monetary policy conditions, as Zirp prompted an unprecedented reach for yield." The below chart, also from BofAML, shows investment-grade corporate bond issuance as a percentage of U.S. GDP. That figure would be a lot higher if it also included the junk debt sold by lower-rated companies with riskier balance sheets.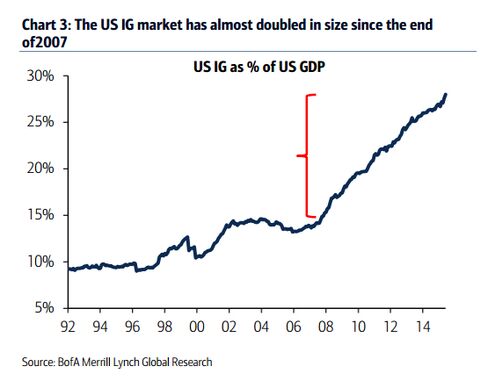 2. Speaking of which, low interest rates also sparked a boom in lower-quality corporate credit, some of which is only now beginning to come back to haunt all those yield-hungry investors who bought it. Junk-rated companies have sold $2.1 trillion worth of bonds since the beginning of 2009, according to Bloomberg data, more than double the $1 trillion sold during the 2003-08 era, before the financial crisis. The amount of lender protections inserted into corporate bonds, known as covenants, has also deteriorated as the balance of power shifted in favor of corporate bond issuers amid an intense scrum for the higher-yielding debt. All those factors could arguably come back to haunt investors should the cost of financing increase and the decline in oil prices continue to pummel heavily indebted shale companies. Here, for instance, is Moody's covenant quality index hitting a new all-time low last month.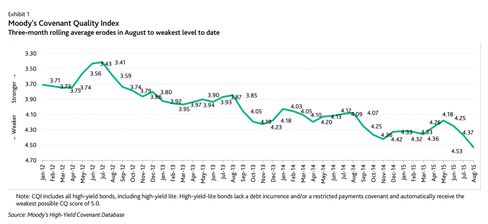 3. New types of investors and investment vehicles have been snapping up corporate credit thanks to its yield-bearing properties. A host of mutual funds and exchange-traded funds, in particular, have stepped up to grant return-starved investors instantaneous exposure to the fixed-income asset class. At BofAML, Mikkelson estimates that two-thirds of the growth in corporate bonds was made possible by demand from mutual funds and ETFs, although their impact has been declining in recent years. He notes that "the demand from mutual funds/ETFs and foreign investors is very sensitive to rising interest rates and should decline significantly" in the aftermath of a hike.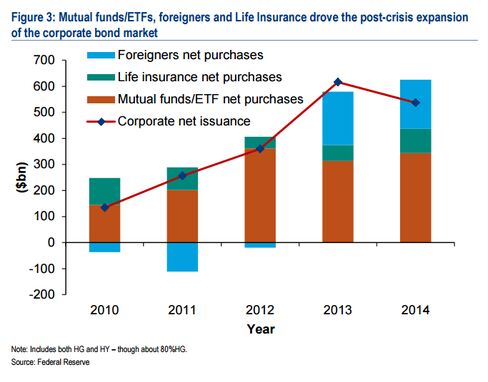 4. Amid the intense search for yield and an influx of new investors, the reward for taking on credit risk has also diminished, even as the size of the corporate bond market jumped. The chart below shows the extra "spread" investors might expect to earn from holding riskier, higher-yielding U.S. corporate debt. Per an index from Barclays, it now hovers at 4.96 even after August's dramatic market selloff.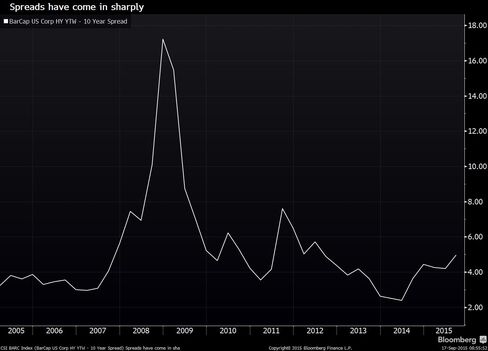 5. Years of low interest rates have also led to a vastly different corporate bond market structure featuring diminished ease of trading, or what's known as liquidity, in financial parlance. While the decline of liquidity in fixed-income markets has often been attributed to new banking rules that have impeded banks' ability to deal debt, a huge portion of the trend could arguably be traced back to the search for yield behavior on the part of big investors. A Bank for International Settlements paper released last year, for instance, estimated that the bond holdings of the 20 biggest asset managers increased by $4 trillion in the four years immediately following the crisis. In 2002, the top 20 managers accounted for 50 percent of the total assets under management of the 300 biggest investment companies. By 2012—at the end of the BIS's data series—the proportion had climbed to 60 percent. The chart below, from Citigroup, shows that most trading volume in investment-grade corporate bonds has been coming from a smaller group of big investors.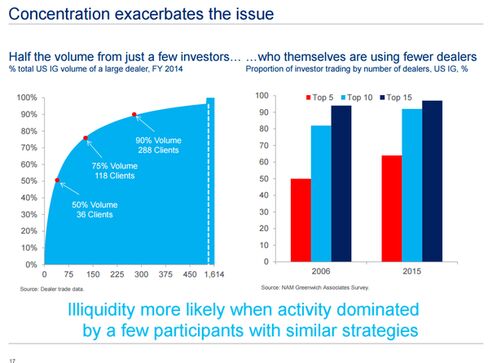 6. Abundant investor demand for corporate credit means the market has also enjoyed an extended period of extremely low company default rates as companies can simply roll over their debt by selling new bonds. The chart below, from Standard & Poor's, shows default rates for even junk-rated bonds have been hovering near historic lows in recent years. Some analysts have expressed difficulty when it comes to forecasting future default rates. With the likelihood of a company going bust now so entwined with monetary policy, such analysts say it's difficult to make an accurate estimate of default rates' future direction, with some even saying that default models have been "destroyed" by central banks. The deterioration of loan covenants, which can also make it easier for companies to stave off default for longer, is also said to have clouded the picture.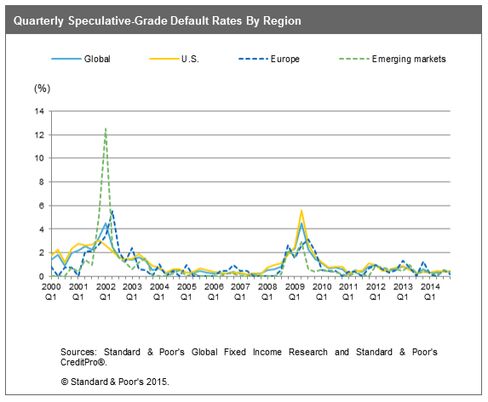 7. Low dollar borrowing costs have also inspired companies in emerging markets to go on a U.S borrowing spree. Barclays analysts have estimated that the debt issued by emerging market companies and semi-sovereigns "has grown more rapidly than virtually every other fixed income segment over this horizon," with the amount of hard-currency EM corporate bonds (such as dollar-denominated debt) outstanding now seven times larger than it was a decade ago. The Bank for International Settlements has warned repeatedly that the EM community's dollar borrowing splurge could end in tears and higher financing costs should increased U.S. interest rates strengthen the dollar.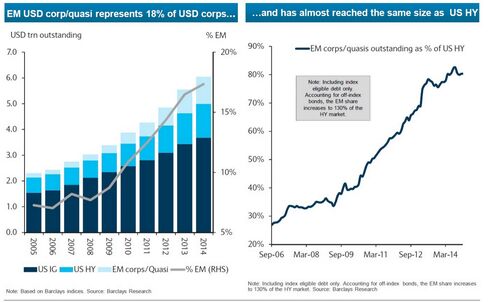 8. To end this list, here's something the corporate bond market did for the stock market. The surge in debt issuance has subsidized a boom in share buybacks, dividend payouts and an unprecedented wave of M&A activity that has helped propel equities higher in recent years. Bloomberg News reported earlier this year, for instance, that companies in the S&P 500 listed buybacks or dividends among the use of proceeds for $58 billion worth of debt, the most on record for a three month period. The below chart, from Goldman Sachs, shows S&P 500 share buybacks as a percentage of corporate cash use is now at its highest level since 2007. If bond issuance were to stumble, that could in theory make it harder for companies to finance some of the corporate actions that have been helping to move their shares higher.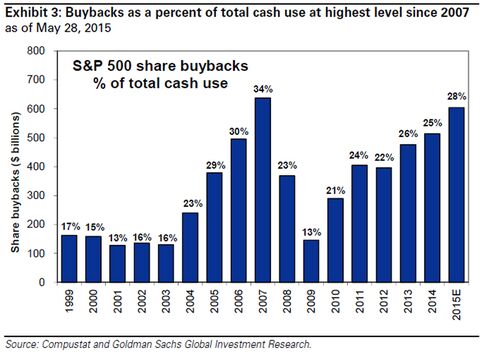 A booming market of deteriorating quality with a host of new and potentially flighty investors and spreads priced to perfection might not sound like a great mix, so we'll leave you with one (uplifting) thought.
While the Fed might be embarking on its first tightening in many, many years, Europe is still in the throes of easing its monetary policy. Corporate issuance in the region has been booming, and plenty of U.S. companies have been tapping the euro market to take advantage of its relatively lower borrowing costs.
So even if the Fed ends its multi-year reign of ZIRP, the corporate credit boom could well live on for some time to come—just not necessarily in the U.S.
Before it's here, it's on the Bloomberg Terminal.
LEARN MORE