Ferguson Lowered to Junk by Moody's With City Facing Insolvency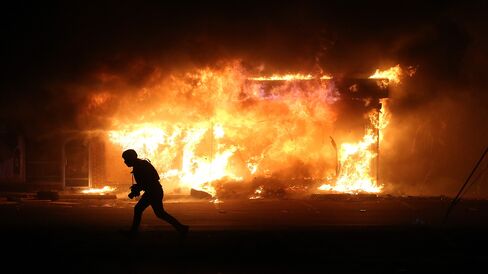 Ferguson, Missouri, the St. Louis suburb that became a center of protests against racial injustice by police, had its credit rating cut to junk by Moody's Investors Service because of "severe and rapid" deterioration of its finances.
Ferguson was criticized by the Justice Department this year for violating residents' civil rights with heavy-handed police tactics in order to raise money with fines. As it negotiated a settlement with the federal government, the city's key revenues have fallen, Moody's said in a statement Thursday.
Ferguson could become insolvent by the 2017 fiscal year, the credit-rating company said. The rating cut reflects "severe and rapid deterioration of the city's financial position, possible depletion of fund balances in the near term, and limited options for restoring fiscal stability," Moody's said.
Ferguson became a national symbol of racial unrest after a white police officer killed an unarmed black teenager there last year. The fatal shooting and a grand jury's decision not to indict the officer set off violent riots in the city and demonstrations across the country.
Moody's rating on the city's general-obligation bonds was lowered from Aa3 to Ba1, one level below investment grade.
Before it's here, it's on the Bloomberg Terminal.
LEARN MORE