Drahi's Altice Agrees to Buy Cablevision in $17.7 Billion Deal
Dolans exiting New York-area cable provider after four decades

French tycoon would accelerate U.S. pay-TV expansion
Billionaire Patrick Drahi's Altice NV, Europe's most acquisitive cable company, agreed to buy Cablevision Systems Corp. in a $17.7 billion deal to create the fourth-largest cable provider in the U.S.
Cablevision investors including the controlling Dolan family will receive $34.90 a share in cash, or 22 percent more than the stock's Wednesday close in New York. Altice will finance the purchase with $8.6 billion of new debt at Cablevision and $3.3 billion of cash from Altice it'll raise by selling new shares. BC Partners and CPP Investment Board have an option to buy as much as 30 percent of Cablevision, Altice said Thursday.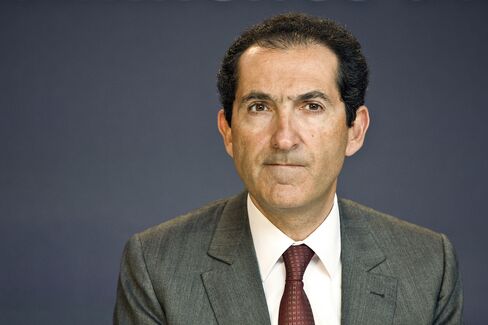 Cablevision soared 14 percent to $32.51 at the close in New York Thursday. Cablevision would vault Altice into the ranks of major pay-TV players in the U.S. and accelerate Drahi's push to create a cross-Atlantic cable giant. The company agreed in May to buy majority control of St. Louis-based Suddenlink Communications in a $9.1 billion deal that marked the first U.S. foray by the French-Israeli tycoon.
For 88-year-old Charles Dolan, one of the pioneers of the cable industry, the deal marks an exit from the cable business after more than four decades and a refocus on the sports assets he still controls. The Dolan family had in recent years spun off Madison Square Garden Co., owner of the New York Knicks basketball team and the New York Rangers hockey team, as well as AMC Networks Inc., home of shows such as "The Walking Dead."
Big changes in viewing habits are driving consolidation among pay-TV providers and spurring entertainment companies, their programming suppliers, to consider moves of their own. Cable and satellite TV in the U.S. suffered the largest subscriber losses ever in the second quarter, in part because of the popularity of web TV services like Netflix Inc. That's threatening the industry's two sources of revenue: ads and subscriber fees.
Dolans' Control
Charles Dolan founded Cablevision, based in Bethpage, New York, in 1973. He also started HBO before selling it to what was then called Time-Life. The billionaire is chairman of Cablevision, which is run by his 60-year-old son James, the chief executive officer. The family holds about 72 percent of the voting power at Cablevision through Class B shares that have 10 votes each.
Cablevision owns money-losing New York-area newspaper Newsday and TV station News 12, and Altice has committed to funding them, according to a person familiar with the matter.
Cable Consolidation
The U.S. pay-TV industry is consolidating rapidly. AT&T Inc. acquired DirecTV, the biggest satellite operator, in July for about $65 billion, including debt, and Charter Communications Inc., the company backed by John Malone, is scooping up Time Warner Cable Inc., the No. 2 cable provider, in a transaction valued at $79.2 billion.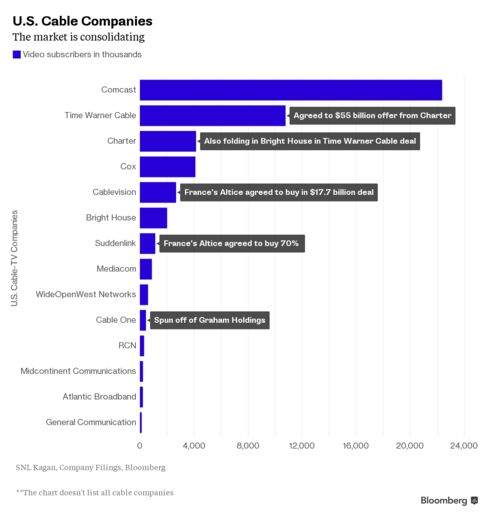 Cablevision had 2.6 million video subscribers as of the second quarter, according to data compiled by Bloomberg, while Suddenlink had about 1.1 million. By comparison, DirecTV had 20.3 million and Time Warner Cable almost 11 million.
Altice's offer values Cablevision at 9.64 times estimated 2015 earnings before interest, taxes, depreciation and amortization, compared with the 9.35 times U.S. peers are valued at on average, according to Bloomberg Intelligence. Altice is paying $6,712 per video subscriber, taking into account the debt assumed. That compares with $8,040 Altice paid for each Suddenlink subscriber and $7,138 Charter is paying for each Time Warner Cable user.
Drahi's Rise
Drahi, 52, has built Altice into one of Europe's most acquisitive telecommunications companies since its 2014 initial public offering. With a cable and phone empire stretching from Israel to France and the Caribbean, Drahi also used Altice to expand in media. His net worth tops $16 billion, eclipsing cable rivals including Malone, who is worth $8.6 billion, according to the Bloomberg Billionaires Index.
In June, Drahi unveiled a plan to convert Altice into a holding company to gain a new stock for future takeovers without risking a major dilution in his control. The following month, Drahi said he was interested in acquiring U.S. cable companies such as Cablevision, sending the stock up.
Debt financing has been a key component of Drahi's acquisition strategy. Altice's net debt reached 26 billion euros last quarter and any interest-rate increase would make it more costly to borrow money.
JPMorgan Chase & Co., BNP Paribas SA and Barclays Plc advised Altice. Bank of America Corp., Guggenheim Securities and PJT Partners assisted Cablevision.
Before it's here, it's on the Bloomberg Terminal.
LEARN MORE