Credit Suisse Seeks to Build Luxembourg Hub as EU Gateway
Geneva's Pictet, Lombard Odier also expanding in Luxembourg

Luxembourg vies with London, Frankfurt as main EU market hub
Swiss banks led by Credit Suisse Group AG are stepping up operations in Luxembourg, using the rival market as a gateway to clients in the 28-nation European Union.
Roiled by the erosion of financial secrecy that helped make Switzerland the top offshore wealth center, and an impasse in Swiss-EU political relations, the banks are seeking to build a stronghold in Luxembourg will help them comply with new EU financial rules.
Pictet and Lombard Odier, Geneva's two largest private banks, are also expanding their base in Luxembourg. They are among at least a dozen Swiss firms in the country, of which at least seven have established or built up banks there in the past three years, according to data published by the financial regulator known as the CSSF.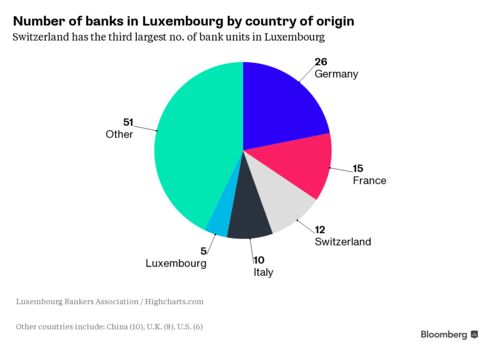 Luxembourg is vying with London and Frankfurt to be the preeminent hub for banks and fund managers to export their services across the EU. While it once relied on the pull of bank secrecy and tolerance of multinationals' tax avoidance structures, Luxembourg's swift adoption of EU laws and rules for "passporting" fund administration and other financial services across the continent have swelled assets under management at its banks.
At half the size of Rhode Island, the country of 560,000 people is teeming with financial firms that hold more than 3.5 trillion euros ($4 trillion) in investment funds. About $700 billion of private wealth is booked in the country, compared with some $4.9 trillion held in Switzerland for affluent individuals and families, according to Boston Consulting Group.
"We want to double the amount of money we book in Luxembourg in three years," Romeo Lacher, head of private banking for Europe, Middle East and Africa at Zurich-based Credit Suisse, said in an interview. "It's a sound anchor in the European Union."
Any appreciable increase at Credit Suisse would be a boon for the industry in Luxembourg. The bank is the world's fourth-biggest wealth manager and Luxembourg is one of its largest booking centers in Europe, the Middle East and Africa outside of Switzerland. It doesn't disclose assets under management by country, a spokesman said.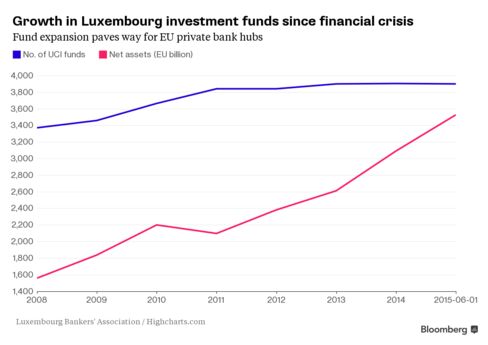 Negotiations between the EU and Switzerland to allow each other greater access to their financial markets have stalled since Swiss voters in February 2014 backed a referendum to restore strict quotas for immigration from EU countries.
"The banking sector is seeing itself marginalized and even risks being excluded from the large European market," Patrick Odier, chairman of the Swiss Bankers Association, told reporters in Zurich on Thursday. Odier is also senior managing partner at Lombard Odier.
At present, Swiss banks aren't allowed to solicit or call EU clients from Switzerland as it's not one of the 28-member countries. They are supposed to serve them locally in their country of residence, via a hub in another EU jurisdiction, or ask clients to visit them in Switzerland.
"We dream about free provision of services throughout the EU and you can have that in Luxembourg," Nicola Battalora, an executive who oversees the Luxembourg business for BSI SA. The bank is based in Lugano, the Italian-speaking region of southern Switzerland.
U.K. Referendum
Credit Suisse has grouped branches in France, Austria, Portugal and Greece under its unit in Luxembourg. It also serves private clients from other countries in and outside the EU there, and expects much of its asset growth to come from ultra-wealthy clients with at least 50 million Swiss francs ($52 million) to invest, Lacher said.
Lombard Odier, registered in Geneva as Cie. Odier SCA, increased Luxembourg staff to 100 from "a few dozen" four years ago when the company started to accelerate its expansion in the country, said Frederic Rochat, one of six managing partners at Geneva's oldest bank, which oversees 209 billion francs. "We certainly expect to grow there," he said.
Pictet & Cie. Group SCA's Luxembourg office grew to 400 staff in June, versus 326 in 2010, and is the spearhead for expansion in the EU, according to a company official. Union Bancaire Privee and Mirabaud SCA of Geneva also cemented Luxembourg as a key banking center for Europe outside Switzerland in the past three years.
As more than 60 countries prepare for a bank data exchange system that destroys old secrecy advantages, Luxembourg is competing more aggressively with other European financial centers, according to Olivier Marechal, head of financial services at EY Luxembourg. It's cheaper than London and has good public services and international schools, Marechal said.
A referendum on the U.K.'s membership in the EU slated for 2017 makes Frankfurt the other obvious location. Julius Baer Group Ltd., the third-largest Swiss wealth manager, already made Frankfurt its primary EU booking center. Proximity to the European Central Bank may draw UBS Group AG, Switzerland's No. 1 lender, there for its EU wealth management hub. "No final decision has been made yet on the location for the EU hub," said Serge Steiner, a spokesman for UBS.
"Swiss private banks will continue to pursue a hub strategy in the EU," said Olivier Carre, who heads the banking practice for PwC Luxembourg. "Luxembourg has plenty of advantages, but it's not the only option."
Before it's here, it's on the Bloomberg Terminal.
LEARN MORE