China Stocks Sink in Late Trade With Volatility at 18-Year High
Shanghai Composite Index plunges in last half hour of trading

Uncertainty over level of state support causes confusion
China's stocks sank in the last 30 minutes of trading in thin volumes as traders tested the limits of state support amid the biggest price swings since 1997.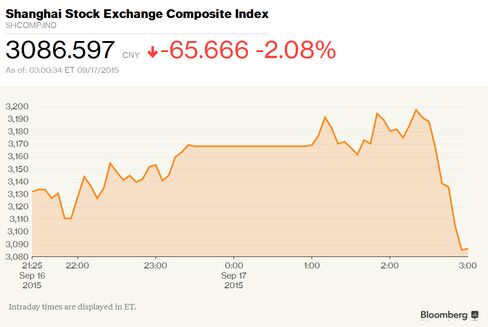 The Shanghai Composite Index slid 2.1 percent to 3,086.60 at the close, wiping out an advance of as much as 1.7 percent, as material and drug companies slumped. The benchmark gauge jumped 4.9 percent on Wednesday in a last-hour rally -- the hallmark of state-backed fund buying -- after falling dropped 6.1 percent in the first two days of the week.
Volatility is surging and turnover is slumping on concern government intervention will fail to shore up the world's second-largest stock market amid signs of a deeper economic slowdown. Price swings have been exacerbated by state investigations into market manipulation as well as the Federal Reserve's interest-rate meeting this week.
"The market is becoming increasingly volatile as state support has caused confusion to the market and investors," said Li Jingyuan, head of securities investment at Shanghai Zhaoyi Asset Management. "Information on state buying isn't transparent and it seems that the national team doesn't have a
clear strategy and tactics. So you see a volatile market as investors don't follow state buying."
Hong Kong's Hang Seng China Enterprises Index climbed 0.6 percent, while the Hang Seng Index lost 0.5 percent. The CSI 300 Index dropped 2.2 percent, with gauges of material and health-care stocks dropping at least 3 percent. Yunnan Copper Co. slumped by the 10 percent daily limit, while Shenzhen Zhongjin Lingnan Nonfemet Co. lost 5 percent. Guangzhou Baiyunshan Pharmaceutical Holdings Co. declined 4.4 percent.
Sinking Volumes
Turnover on the Shanghai stock exchange has tumbled 74 percent from the peak in June. Volumes were 17 percent below the 30-day average on Thursday.
The Shanghai gauge has tumbled 40 percent from its June high as leveraged investors fled amid concerns valuations weren't justified given the weakening economy. Equities on mainland bourses trade at a median 48 times reported earnings. That's the highest among the 10 largest markets and more than twice the 18 multiple for the Standard & Poor's 500 Index. The Shanghai Composite, where low-priced banks have some of the biggest weightings, has a ratio of 15.
Zhang Yujun, an assistant chairman for the China Securities Regulatory Commission, is being investigated for "severe disciplinary violations," the Communist Party's top disciplinary body said in a statement. Zhang previously served as general manager of both the Shanghai and Shenzhen stock exchanges. The statement by the Central Commission for Discipline Inspection provided no details on the probe. The CSRC declined to comment.
Citic Securities
The investigation comes as the government vows measures against "malicious" short sellers and attempts to "purify" capital markets. On Tuesday, authorities announced a probe into Cheng Boming, the president of Citic Securities Co., China's biggest brokerage, over allegations of "insider trading."
The government has spent $246 billion purchasing equities since a $5 trillion selloff began three months ago through August, according to Goldman Sachs Group Inc.
Tsingtao Brewery Co. surged 8.6 percent in Hong Kong after Goldman Sachs Group Inc. said a deal between SABMiller Plc and Anheuser-Busch InBev NV is a "game changer" for China's beer industry if it gets completed.
Traders see a 30 percent chance the Fed will raise borrowing costs at the end of its two-day meeting, up from as low as 26 percent on Monday but still below the 50 percent odds before China's yuan devaluation last month. Near-zero U.S. interest rates have supported demand for developing-nation stocks, bonds and currencies.
"A possible rate hike is negative for the A-share market as it triggers changes in interest-rate spreads between China and the U.S. and puts pressure on the stability of the yuan exchange rate," Shen Zhengyang, an analyst at Northeast Securities Co. in Shanghai, said by phone.
— With assistance by Shidong Zhang
Before it's here, it's on the Bloomberg Terminal.
LEARN MORE