U.S. Stocks Rise Before Fed Policy Makers Meet to Debate Rates
Rally in oil boosts energy; brewers spark deal optimism

Fed officials to decide on interest rates Thursday afternoon
U.S. stocks closed at their highest level in four weeks, with equities spurred on by a rally in energy shares and deal activity among beer brewers while Federal Reserve policy makers debated whether to raise interest rates.
Molson Coors Brewing Co. jumped 14 percent to a record after Anheuser-Busch InBev NV said it intends to make a bid for Molson's joint-venture partner SABMiller Plc. Chevron Corp. and Exxon Mobil Corp. advanced more than 1.9 percent as oil climbed the most this month. Hewlett-Packard Co. gained 5 percent amid its plans to cut about 30,000 jobs. FedEx Corp. lost 2.8 percent after cutting its 2016 profit forecast.
The Standard & Poor's 500 Index rose 0.9 percent to 1,995.31 at 4 p.m. in New York, capping a 2.2 percent two-day rally that left the gauge at its highest since Aug. 20. The Dow Jones Industrial Average added 140.10 points, or 0.8 percent, to 16,739.95. The Nasdaq Composite Index gained 0.6 percent. About 6.6 billion shares traded hands on U.S. exchanges, 7.3 percent below the three-month average.
"The last few weeks of August were a bit of a Draconian sell-off and I think what we're seeing now is somewhat of a relief rally," said George Schultze, who oversees $200 million as founder and managing member of Schultze Asset Management in Purchase, New York. "If you asked most people in early August, they'd say it's very likely the Fed would raise rates in mid-September, and I don't think people will be surprised if they do."
Data today showed prices paid by American households declined in August as cheaper gasoline helped keep inflation below the objective of Fed policy makers. The consumer-price index dropped 0.1 percent, the first decline since January. The so-called core measure, which strips out often-volatile fuel and food costs, rose 0.1 percent for a second month.
Fed Watch
A 15 percent plunge in energy costs over the past 12 months and a rising dollar are acting as a brake on inflation that the Fed views as temporary. Central bankers will have to weigh restrained prices, uneasy financial markets and a resilient U.S. labor market as they consider raising rates.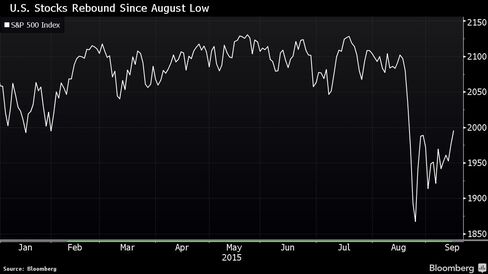 Speculation has increased that the Fed will delay a rate increase as China ignited concern that its slowdown could weigh on global growth. While investors remain confident the central bank will raise borrowing costs this year, traders are pricing in a 30 percent chance of action on Thursday, down from 48 percent before China's currency devaluation last month. Odds of a move at the December meeting are about 63 percent.
The Organization for Economic Cooperation and Development said the Fed would be right to begin raising rates this week but it needs to signal its intentions to the rest of the world.
"Do it now to remove uncertainty facing emerging markets, but communicate more clearly the nature of the more gradual path, that's the message," OECD Chief Economist Catherine Mann said in an interview in Paris.
Equities have been particularly volatile recently amid concerns about China and the Fed's rate intentions. While the Chicago Board Options Exchange Volatility Index has slipped 48 percent from its high last month, it was still 38 percent above its annual average. The measure of market turbulence known as the VIX declined 5.3 percent Wednesday to 21.35.
Rate Impact
Even as stock swings whipsawed investors in the past weeks, the S&P 500 has rebounded 6.8 percent since a low last month. The gauge is down 3.1 percent this year, and 6.4 percent below its record set in May.
With the S&P 500 trading at 16.7 times its members' projected earnings, history shows that a Fed rate increase could be bad news for investors banking on a rebound in U.S. corporate earnings. Since World War II, profit growth has fallen by roughly half in the year after a Fed hike, data from Ned Davis Research Group show. Analysts predict S&P 500 earnings will be flat this year, before rising 9.7 percent in 2016.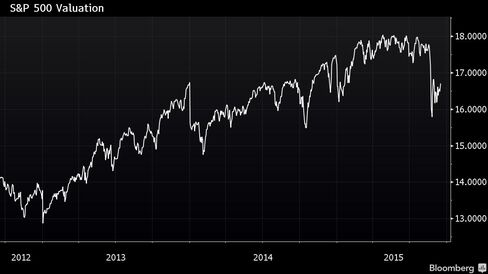 "If we get the first tightening over with, it's not likely to have a material impact on economic growth, but it probably could offer the market some relief because we know with certainty where Fed policy is," said Gina Martin Adams, a strategist at Wells Fargo Securities LLC, during an interview on Bloomberg Radio. "We quite frankly think that earnings will recover quite nicely in 2016."
Nine of the S&P 500's 10 main groups advanced today, led by energy's 2.8 percent rally. Chesapeake Energy Corp. soared 14 percent, the most in six weeks, and stretched its gains this week to 19 percent. Apache Corp. and driller Helmerich & Payne Inc. advanced more than 5.9 percent. West Texas Intermediate crude increased 5.7 percent amid signs of falling supplies.
Molson Coors climbed the most since 1997 to lead gains in consumer staples amid Anheuser-Busch InBev's interest in SABMiller. Molson and SABMiller have a U.S. joint venture called MillerCoors LLC. Altria Group Inc. added 2.3 percent as it holds a 27 percent stake in SABMiller. Anheuser-Busch ADRs rallied 6.8 percent, the most since 2012. Hershey Co. increased 3.3 percent to a four-month high after JPMorgan Chase & Co. raised the stock to overweight from neutral.
Materials Climb
Newmont Mining Corp. and Freeport-McMoRan Inc. led raw-materials companies higher, gaining more than 4.8 percent as gold and copper prices rose. Dow Chemical Co. and Alcoa Inc. added at least 2.3 percent.
Plum Creek Timber Co. surged 5.9 percent, its biggest climb in more than six years. The company agreed to form a joint venture with several institutional investors, allowing them to invest in timberlands it currently manages.
General Electric Co. rose 2.5 percent to its highest since Aug. 18. Credit Suisse Group AG added the company to its focus list as it sees financial unit divestments regaining momentum and potential acquisition activity boosting shares. Also, GE and Sinomach of China have agreed to build energy infrastructure projects valued at $2 billion in emerging markets, beginning with a wind farm in Kenya.
The Dow Jones Transportation Average was little changed as gains of more than 1.2 percent in railroads Union Pacific Corp., CSX Corp. and Norfolk Southern Corp. offset FedEx's 2.8 percent slide. The delivery company cut its full-year profit forecast just three months into its new fiscal year, citing softer demand for some shipments that crisscross the U.S. by truck and higher costs in its Ground unit.
Sirona Dental Systems Inc. fell 2.4 percent after Dentsply International Inc. agreed to buy it for $5.5 billion in stock, lower than the company's market value as of yesterday's close. Dentsply lost 2.4 percent, the worst performer in the S&P 500's health-care group. The Nasdaq Biotechnology Index slipped 0.4 percent, trimming an earlier 1.5 percent drop.
Before it's here, it's on the Bloomberg Terminal.
LEARN MORE