Hedge Fund Rising 107% Sees More China, Emerging-Market Pain
Bakhramov fund gains 60% in August shorting Asian currencies

Macro managers drop 0.8% on average in 2015 after China slump
As hedge fund managers take a beating from the slowdown in China, Ray Bakhramov is flying high.
Bakhramov, the chief investment officer of the $100 million Forum Asset Management, said he's been betting on an emerging-market slump since 2012. His conviction led to three years of losses of 10 percent to 20 percent in his Global Opportunity Fund.
Bakhramov finally got his wish in July and August, as did a handful of managers who made multi-year wagers that emerging-market stocks and currencies would begin to tumble, starting with a downturn in China. Forum's main fund notched a 24 percent gain in July and jumped 60 percent the following month, fueled by short positions in the Chinese yuan and the Taiwanese and Singapore dollars, according to a letter to investors obtained by Bloomberg. All told, the fund has risen 107 percent this year through August and an average of 18.7 percent a year since its 2005 inception.
"We're basically long volatility," Bakhramov, who previously structured asset-backed securities at Credit Suisse Group AG, said in an interview last week. "We'll have a lot of tremors and then a big shakeout. This is just the first."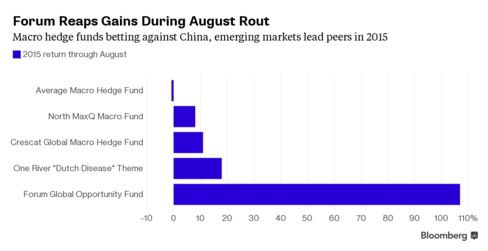 Eric Peters, the chief investment officer of the $900 million investment firm
One River Asset Management, also made a bundle during the market rout. Peters said he's been shorting Australian and Brazilian stocks, the Norwegian krone, the Chilean peso and soy beans while going long on Australian bonds.
Dutch Disease
One River, recently renamed from Peters Capital Group, sets up a fund for each investor who picks among the firm's five macro themes. A two-year-old strategy called "Dutch disease" has bet against currencies and stocks in commodity-producing countries. It increased 18 percent in the first eight months of 2015, mostly in July and August, according to a person with knowledge of the returns. Another theme started last year called "long volatility" jumped roughly 9 percent in August and has gained 9 percent this year, said the person.
As China's appetite for commodities wanes, producers in emerging markets won't see a rebound in demand anytime soon, Peters said.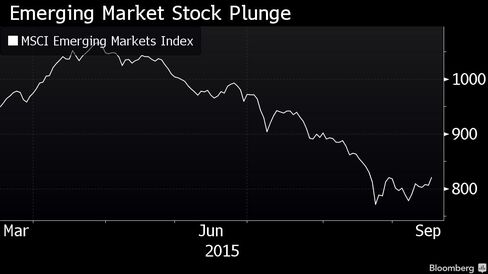 "This is a very powerful force, for countries to go through a period where they've grown so wealthy and now have to adjust their expectations," said Peters, who is based in Greenwich, Connecticut. "It's difficult to attract new types of companies or industries to their country. These things take a long time."
Bakhramov and Peters have been outpacing their peers. The average hedge fund that makes wagers on macroeconomic events lost 0.8 percent this year through August, while the average fund betting across strategies lost 0.1 percent in the same period, according to Chicago-based data provider Hedge Fund Research Inc.
China Bear
Crescat Capital is also beating rivals, with its main global macro fund rising 4.8 percent in August after betting against the Chinese yuan since last year. The fund has gained 11 percent this year through last month, according to Crescat's website. The main fund at Andrew Law's $8.8 billion Caxton Associates increased 3.1 percent in August and earned 8.2 percent in 2015, according to a person with knowledge of its returns. The firm declined to comment on the performance.
North Asset Management, the $1.1 billion London-based global macro firm, took a bearish position on China around the middle of last year and gained 8.1 percent in 2015 through August, chief investment officer George Papamarkakis said Monday.
"We've been negative on the Chinese economy and we've been thinking that they're going to have to cut rates aggressively," Papamarkakis said, adding that the next bout of volatility may be months away.
Bakhramov sees tumult in emerging markets continuing for years as distortions caused by uninterrupted waves of investment are corrected.
Asian Crisis
"The Asian crisis started in 1997. The volatility ended in 2002," said Bakhramov, who received his Ph.D. in economic theory in St. Petersburg, Russia, and is based in New York. "There are a lot of historical analogies in terms of timing. I think this round started 12 months ago so we're in the early stages."
Next to fall could be high yield credit and some emerging-market debt, the manager said. But he's more cautious now after three years of losses, and he reduced some of his exposures after profits in August.
"Clearly we were way too early," he said, blaming central bank easing globally for delaying an inevitable collapse in China. "We're being much more careful this time."
Before it's here, it's on the Bloomberg Terminal.
LEARN MORE