Gold Market Freezes With Tightest Trading Range in Eight Years
Volume on Comex this week dropped to lowest level all year

`They're sitting on their hands,' says Ash of BullionVault
There's so little appetite for gold that prices are moving the least since 2007.
Spot prices fluctuated in a $8.05 range on Monday and Tuesday, the smallest move in eight years, according to data compiled by Bloomberg. Volume on the Comex this week dropped to the lowest level of 2015, amounting to about half the daily average. Bullion for immediate delivery added 0.2 percent to $1,108 an ounce by 12:46 p.m. in London.
"Gold isn't moving," Adrian Ash, head of research at BullionVault, said by phone from London. "No one in the market has any idea what the Fed is going to do or say, so they're sitting on their hands."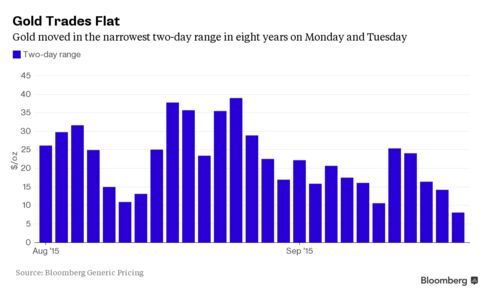 Traders are pulling out of gold trading as the Federal Reserve prepares to start a two-day meeting on monetary policy. Bets are rising that the Fed will raise rates, with options trading showing a 32 percent chance of a 25 basis point increase. That's up from 28 percent on Monday. The probability of a rate increase is 63 percent by December, based on data compiled by Bloomberg. Higher rates curb the allure of gold by making it less competitive to assets that pay a yield, like bonds.
Gold market swings are also diminishing before the Fed's meeting, with a measure of 15-day volatility falling to the lowest in almost a month on Wednesday. Spot prices fluctuated between $1,102.55 and $1,110.60 on Monday and Tuesday, according to data compiled by Bloomberg.
Metal held in exchange-traded products declined by the most in four sessions. Holdings decreased by 1.1 metric tons to 1,516.4 tons, based on data as of Tuesday.
Platinum was 0.2 percent lower at $960.63 an ounce in New York, while palladium lost 1.2 percent to $595.80 an ounce. Silver climbed 0.8 percent to $14.541 an ounce.
Before it's here, it's on the Bloomberg Terminal.
LEARN MORE