Glencore Sells Shares to Raise $2.5 Billion and Reduce Debt
Swiss miner and trader sold shares at 125 pence apiece

Sale is part of debt-reduction plan announced last week
Glencore Plc, the worst performer on the U.K.'s benchmark stock index this year, sold $2.5 billion of new shares to pay down debt to help protect its credit rating amid a rout in commodities prices.
Glencore sold the stock at 125 pence a share, a 2.4 percent discount to the closing price on Tuesday, the Baar, Switzerland-based commodities trader and miner said in a statement. Chief Executive Officer Ivan Glasenberg paid about $210 million to buy stock in the sale in order to maintain his 8.4 percent stake, honoring a commitment that he and other senior managers representing 22 percent of the company wouldn't dilute their holdings.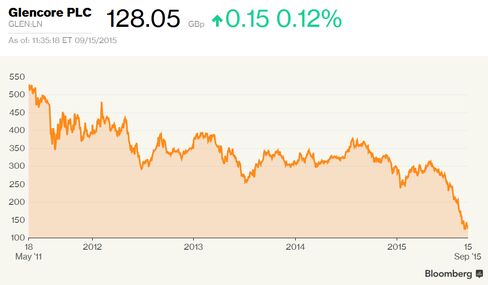 Glasenberg is responding to investor concern that a debt-laden balance sheet can't withstand the slump in commodity prices. The share sale, the largest of its kind in the mining industry in Europe, is part of a wider $10 billion debt-reduction program announced last week, which saw the company scrap dividends and plan asset sales to cut its $30 billion of borrowings.
"The company appears to be moving quickly to make its outlined restructuring so it can get on with business," Investec Plc analysts wrote in a note to clients. It's "a sensible move" and Glencore "has elected to push ahead rapidly in order to remove uncertainty," they said.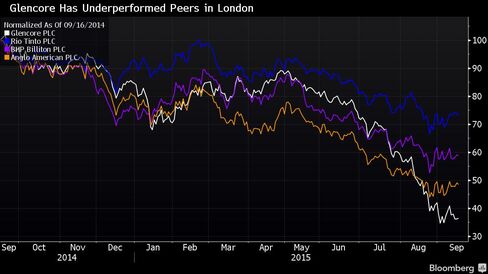 Investor Harris Associates LP took advantage of recent weakness in Glencore's stock to boost its holding to 5.5 percent before the sale, which would make it the third-biggest shareholder, according to data compiled by Bloomberg. Harris bought shares in the offering to maintain its holding at that level, David Herro, chief investment officer for international stocks, said by e-mail.
The shares rose 5.2 percent in London to close at 134.70 pence, valuing the company at about $27 billion. The sale tops Xstrata Plc's $2.45 billion offering in 2006 as the biggest placement of its kind in the European mining industry, according to data compiled by Bloomberg.
The stock touched 118.1 pence on Tuesday, the lowest price since the company's $10 billion initial public offering in 2011. Its Hong Kong-traded shares tumbled 7.6 percent that day to close at a record low of HK$14.80. They were suspended Wednesday pending the share-sale announcement.
The measures will ease balance sheet concerns but they "do not provide longer-term equity investors with any confidence on the equity story for the company," Rob Clifford, an analyst at Deutsche Bank AG in London, wrote in a report Wednesday. "The key task for the management team in our view is to rebuild the equity story post the significant under-performance, dilution and dividend cut."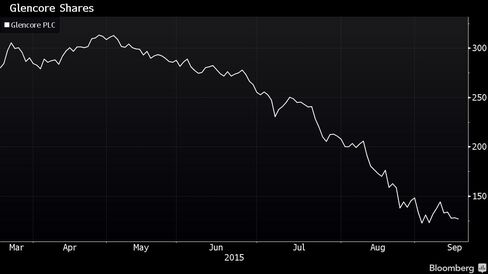 Moody's Investors Service cut its outlook to negative on Glencore last week and affirmed the company's Baa2 debt rating. A week earlier, Standard & Poor's reduced its outlook on Glencore's BBB level to negative, saying China's slowing economy will continue to weigh on copper and aluminum prices, which are near six-year lows.
Glencore said in an earlier statement that it would offer stakes to both new and existing investors. Wednesday's announcement didn't disclose whether any new investors took part in the offering.
Peter Grauer, the chairman of Bloomberg LP, the parent of Bloomberg News, is a senior independent non-executive director at Glencore.
Before it's here, it's on the Bloomberg Terminal.
LEARN MORE