'Flash Boys' Heroes Ask For Stock Exchange Status
IEX applies to convert into an exchange like NYSE, Nasdaq

Move could help boost its market share from about 1.4%
The heroes of Michael Lewis's "Flash Boys" are officially amping up their quest to stamp out unfairness in the U.S. stock market.
Brad Katsuyama's IEX Group Inc. has asked for the U.S. government's permission to convert into a stock exchange, a move that would put it on equal footing with the New York Stock Exchange and Nasdaq Stock Market. The Securities and Exchange Commission disclosed the application
on Wednesday. After it's published in the Federal Register, the industry and the general public will have 45 days to comment.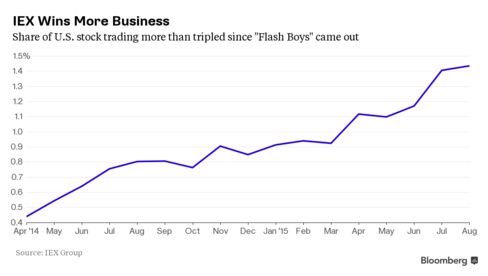 Lewis portrayed the IEX stock-trading platform as a refuge in his 2014 book, arguing that other markets have conspired with banks and the fastest traders to rip off investors. By deploying a speed bump -- a coil of wire that effectively slows things down by 350 microseconds -- IEX aims to blunt advantages it says some speed traders use to cheat other investors.
"We want to compete directly with NYSE," Katsuyama, the chief executive officer of IEX, said in an interview. "The best way to show the difference between what we think an exchange should be doing and what they currently are is to be one ourselves."
Becoming an exchange -- which the company plans to call the Investors Exchange -- could help New York-based IEX win more business. When an exchange has the best price for a stock at any given moment, orders must be routed its way. Lightly regulated alternative platforms, which is what IEX legally is today, don't enjoy that same advantage. Even with that headwind, IEX has won about 1.4 percent of U.S. equities trading less than two years after launching.
"Right now, IEX is a choice that people may or may not make," Katsuyama said. "As an exchange, you're part of the National Market System. It becomes an obligation if you're the best price to send the order. It goes from optional to mandatory."
NYSE and Nasdaq have histories stretching back centuries and decades, respectively. Bats Global Markets Inc. is the other major exchange operator in the U.S. About a decade after it was founded, its four exchanges handle about a fifth of stock trading in America.
Should it become an exchange, IEX won't initially threaten the incumbents, said Rich Repetto, an exchange analyst at Sandler O'Neill Partners LP.
"There certainly could be a competitive response if they get a license and traction with market share," Repetto said. "Just getting an exchange license all by itself doesn't mean it's any more successful than they are right now."
Before it's here, it's on the Bloomberg Terminal.
LEARN MORE