$50 Oil Puts Saudi Budget Deficit Beyond Reach of Spending Cuts
Analysts warn against using reserves to maintain spending

Government yet to announce specific measures to cut costs
The slump in oil prices has spurred Saudi Arabia's government to search for savings, contemplate project delays and sell bonds for the first time since 2007. It won't be enough to prevent the kingdom's biggest deficit in decades.
"The revenue drop is so severe that it's unrealistic to expect spending cuts to have any meaningful impact on the deficit in the near term," said Simon Williams, HSBC's chief economist for central and eastern Europe, the Middle East and North Africa. The longer oil prices stay weak, "the greater the pressure on the authorities," he said in an e-mail.
Though Saudi Arabia has reserves to cope, analysts said that using them to avoid further cost-cutting would put its credit rating at risk while delaying policies with a longer-term benefit, including the reduction of subsidies and the introduction of more taxes to diversify revenue beyond oil. Even after the measures already announced, Riyadh-based Samba Financial Group estimates state outlays will rise by 0.4 percent next year.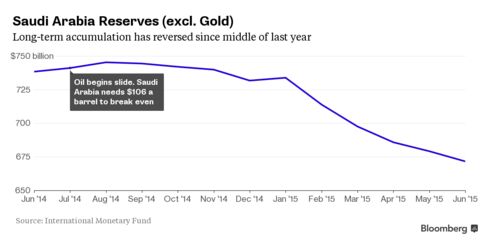 The International Monetary Fund predicts Saudi Arabia's budget deficit to exceed 400 billion riyals ($107 billion) this year, with oil accounting for 81 percent of revenue compared with about 90 percent previously. It expects shortfalls above 10 percent of economic output for the next four years.
"Saudi Arabia can afford its oil regime and the economic status-quo in the near-term," Bank of America Merrill Lynch economist Jean-Michel Saliba said in a report last month. "However, the domestic macro costs of its unchanged policy choices are likely to become more acute and apparent."
Lacking Details
So far, the government has been short on specifics on how it will reduce spending, though planners are said to be considering measures long viewed as off-limits or unnecessary, including phasing out fuel subsidies and investing in renewable energy.
Saudi Arabia was in a similar position in 1998, until a rebound in oil prices alleviated the need for drastic measures. The cost of maintaining the state has increased since, in part due to the late King Abdullah's social spending as the Arab Spring uprisings toppled leaders elsewhere.
King Salman bin Abdulaziz maintained the largess when he came to power earlier this year, handing a two-month bonus to government employees, retirees, students and social security beneficiaries at a cost of 71 billion riyals, according to IMF estimates.
Subsidized gasoline, which costs 16 cents per liter, is taken for granted among Saudi consumers, and while there's a religious levy called zakat, there's no personal income tax on the nation's 30 million people.
With crude sinking below $50 a barrel, something has to give. The break-even oil price for Saudi's budget last year was $106 a barrel, compared to $69 a barrel in 2010, according to the IMF.
'Very Serious'
"There's no time to waste nowadays," Mohammed al-Sabban, a former senior economic adviser to the kingdom's oil ministry, said by phone Sept. 6. "I think we are getting very serious, and that will have a positive impact on the economy very soon."
Likely savings will come from the privatization of some state-owned companies and reducing costly subsidies for products like gasoline, Samba Financial's deputy chief economist James Reeve said by phone from London last week. The government probably won't cut the salaries of state employees or reduce defense spending with Saudi Arabia heavily involved in the war in Yemen.
Removing all fuel subsidies, including for consumers, would provide a boost to government revenue equal to 8 percent of economic output, Reeve said.
"I don't think they're going to do it in one fell swoop," he said, predicting
only a gradual reduction from 2017. Saudi Arabia could finance the budget through debt sales and drawing down foreign assets "for five years without getting into serious trouble," he said.
Authorities are considering energy price reforms for commercial and industrial users, the IMF said in a report released Sept. 9. The neighboring United Arab Emirates stopped subsidizing gasoline in August.
Opening Up
As evidence of policy change, former oil ministry adviser al-Sabban pointed to a royal directive this month to open Saudi Arabia's wholesale and resale markets to companies with 100 percent foreign ownership.
In another move, all government projects costing more than 100 million riyals ($27 million), must now be approved by the Council for Economic and Development Affairs, a body created this year to streamline decision-making.
The government has also scaled back plans to build new sports stadiums, according to the IMF.
With net foreign assets held by the central bank at $661 billion and record-low debt, the kingdom is looking for ways to cut "non-essential spending," Finance Minister Ibrahim al-Assaf said in an interview with CNBC Arabia.
"But the focus continues on the main development projects and building human capabilities in the kingdom," he said. "The kingdom is prepared for this crisis, and God willing, we will deal with it with the importance it deserves."
Investors appear less convinced. Saudi Arabia's benchmark Tadawul All Share Index has fallen more than 30 percent in the past 12 months, out-pacing the 22 percent slump in the MSCI Emerging Markets Index. Goldman Sachs Group Inc. said last week that oversupply could send crude as low as $20 a barrel.
"Safeguarding FX reserves will require deep budgetary cuts at current oil prices, rather than the gradual cuts being contemplated," Saliba at Bank of America Merrill Lynch said. "As these are likely instead to keep imbalances elevated, a sharper adjustment down the line may be necessary."
For more, read this QuickTake: Saudi Arabia