Aussie Leader Turnbull Treads Carefully to Bridge Trust Gap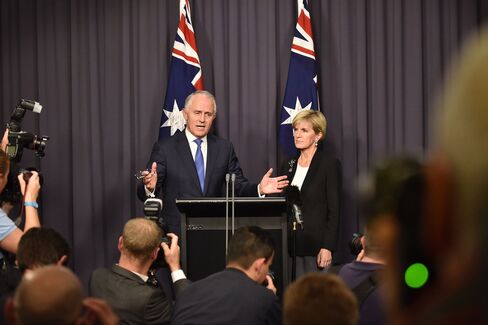 Ex-banker wary of alienating Liberal party's right wing

Efforts on same-sex marriage, republicanism put on hold
Under pressure seven months ago from Australia's public and his own party, then-prime minister Tony Abbott vowed to be a leader who consulted more: he failed and this week was fired. To avoid that fate, replacement Malcolm Turnbull must show he's addressed his own management shortcomings.
Turnbull, 60, has a lot to do: Stem the slide in the economy, build trust with the public, business and investors, and quickly heal a party rift that saw almost half the ruling Liberal lawmakers vote against him in a late-night leadership ballot on Monday.
His political critics point to his turbulent first stint as party leader, a 15-month tenure that was dogged by signs he rode roughshod over colleagues on policy, plus political missteps that hurt his opinion poll ratings.
For Turnbull the challenges come with an ideological twist: The former Goldman Sachs Group Inc. executive is regarded with suspicion within the party for his liberal views on social matters -- opinions that put him at odds with Abbott's conservative agenda. Turnbull may avoid pushing his personal causes, including support for gay marriage, in order to show he's a leader more representative of the party faithful.
'Tread Cautiously'
"Turnbull would be very wise to tread cautiously within his own party on issues he's known to support but may anger his right-wing" elements, said John Wanna, a politics professor at the Australian National University in Canberra. "He has to avoid any early mistakes and create some good news that makes him look like a better leader of a better government."
Australia's new leader needs party unity in order to get on with some of the economic changes that stalled during Abbott's two year term. Australia has seen six prime ministers in eight years, accompanied by periods of political infighting and leadership wrangling within the major parties that has distracted from policy-making and seen laws stuck in parliament.
With the world's 12th-largest economy slowing as China loses steam, the imperative for a strong government has increased, alongside pressure from the business and investment community for policies that bolster consumer confidence. To create cohesion, Turnbull is likely to be less combative.
'Adult Government'
Abbott as prime minister vowed to bring an "adult government" back to Canberra. But his backbenchers publicly complained of his domineering style, while personal gaffes and policy mistakes including a surprise bid to cut some government spending in May 2014 saw his poll ratings plummet.
Abbott, 57, survived a leadership challenge in February, calling it a "near-death experience" that spurred a shift to a more consultative style and fewer "captain's picks": choices made without consulting colleagues on matters like his decision to bestow a knighthood on Queen Elizabeth's husband Prince Philip.
"I've listened, I've learned and I've changed and the government will change with me," Abbott told reporters Feb. 10, asking for six months to turn around the Liberal-National coalition's popularity.
Seven months later he's gone. Turnbull quit the Cabinet Monday, challenged Abbott's leadership and won a ballot of party lawmakers concerned they were heading to defeat in elections due by next year.
Traditional Government
Turnbull is also promising a different type of leadership. "We need to restore traditional cabinet government," he said this week. "There must be an end to policy on the run and captain's calls. We need to be truly consultative."
Still, his political judgment was questioned as Liberal leader in 2009, when he inaccurately accused then-Prime Minister Kevin Rudd of lying to parliament. In the last poll before he was removed by his party as opposition leader, 50 percent of voters surveyed said they were dissatisfied with his performance. Another poll in June 2009 showed 69 percent of voters thought he was arrogant and 65 percent viewed him as out of touch.
Turnbull, whose pre-politics resume includes stints as a journalist and lawyer, has signaled he's willing to compromise on long-held social beliefs in order to appease the hard-liners of his party.
Gay Marriage
A supporter of same-sex marriage, he's now said he'd preserve Abbott's policy of giving voters a plebiscite vote on the matter after the next election. Gay rights activists have said the government should allow lawmakers a free vote on legislation to allow such marriages.
While Turnbull's support of an emissions trading scheme cost him the party leadership by a single vote in 2009, he's since retreated. "The government policy on climate is right, and it is being proved right," he said in parliament Tuesday. "The targets we have set are reasonable ones."
One area where Turnbull may not budge is republicanism, though the issue is likely to be off the table for now: He led the Australian Republican Movement's 1999 unsuccessful campaign to sever Australia's ties with Britain. Turnbull said last month he remains committed to the cause.
His most immediate task will be compiling a new ministry that can unite his party. With speculation increasing that Joe Hockey will be dumped as treasurer and replaced by Social Services Minister Scott Morrison, Turnbull told reporters in Canberra Wednesday that the ministry will be announced Sept. 21.
"Selecting his ministry will be a very delicate balancing act," said the ANU's Wanna. "He can't get rid of all the more conservative Abbott-era ministers and he needs to include some of the party's more progressive younger talent who are very ambitious. That will be hard to manage."
Before it's here, it's on the Bloomberg Terminal.
LEARN MORE