German Investor Confidence Damped by Weaker Emerging Markets
German investor confidence fell for a sixth month in September, adding to signs that the slowdown in emerging markets threatens to drag on growth in Europe's largest economy.
The ZEW Center for European Economic Research in Mannheim said its index of investor and analyst expectations, which aims to predict economic developments six months ahead, slid to 12.1 from 25 in August. The reading compares with a median estimate of 18.3 in a Bloomberg survey of economists. A measure for the euro area also fell.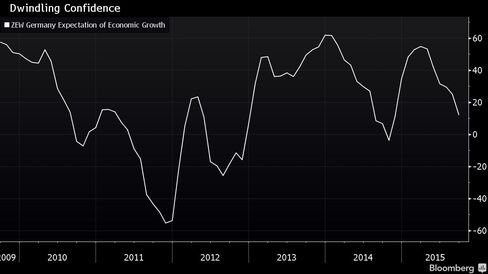 China set off a rout in financial markets last month when it devalued its currency to shore up weaker growth. The slowdown there and in other emerging markets is weighing on confidence in Germany's trade-focused economy, which has recently also been supported by consumption, investment and a recovery in its neighboring countries.
"The weakening economic development in emerging markets dampens the economic outlook for Germany's export-oriented economy," ZEW President Clemens Fuest said in a statement. "While economic growth in the second quarter was largely driven by external demand, it is becoming less likely that exports will stimulate growth in the near future."
The euro was little changed after the report and traded at $1.1313 at 11:09 a.m. Frankfurt time. The benchmark DAX Index was down 0.3 percent.
ZEW's gauge for current conditions in Germany unexpectedly rose to 67.5 in September from 65.7. A similar measure for the euro area also increased.
The 19-nation economy grew 0.4 percent in the second quarter after 0.5 percent in the previous three months, more than initially reported, and a pickup in bank lending bodes well for spending in the coming months.
"The situation in the euro area is improving," said Ulrike Kastens, senior economist at Sal. Oppenheim Group in Cologne. With exports to emerging economies waning in the coming months, "it is a good sign that other countries are seeing growing demand," she said.
The European Central Bank predicts full-year growth of 1.4 percent this year, accelerating to 1.8 percent in 2017. That compares to Bundesbank projections for "solid" German growth of 1.7 percent in 2015 and 1.8 percent the following year.
Before it's here, it's on the Bloomberg Terminal.
LEARN MORE