Economic Takeaways of U.S. Retail Sales Gain, Weak Manufacturing
Economists revise up 3Q consumption estimates after sales rise

Factory output suffers biggest decline since beginning of 2014
What you need to know about Tuesday's economic data:
RETAIL SALES (AUGUST)
Sales climbed 0.2 percent after a 0.7 percent gain in July (revised up)
Stronger purchases at auto dealers, apparel stores offset lower receipts at service stations as gasoline prices fell
Figures used to calculate GDP rose 0.4 percent after a 0.6 percent gain
The Takeaway: The consumer is hanging in there, at least for now. The data help allay concern that volatile stock markets and sluggish global economies would prompt households to hit the brakes on spending, which has been a major contributor to growth this year. And while cheap energy wasn't good for gas-station receipts, it's giving households a little extra disposable income to spend at auto dealers, restaurants and health stores. Several Wall Street economists boosted their tracking estimates for third-quarter consumption after the report.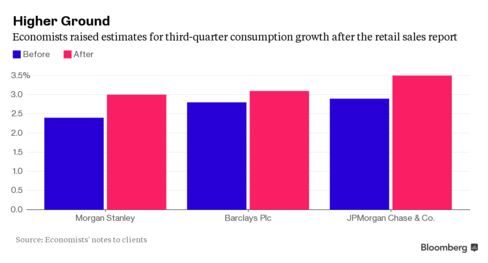 INDUSTRIAL PRODUCTION (AUGUST)
Manufacturing fell 0.5 percent, the most since January 2014
Factory output minus automakers was unchanged after gains of 0.1 percent and 0.2 percent in July and June, respectively
Total industrial production fell 0.4 percent, with mining dropping and utility output advancing
The Takeaway: Manufacturing dropped more than forecast (est. -0.3 percent) last month primarily because automakers throttled back. Motor vehicle production declined 6.4 percent, giving back more than half the acceleration in August that was the quickest since 2009. Even after stripping out autos, factory output is tepid. Blame that on persistent weakness in overseas economies, a strong dollar and a huge inventory build in the first half of the year. Factory production excluding autos was up just 1 percent from a year earlier. One interesting tidbit (even though it accounts for only three-quarters of a percentage point of total industrial production) was a 1.7 percent gain in oil and gas well drilling, the biggest advance since March 2014.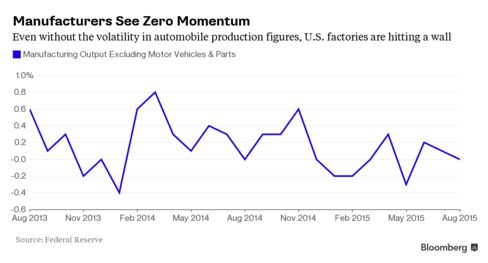 EMPIRE STATE MANUFACTURING (SEPTEMBER)
New York Fed's general economic index at minus 14.7 after minus 14.9 in August, the worst back-to-back performance since March-April 2009
Factories' six-month outlook was worst since January 2013
Orders shrank for fourth month and manufacturing employment contracted
The Takeaway: The gauge more than likely overstates the weakness in manufacturing across the country. Economist Neil Dutta at Renaissance Macro Research said in an e-mail that it does a poor job of lining up with the more widely followed ISM factory index. Combined with the Fed's industrial production report, though, the Empire State gauge underscores the challenges facing American producers.
BUSINESS INVENTORIES (JULY)
Stockpiles climbed 0.1 percent, the smallest increase in four months
Retailers showed a 0.6 percent gain after a 1 percent jump, the biggest back-to-back advances since late 2013
Companies had enough stocks on hand to last 1.36 months at the current sales pace, the same as in the previous four months
The Takeaway: While businesses are starting to rein in bloated inventories, there is probably still more work to be done, which means orders to factories will cool. The current inventory-to-sales ratio remains up from a 2014 low of 1.29 months reached in July.
Before it's here, it's on the Bloomberg Terminal.
LEARN MORE