Driverless 'Pod' Paves Way for Smartphone-Summoned Transport
Can the non-threatening design help with public acceptance?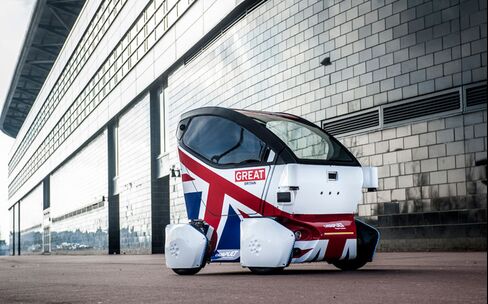 It's more golf cart than VW Golf, but this self-driving two-seater "pod" represents the cutting edge of the emerging British autonomous vehicle industry.
The first electric Lutz Pathfinder, which is smaller than a Smart car, launched in Milton Keynes today before tests in pedestrianized areas at a top speed of 15 miles per hour. The trial hopes to pave the way to a new mode of public transport that can be summoned with a smartphone.
A model of the car was shown in February, but this is the first demonstration of a working research vehicle. Two more test versions will follow in the next few months.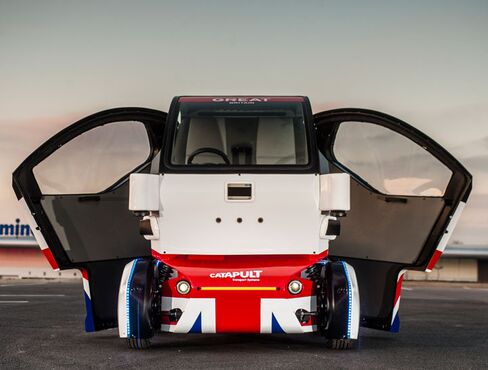 The car still needs its "brain" - an autonomous control system called Mercury, developed by Oxford University's Mobile Robotics Group. It uses lasers, radar and cameras to scan streets for people and objects. Once this is installed, the vehicle will initially be driven in manual mode to map and "learn" its environment, before being let loose in autonomous mode - with a human always on hand to take control in the event of a technical breakdown.
The project - which was announced 18 months ago - is part of a five-year, 120 million pound ($185 million) effort by the U.K. to become a leader in self-driving vehicles. Findings from the project will be used to support the larger-scale U.K. Autodrive program, which will test a fleet of 40-self driving pods.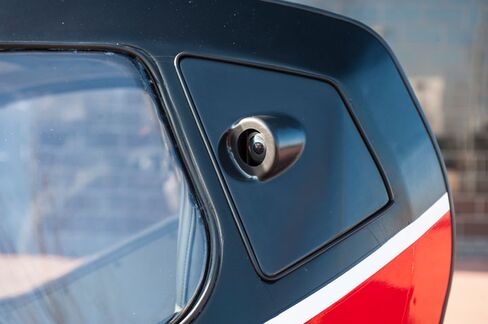 "The U.K. is doing a pretty good job in autonomous vehicles," says Frost & Sullivan senior research analyst Kamalesh Mohanarangam, pointing out that the Lutz Pathfinder is a "very clean car" with no carbon emissions.
"Although it can't drive at normal city speeds - unlike the cars being developed by companies like Google," he adds.
As the U.K. starts trials, Google has been testing the technology for years and has logged more than 1 million miles on public roads with autonomous vehicles.
When the 40-strong fleet is in place, it will provide an opportunity to study how driverless cars might work together at scale. "We'll be able to do user tests for daily commutes," he says.
The lack of legislation to allow this type of vehicle in the U.K. remains a major hurdle. "At the moment if you were to try and put even a Segway onto the pavements it's illegal, let alone an autonomous four-wheeled vehicle," says Neil Fulton, the pod's program director, at the Transport Systems Catapult.
The U.K.'s Department for Transport has put in place a code of practice to allow the technology to be tested, but there is no legislation to allow vehicles to operate beyond research.
In addition to the Lutz Pathfinder, the government has also backed two other programs, with one in Bristol and the other in London's Greenwich. All projects have been match-funded by the private sector. The goal is to reduce accidents, improve air quality and hone new technologies.
Before it's here, it's on the Bloomberg Terminal.
LEARN MORE