Copper Mine Woes Mean Hope for Bulls as Citi Splits With Goldman
Market to swing into supply deficit in 2016, Citigroup says

Mine disruptions, producer cutbacks adding to constraints
Copper bulls that were battered by slowing Chinese demand have reason for hope as Citigroup Inc. predicts mine disruptions will send the oversupplied market back into deficit next year.
More than 1.5 million metric tons of planned output this year has been lost for reasons ranging from rains and riots in Chile to lack of precipitation in Zambia and Papua New Guinea, Citigroup analysts including David Wilson said in a report Tuesday. Total mine output this year will be 18.9 million tons, with production exceeding demand by 61,000 tons, according to the bank, which predicts a deficit in 2016. The forecasts contrasts with other analysts including Goldman Sachs Group Inc., which projects surpluses through 2019.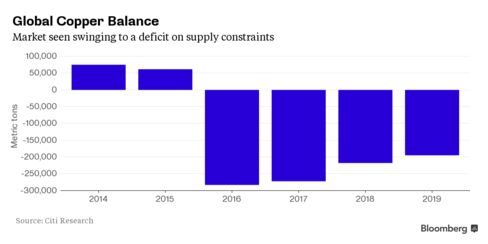 More supply constraints may be on the way, helping push prices above $5,700 a ton by the fourth quarter, or 6.6 percent higher than Tuesday's close, Citigroup said. The metal has slumped 15 percent in London this year as growth slowed in China, which accounts for almost half of demand. The drop has eroded profits of miners from Glencore Plc to Freeport-McMoRan Inc., prompting many to review development plans and cut output.
"Key to pricing cycles over the last 20 years has been supply constraint rather than solely demand pull," Citigroup analysts wrote. "New projects only marginally compensate for stuttering supply growth in older mining complexes."
The market will swing to a deficit of 284,000 tons next year, with refined output estimated to rise 1.3 percent, or less than half the rate in 2015, Citibank said. To reach consensus expectations of 3 percent to 4 percent annualized growth this year would imply an "unrealistic acceleration" to as much as 9 percent for the second half of 2015, the bank said.
The market also may be overlooking increased "impurity issues" in ores as a major supply constraint, with contaminants such as high arsenic levels limiting the amount of mined material that smelters can use, the bank said.
Goldman in estimates a surplus of 506,000 tons this year, expanding to 673,000 in 2016, amid supply growth and weak Chinese demand. The bank in July lowered its copper-price outlook by as much as 44 percent through 2018.
Before it's here, it's on the Bloomberg Terminal.
LEARN MORE