China Stocks Sink Again as Growth Concerns Spur Investor Exodus
Equity fund values tumbled in August amid redemptions

Data this month show state stimulus yet to revive economy
China's stocks slumped for a second day in thin turnover amid concern government measures to support the world's second-largest equity market and economy are failing.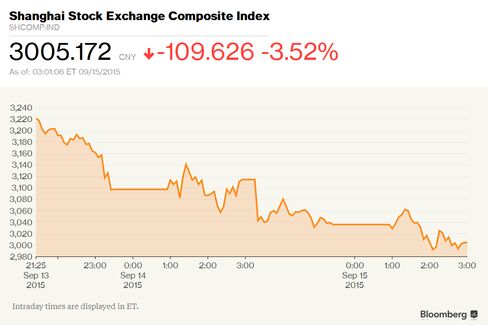 The Shanghai Composite Index dropped 3.5 percent to 3,005.17 at the close, led by commodity producers and technology companies. About 14 stocks declined for each one that rose on the gauge, while volumes were 36 percent below the 30-day average. The index completed its biggest two-day loss in three weeks with a decline of 6.1 percent.
Mainland Chinese equity funds lost 44 percent of their value at the end of last month compared with July, data showed Monday, as unprecedented state measures to stop a $5 trillion selloff failed to avert redemption. Data this month showed five interest-rate cuts since November and plans to boost state spending have yet to revive an economy weighed down by overcapacity and producer-price deflation. Yuan positions at the central bank and financial institutions fell by the most on record in August, a sign that policy makers stepped up intervention to support the currency.
"The economy has not shown signs of a pick up after a series of cuts in
interest rates and reserve requirements, while expectations about yuan
depreciation are still there," said Zhang Haidong, chief strategist at
Jinkuang Investment Management in Shanghai. "Yuan-denominated assets face downward pressure. The market is still weak."
Still Expensive
The CSI 300 Index declined 3.9 percent. Hong Kong's Hang Seng China Enterprises Index slipped 0.3 percent, while the Hang Seng Index retreated 0.5 percent.
The Shanghai index may fall to 2,700 as stocks are still expensive, said
Francis Cheung, CLSA head of China and Hong Kong strategy, said in a briefing on Tuesday. Equities on mainland bourses traded at a median 45 times reported earnings last week. That's the highest among the 10 largest markets and more than twice the 18 multiple for the Standard & Poor's 500 Index. The Shanghai Composite, where low-priced banks have some of the biggest weightings, has a ratio of 15.
Gauges of technology and material stocks on the CSI 300 slumped more than 6 percent for the biggest declines among industry groups. Searainbow Holding Corp. and Yunnan Copper Co. both tumbled by the 10 percent daily limit.
Equity Funds
The 569 open-ended mainland Chinese stock funds had combined net asset values of 724.8 billion yuan ($113.8 billion) in August, compared with 1.3 trillion yuan in July, according to data posted on the website of the Asset Management Association of China on Monday. The industry body didn't explain the reason for the decline. The Shanghai Composite fell 12 percent in August.
Margin debt on the Shanghai Stock Exchange dropped to a nine-month low of 599.9 billion yuan on Monday. Traders have cut leveraged bets on Chinese bourses by more than half since the peak this year to $154 billion.
Barclays Plc. cut its forecast for the nation's growth next year to 6 percent from 6.6 percent after data Sunday showed industrial output missed economists' forecasts Sunday, while investment in the first eight months increased at the slowest pace since 2000. Bloomberg's monthly gross domestic product tracker was at 6.64 percent last month, barely changed from July.
In a juggling act that's getting more complex by the month, authorities are seeking to cushion the slowdown, support the stock market, stabilize the yuan and press on with reforms to open up the economy. The latest steps include plans to reform state-owned enterprises, reductions to capital requirements for some investment projects, and efforts to lure more private money for public projects.
— With assistance by Shidong Zhang
Before it's here, it's on the Bloomberg Terminal.
LEARN MORE