U.S. Stocks Decline Amid Focus on Fed Rate Decision This Week
Odds still show low expectations for rate increase Thursday

Equities begin the week with another shift in direction
U.S. stocks declined, following equities' best week since July, before the Federal Reserve decides on Thursday whether the economy and turbulent financial markets can handle higher interest rates.
Yahoo! Inc. and Alibaba Group Holding Ltd. fell at least 3.1 percent after Barron's suggested Alibaba may lose another 50 percent as volume growth declines. Netflix Inc. dropped 1.9 percent, down for the ninth time in 11 sessions. Energy and raw-materials shares sank as commodities retreated. Apple Inc. climbed 1 percent, trimming an earlier 2.4 percent gain, after the company touted strong preorders for its new iPhones.
The Standard & Poor's 500 Index slipped 0.4 percent to 1,953.03 at 4 p.m. in New York, after the gauge rose 2.1 percent last week. The Dow Jones Industrial Average lost 62.13 points, or 0.4 percent, to 16,370.96. The Nasdaq Composite Index fell 0.3 percent. About 5.4 billion shares changed hands on U.S. exchanges, about 25 percent below the three-month average amid the Jewish new-year holiday.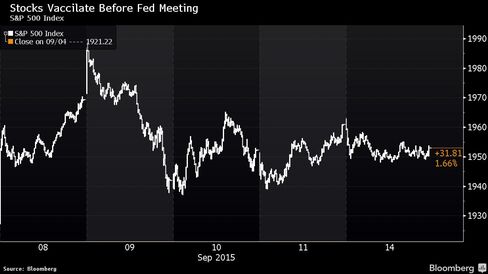 "I think today we're seeing that tug-of-war in the market again, and nothing is going to matter until we know what the Fed's going to do," said Michael Gayed, the chief investment strategist who helps to manage $200 million at Pension Partners LLC in New York. "I think it's going to be a fun week."
Investors remain confident the Fed will raise borrowing costs this year, even as most bet the central bank will not increase rates at its Sept. 16-17 meeting. Traders are pricing in a 28 percent chance of action on Thursday, down from 48 percent before China's currency devaluation last month. Odds of a move at the December gathering are about 59 percent, according to data compiled by Bloomberg.
Words from Fed Vice Chairman Stanley Fischer in 2014 offer some support for those expecting a move on rates this week. Just months before taking over as the Fed's No.2 official last year, he said that delaying increases carried its own difficulties and the situation is always unclear and monetary policy takes time to affect the economy. "Don't overestimate the benefits of waiting for the situation to clarify," he said.
Chinese stocks slumped the most in three weeks after data added to concern that the country's economic slowdown is deepening. Industrial output missed economists' forecasts, while investment in the first eight months increased at the slowest pace since 2000.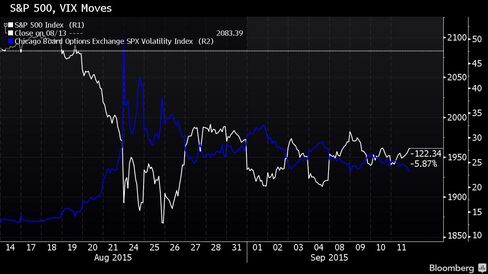 Market swings and rapid shifts in investor sentiment have become more prevalent as uncertainty on the impact of China's slowdown coupled with the Fed's looming rate decision to whipsaw equities. For the ninth time in a row, the S&P 500 posted a weekly return that amounted to a reversal of the prior week's performance. Such a streak of alternating gains and losses has happened only three times in 20 years, according to data compiled by Bloomberg.
The Chicago Board Options Exchange Volatility Index jumped a record 135 percent last month amid the first 10 percent correction in U.S. equities in four years. The measure of market turbulence known as the VIXrose 4.5 percent Monday to 24.25, after falling about 17 percent last week.
"The biggest thing to watch is whether the market goes into
Wednesday-Thursday relatively stable or if it doesn't," said Jim Paulsen, the Minneapolis-based chief investment strategist at Wells Capital Management Inc., which oversees $351 billion."If it's more stable, this could be the last piece of the determinant for the Fed to go ahead and raise rates. They cannot do this if the markets are in free-fall."
Energy, Materials
Nine of the S&P 500's 10 main groups retreated Monday, with raw-materials and energy shares down the most. Chemical companies FMC Corp. and PPG Industries Inc. sank more than 2.6 percent to pace declines in materials. Alcoa Inc. and Monsanto Co. lost at least 2.5 percent. Steel products maker Nucor Corp. slumped 3.3 percent.
Cabot Oil & Gas Corp. and Valero Energy Corp. decreased more than 3.4 percent as oil prices fell for the fifth time in six sessions. Concern that China's slowdown will deepen added to worries that the global oversupply will continue through most of next year. Marathon Petroleum Corp. and Phillips 66 slumped more than 2.8 percent.
The Nasdaq Biotechnology Index briefly erased Friday's 1.3 percent gain as drug makers led health-care companies lower. Alexion Pharmaceuticals Inc., Celgene Corp. and Amgen Inc. slid at least 1.4 percent. Raptor Pharmaceutical Corp. tumbled more than 37 percent to the lowest since April 2014 after its drug to treat a liver disease in children failed to meet its primary treatment goals.
Alibaba slid 3.1 percent after a Barron's magazine article on Saturday suggested the Chinese Internet company may lose another 50 percent of its value. The company, in a statement posted Monday on its website, said the article was inaccurate and misleading.
Retailers in the S&P 500 reversed a 0.7 percent climb on Friday, losing 0.9 percent. Coach Inc., Dollar Tree Inc., Amazon.com Inc. and Carmax Inc. all fell at least 1.5 percent.
IPhone Orders
Apple rose for a third straight session. The company predicted initial sales for its new iPhone models are on pace to surpass last year's record first weekend of 10 million units when they go on sale Sept. 25, signaling continued demand for the company's flagship device.
Solera Holdings Inc. climbed 8.5 percent to its highest since March after Vista Equity Partners said it agreed to buy the seller of risk-management software for $6.5 billion, including net debt.
Chico's FAS Inc. jumped 10 percent, its biggest gain in more than three years on renewed speculation that it's a buyout target. After abandoning a deal to buy the women's apparel chain in February over disagreements about financing, Sycamore Partners has approached the retailer again, Bloomberg News reported on Friday.
Baxalta Inc. added 4.3 percent, the most in a month, also on corporate deal news. Shire Plc is considering sweetening its all-stock offer for Baxalta, perhaps by adding cash for shareholders, the Wall Street Journal reported, citing people familiar with the matter.
Chesapeake Energy Corp. bucked the broader trend in energy, with the oil and gas producer rallying 4.6 percent to lead the S&P 500. The shares rose to their highest level in a month along with natural gas futures, which gained 2.6 percent on forecasts for unusually warm fall weather in the eastern half of the U.S. The VelocityShares Daily 3x Long Natural Gas ETN added 5.8 percent to a three-week high.
Xilinx Inc. gained 2.2 percent after Goldman Sachs Group Inc. raised the chipmaker to buy from neutral. Skyworks Solutions Inc. and Analog Devices Inc. increased more than 1.5 percent as semiconductors climbed for a third day.
"The market is in a wait-and-see mode," said Randy Frederick, managing
director of trading and derivatives at Charles Schwab Corp. "Unless we get a
major, major move in oil or the dollar or China pulls a crazy stunt, I think
we'll be like this until Thursday."
Before it's here, it's on the Bloomberg Terminal.
LEARN MORE