Australia Switches Leaders Again as Turnbull Ousts Abbott
Former Cabinet minister wins leadership by 54 votes to 44

Turnbull indicates no snap election, parliament to serve term
Former Cabinet Minister Malcolm Turnbull will become Australia's sixth prime minister in eight years after defeating Tony Abbott in a ballot of Liberal Party lawmakers on Monday.
Turnbull won by 54 votes to 44, hours after condemning Abbott's economic management and challenging him for the leadership of the governing party. Foreign Minister Julie Bishop will remain deputy leader after winning a separate ballot against Defense Minister Kevin Andrews.
The former investment banker pledged to lead a government that "explains the great challenges and opportunities we face" in a "way that the Australian people can understand." He said he expected the parliament to serve a full term, rather than calling an early election.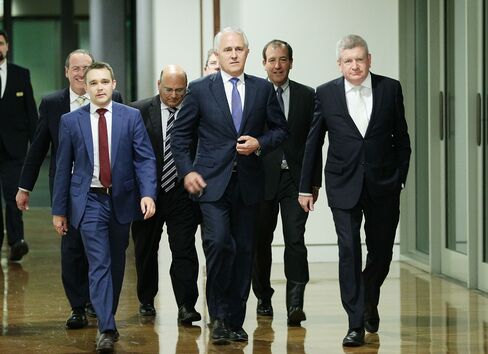 Turnbull, 60, has a window to halt a slide in the government's popularity caused by political missteps and Abbott's combative leadership style. Faced with the likely departure of senior ministers loyal to Abbott, Turnbull needs to move quickly to restore unity if he's to turn around the party's fortunes ahead of an election due next year.
"This gives the government the possibility of a fresh start and a way to end its stagnation," said John Warhurst, a political analyst at the Australian National University in Canberra. "Turnbull still faces a huge challenge to heal what's obviously a split party and gain enough momentum to win the next election."
Market reaction after the announcement was relatively muted. The Australian dollar rose on the news Turnbull had won the ballot but quickly gave back those gains and traded little changed at 71.20 U.S. cents at 10:12 p.m.
Abbott's Liberal-National coalition government has trailed the main opposition Labor party in opinion polls for months. Unflagged spending cuts in his first budget in May 2014 angered voters, while his decision to bestow a knighthood on Queen Elizabeth's husband Prince Philip in January was ridiculed and exacerbated a perception that he's out of touch with public opinion.
Poll Ratings
He narrowly saw off a leadership challenge in February, and pledged to turn around the party's poll ratings with a focus on jobs, families and national security. It wasn't enough.
A Newspoll publishedin The Australian newspaper Sept. 7 put support for the government at 46 percent against the opposition's 54 percent. The survey showed 41 percent of voters prefer Labor leader Bill Shorten as prime minister, against Abbott on 37 percent.
Turnbull faces myriad challenges. He needs to revitalize the government's stagnant political agenda, come up with an economic plan to combat stalling growth, while healing the wounds created by the divisive leadership vote.
"It's going to be hard to unite the party," political analyst Stephen Stockwell of Brisbane's Griffith University said by phone. Still, Turnbull will have "a strong mandate to modernize the Australian economy."
Business leaders have been critical of the government's lack of resolve to overhaul an outdated tax system and labor market -- reforms seen as essential to an economy experiencing its weakest run of growth since the 1991 recession.
Economic Leadership
Australia needs outstanding economic leadership and strong business confidence if it is to remain a "high wage, generous social welfare-net, first world society," Turnbull said Monday after stepping down as communications minister and announcing the challenge.
Turnbull has an impressive resume: before winning a Sydney-based parliamentary seat in 2004 he was a Rhodes Scholar, political journalist, successful lawyer and Goldman Sachs Group Inc. executive. He led the Australian Republican Movement's 1999 failed campaign to cut ties with the British monarchy and was Liberal leader for 15 months while the party was in opposition before being ousted by Abbott by one vote in December 2009.
His social agenda is seen as more centrist than that of Abbott, a former trainee Jesuit priest who opposes same-sex marriage and scrapped the previous Labor government's carbon-price mechanism.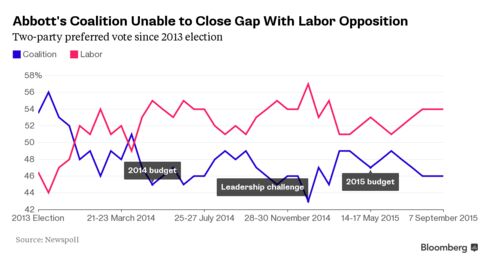 Turnbull has called for lawmakers to have a free vote on gay marriage and in 2009 supported an emissions trading system before he was ditched as party leader.
"This will be a thoroughly liberal government," Turnbull told reporters Monday after the ballot, flanked by his deputy, Bishop. "It will be a thoroughly liberal government committed to freedom, the individual and the market."
Autocratic Leadership
Zareh Ghazarian, a Melbourne-based professor at Monash University's School of Political and Social Inquiry, agreed that Abbott's autocratic leadership had contributed to his downfall.
"There have been a series of leadership gaffes," Ghazarian said. "These things have to an extent alienated a chunk of his own party. It's been one embarrassment after another for the government."
The leadership turmoil is reminiscent of the Labor government, which saw first term Prime Minister Kevin Rudd ousted by his deputy Julia Gillardin a party room coup -- only to claw his way back to the top job weeks before the September 2013 election.
Before it's here, it's on the Bloomberg Terminal.
LEARN MORE