Norway Green Party Rise Shows Oil Economy Losing Support
Ruling Conservatives risk losing power in two largest cities

Opposition Labor cements status as Norway's largest party
Norway's Green Party, which wants to halt oil production, emerged as a winner in municipal elections, building on support that has helped shape investment guidelines for the nation's massive wealth fund.
With ideas such as converting whole streets into bicycle lanes and raising tolls on cars in Oslo, the party's backing rose to 4.2 percent nationwide in local elections on Monday, up from 2.8 percent in the 2013 general election, according to official projections with 99.8 percent of the votes counted. It won the third most votes in Oslo, making it a king-maker in the capital.
"The Green Party is on the verge of a national breakthrough," said Johannes Bergh, a researcher at the Institute for Social Research in Oslo. By the next general election in 2017 the Labor Party, the biggest in opposition, may need to rely on support from the Greens in parliament. "They're not yet a major political player, but they have some negotiating power."
Labor Gains
Since entering parliament for the first time in 2013, the Greens have spurred a shift amid lawmakers to question how the energy industry works. They were also the catalyst for Labor to gather support across eight parties to ban Norway's $840 billion sovereign wealth fund from coal investments, a move the fund has said could trigger $6.6 billion in divestments.
For Labor, in opposition since losing the 2013 general election, Monday's vote was also a victory. From the 2013 election, it rose 2.2 percentage points to 33 percent, according to the projection, giving it a solid platform for regaining power in 2017. The party campaigned on introducing a property tax in Oslo.
The ruling Conservatives and its coalition partner the Progress Party both slumped. Prime Minister Erna Solberg's party now risks losing power not only in Oslo, but also in the second-biggest city, Bergen, her home town.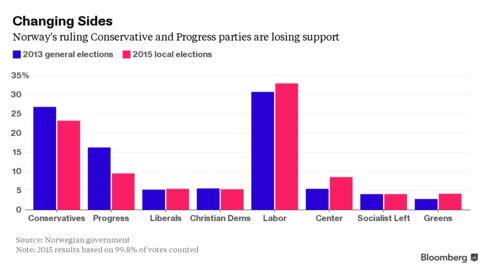 The local election has no effect on representatives in parliament or the basis for the government. Parliamentary elections are due in two years.
Solberg Fails
Solberg failed to draw in voters despite promises of more spending to soften a downturn caused by falling investments and lower oil prices. Her party was also hurt by a scandal and police investigation involving the Conservative mayor in Bergen.
Backing for the Conservatives dropped to 23.2 percent, from 26.8 percent two years ago, while the Progress Party fell to 9.5 percent from 16.3 percent, the projections show.
The Christian Democrats and the Liberals, whose support the minority government relies on in parliament, won 5.4 percent and 5.5 percent, respectively. The Center Party, which is in opposition, rose to 8.5 percent.
Economic growth has stagnated in Norway amid a 50 percent drop in Brent crude over the past year and reports of deeper-than-expected investment cuts. The oil slump has driven down the krone, which has lost about 12 percent against the euro over the past 12 months. Though the currency development has provided some relief to non-oil exporters, unemployment has risen sharply to 4.5 percent, with one in nine jobs related to oil.
As the oil-reliant nation hunts for ways to spur growth, Rasmus Hansson, the Green Party's single member in parliament, suggests halting all petroleum activity within 20 years. He says it's time for Norway to start building its green industries.
He was the first to propose that Norway's wealth fund divest from coal companies, a bill that succeeded when Labor proposed it again this year. That helped the Greens highlight some of their other policies, Hansson said.
"That's the type of concrete development that has a lot of strategic implications," he said in a phone interview. "It has opened a space for us in Norwegian politics which will not easily be closed.
Before it's here, it's on the Bloomberg Terminal.
LEARN MORE