Batista Miner Counting on Trafigura to Emerge From Debt Woes
CEO expects to sell mining, logistics assets by year-end

MMX is also working on restructuring holding company debt
A year ago, former billionaire Eike Batista's iron-ore unit was halting output and battling creditors as prices plunged. Now it's planning to reemerge with the help of commodities trader Trafigura Beheer BV.
MMX Sudeste Mineracao SA is selling its mining assets to Amsterdam-based Trafigura as part of a restructuring plan approved by creditors representing about 800 million reais ($207 million) in debt, Ricardo Werneck, who heads the parent company MMX Mineracao e Metalicos SA, said in an interview. The unit also expects to obtain about 70 million reais from the sale of logistics assets and farmlands, allowing creditors to recover about 30 percent of the value of their claims, he said.
"There is no better option; the alternative is the failure of the company," Werneck, 44, said. "Trafigura is a big part," of the recovery plan, he said.
MMX, which Batista listed in 2006 when the commodities super-cycle was in full swing, stopped operations at its only producing unit in August 2014 as the value of the steelmaking ingredient plunged and debt mounted. In October, MMX Sudeste, the unit that holds most of the company's assets, filed for bankruptcy protection. After months of delays and negotiations, on Aug. 28. creditors approved a plan to recover the business.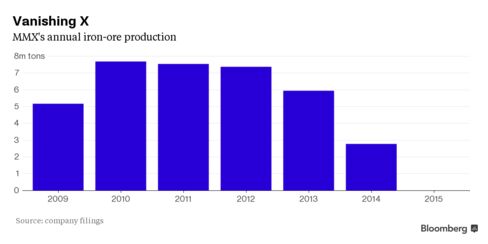 As part of the proposal, Trafigura will acquire two mining and iron-ore processing assets in Minas Gerais state, southeastern Brazil, for about 140 million reais. Creditors will also have the option to remain as minority shareholders in the assets, Werneck said. The company expects to meet a set of conditions including resolving a dispute with railway operator MRS Logistica SA by the end of the year.
It's not the first deal Trafigura has done with MMX. Together with Mubadala Development Co., an Abu Dhabi sovereign wealth fund, the trader bought a controlling stake in an iron-ore port project in Rio state last year from Batista. The facility loaded a first 80,000 metric-ton iron-ore vessel bound for China in August and is expecting to deliver a second shipment this month.
MMX's remaining 30 percent stake in the company that develops the port will be diluted as Trafigura and Mubadala add new capital to sustain operations, Werneck said.
Trafigura declined to comment on its dealings with MMX. The company said last month that the asset purchase is "an opportunity to expand its businesses, as well as complement the joint investment with Mubadala at the Sudeste port."
With the asset sale expected to be finalized by the end of the year, MMX is also working on restructuring debt held by the parent company, whose obligations include a loan from International Business Machines Corp., Werneck said in the interview.
Currency Relief
"Now we have a second phase, Mission Impossible 2, which is to implement that plan," he said. "We will work to have a lean, restructured company, with enough cash to survive until, let's say, July 2017." "In the end, Eike will have that company back and will be able to decide whether to invest in mining again because he is an entrepreneur at heart."
The iron-ore market is bottoming out and depreciation of the Brazilian real has reduced the break-even level for smaller miners in Minas Gerais to about $60 a metric ton, Werneck said. The benchmark price of iron ore imported by China fell 1.4 percent to $57.28 on Tuesday, extending a decline this year to 19 percent, according to Metal Bulletin.
"At an exchange rate of 3.80 reais per dollar, you can make some money," he said. "The recovery won't have the shape of a parabola because on the demand side you have these problems in China."
Before it's here, it's on the Bloomberg Terminal.
LEARN MORE