National Bank of Fujairah started diamond finance 6 months ago

Antwerp Diamond Bank closing to cut 11-12% of lending capacity
Dubai's diamond trade will grow as the Middle East emirate attracts dealers from the industry's traditional hub in the Belgian port of Antwerp after one of the city's main gem lenders closed, depriving buyers of needed financing, according to National Bank of Fujairah.
"Do we anticipate a big shift of rough diamond traders to Dubai?" Davy Blommaert, unit head for precious metals and diamonds at National Bank of Fujairah, said in an interview Sunday. "Yes, that we foresee," he said at the lender's office in Dubai.
Dubai, historically a pearl center, is growing into a trading hub for the $57 billion global diamond market to take advantage of its transport links to India, the world's biggest importer, and expanding financing available to the industry. Imports into the United Arab Emirates rose to $5.9 billion last year from $5.1 billion in 2013, according to the Kimberley Process, set up to stop the supply of blood diamonds from war zones.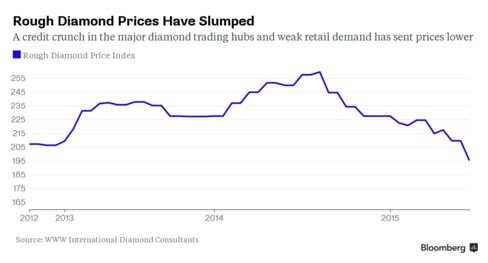 National Bank of Fujairah, partly owned by the governments of Fujairah and Dubai, two of the seven sheikhdoms in the U.A.E., entered the diamond financing market about six months ago to capitalize on the shift in trade and is targeting loans between $5 million and $50 million, Blommaert, 34, said.
Diamond buyers will face a lack of financing after Antwerp Diamond Bank, the lender that served the industry for 80 years, winds up operations, removing about $1.5 billion in funding to the industry. ABN Amro Bank NV and Standard Chartered Plc also curbed funding to the industry.
U.A.E. Appointment

Antwerp imported about $16 billion of diamonds in 2014, according to the Antwerp World Diamond Centre, citing data from the Kimberley Process. Global diamond imports totaled about $57 billion last year, according to Kimberley Process data. India, where most manufacturers of diamond jewelry are located, took in $17.2 billion of the stones last year.
The U.A.E. will take over as chair of the Kimberley Process next year, according to a statement Tuesday from the Dubai Multi Commodities Centre, the business zone established in the emirate to foster trade in raw materials. Angola is the current chair, according to the Kimberley Process website.
Blommaert, who worked at the Antwerp bank before joining the U.A.E. lender in February, said the Belgian institution accounted for about 11 to 12 percent of the global diamond finance market. Traders use loans to buy rough, or uncut, diamonds in auctions from mines in resource-rich areas like Africa. They repay the borrowing by selling the rough stones to manufacturers who will cut and polish the diamonds for use in jewelry or by selling them to other traders. Much of that business will shift to Dubai as local lenders in the emirate offer more financing, Blommaert said.
Purchases Deferred
"We want to have a big piece of the market," he said. He declined to say how many clients the bank's diamond business has or how many it's aiming to attract. Borrowers have been slow to take up loans this year as high prices for uncut diamonds have squeezed margins on turning the stones into jewelry.
That's led traders to defer as much as 75 percent of their purchases, Blommaert said. De Beers, the largest diamond producer, cut prices by 9 to 10 percent at its last auction in July and prices may decline again at the next auction, he said.
"We will see another small correction," he said. Lower prices will help improve the margin on sales, boosting trading and borrowing. "I see things really pick up in the beginning of next year," he said.
National Bank of Fujairah will focus on expanding its business in Dubai for at least the next two or three years, he said. It competes with other local lenders like Dubai's government-owned Emirates NBD PJSC, Mashreqbank PSC and Commercial Bank of Dubai PSC, along with international banks like Standard Chartered and ABN Amro.
Before it's here, it's on the Bloomberg Terminal.
LEARN MORE