Currency Speculators Leave Danish Bond Market in Liquidity Limbo
SEB predicts Danish bonds face long path to better volumes

Danske is optimistic demand will return given current pricing
Denmark may have won the fight against speculators betting its euro peg won't hold. But the country's bonds will continue to suffer for a while yet.
That's according to SEB AB, which predicts investors will demand a premium for Danish bonds, both in the short and medium term. It follows an eight-month hiatus in government debt issuance pushed through to deter speculators from hoarding krone assets and endangering AAA-rated Denmark's euro peg.
The central bank's decision to resume bond auctions next month merely marks the first step in a long process to rebuild volume in the market, according to SEB analysts Frederik Nordsborg and Henrik Arp.
No one knows how long it will take to "reestablish reasonable market liquidity" in Danish government bonds, SEB says. Denmark's benchmark debt market will probably be "characterized by illiquidity in the medium term."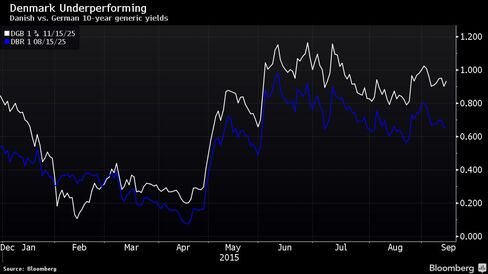 The suspension of government bond issuance coincided with a sudden investor focus on liquidity as some started to question the sustainability of negative yields. In Denmark, the central bank drove its benchmark deposit rate to minus 0.75 percent, where it has been since February, to keep short-term investors out.
The circumstances have "challenged" the Danish bond market, Arne Lohmann Rasmussen, head of fixed income research at Danske Bank, said by phone. "There's some repair work to be done, both for the Danish debt office and for the market participants."
Denmark's 10-year benchmark bond yields about 28 basis points more than its German counterpart. It's worth noting that for much of 2012, Danish yields traded below German yields.
"The decline in turnover since issuance ceased at the end of January has been
steep" after volume more than halved, SEB said. "This indicates that the current widened spread levels are not to be reversed."
Denmark will resume government bond auctions on Oct. 7 and has set a target of 100 billion kroner ($15 billion) in bond sales through 2016. The amount is "moderate" given the government's financing requirement, according to SEB.
Danske's Rasmussen says he's "relatively optimistic" on Danish government bonds even though it may take some time for liquidity to recover. The bonds are "quite cheap in relative terms and the curve is "steep," he said.
"There's in fact in our view a very good case for returning to Danish government bonds, both for domestic and international investors," Rasmussen said. "We think that interest rate hikes may not come as soon and as quickly as the market is pricing in, which also adds support to Danish government bonds."
Before it's here, it's on the Bloomberg Terminal.
LEARN MORE