Coal's Answer to Decade-Low Prices Is Even Lower Prices
Benchmark coking coal for 4Q settled at lowest since 2005

Some 60 percent of seaborne supply remains profitable
Coking coal is testing one of the basics of Econ 101: that low prices are the cure for low prices.
The global metallurgical coal benchmark for the fourth quarter settled last week at $89 a metric ton, down 4.3 percent from the previous period to the lowest level since March 2005, according to Doyle Trading Consultants, a Grand Junction, Colorado-based industry analyst.
Even so, at least three-fifths of the material that moves by sea, some 180 million metric tons of the steelmaking component, are generating a return amid a glut as the crude oil rout and a weaker Australian dollar lower costs for the world's largest met coal exporter, Bloomberg Intelligence data show.
"The prices have to get low enough to where the Australians can't even tolerate them," said Jim Thompson, director of coal for IHS Inc. in Knoxville, Tennessee. "Then maybe we can get around to solving the riddle of low prices curing low prices."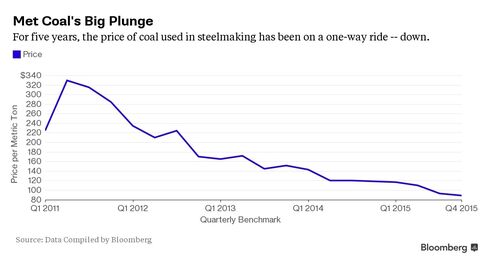 Metallurgical coal has fallen 73 percent since it hit a record $330 a metric ton in 2011 amid supply disruptions in Queensland, Australia, and on China's voracious appetite for steel.
Companies from Australia to Appalachia increased output and infrastructure to take advantage of the higher prices, helping to create a glut just as Chinese demand cooled and the global economy slowed, Thompson said.
Alpha Natural Resources Inc. and Walter Energy Inc., both U.S. metallurgical coal producers, sought bankruptcy protection this year.
Australian miners are holding their own amid the oversupply. Coal is priced in U.S. dollars. The diverging directions of the dollar and the Aussie mean that Australians are getting back $125 a metric ton, up from $121 during the third quarter, Doyle estimates.
Oil Plunge
Meanwhile, diesel has dropped amid oil's 53 percent plunge in the past year, lowering costs to operate mining equipment and to transport coal.
The latest settlement equates to an average for the year of $102.25, or 3.5 percent lower than the $106 a metric ton forecast by Morgan Stanley.
That reflects the "rapid withdrawal of China from the seaborne trade in 2015," Morgan Stanley analysts, including Adam Longson and Joel Crane, wrote in a report Monday.
It may take five years for the effects of slowing capital expenditures to stabilize prices, Thompson said.
"People aren't spending capex," he said. "That will eventually solve the problem, but that's not going to happen overnight. To some extent everybody is experiencing some pain."
Before it's here, it's on the Bloomberg Terminal.
LEARN MORE