Depth Missing When Needed in $5.3 Trillion-a-Day Currency Market
Currency traders pay premium to transact amid violent swings

Market liquidity falling on regulation, crowded positions
Turbulent trading that made August the worst month for global equities since 2012 also revealed a widening crack in the world's largest market-- foreign exchange.
Fabrizio Fiorini, chief investment officer at Aletti Gestielle SGR SpA in Milan, thought he was in luck as the financial turmoil curbed speculation the Federal Reserve would raise interest rates, sparking a stampede of dollar selling. To his dismay, he found that the gap between prices at which traders were willing to buy and sell major currencies had tripled, forcing him to pay a greater premium to purchase the greenback.
"During those two or three critical days in August, I was frustrated that liquidity, which seems to always be there when the market is quiet, disappeared when you need it the most," said Fiorini, whose firm manages $18 billion. "Market makers are not able to provide liquidity the way they used to, and the market was too crowded with the same trades."
The ability to exchange currencies rapidly and cheaply is vital for everyone from importers and exporters, to companies moving money between international subsidiaries, to central banks ensuring the smooth functioning of global markets. Wider bid/ask spreads may raise the cost of doing business and, in a worst-case scenario, disrupt international trade.
Tempestuous Markets
While the drop in liquidity -- the ability to buy and sell without causing exaggerated price swings-- was only exposed by August's tempestuous conditions, currency traders say it's becoming more of a concern.
Moves on Aug. 24 followed a similar rupture in January, when the Swiss National Bank jolted markets by removing its limit on the franc's strength. In both cases, a JPMorgan Chase & Co. gauge of global currency volatility surged by more than 10 percent, an unusually large move in a market where $5.3 trillion changes hands every day.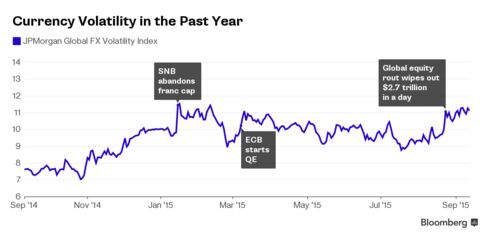 "Across all asset classes, liquidity reduces in times of stress," said Grant Peterkin, a money manager at Lombard Odier Investment Managers in Geneva. "It's a function of managers having less appetite to take risk and regulatory changes forcing banks to offer less liquidity in the markets as a whole."
The index was at 11.13 percent on Sept. 11, closer to its 2015 high of 11.52 percent set in January than to its low of 8.78 percent reached in July, on a closing basis.
One-Way Bets
The depth of the foreign-exchange market has deteriorated since the second half of last year, reaching the worst levels in August since the peak of the euro area's debt crisis, according to a JPMorgan analysis based on the gap between the mid-market rate, and the bids and offers made by traders.
On Aug. 25, as the New Zealand dollar plummeted almost 4 U.S. cents to a six-year low, the bid/ask spread blew out to 2 whole U.S. cents, over 10 times more usual levels. The currency was little changed at 63.22 U.S. cents as of 10:48 a.m. New York time.
Liquidity is dwindling amid regulations designed to prevent a repeat of the financial crisis, and crowded positions among traders. The Volcker Rule is limiting proprietary trading of foreign exchange in the U.S., while the Basel Committee has made banks hold more capital, making it more expensive for them to take on risk.
A divergence in monetary policy between the U.S. and the rest of the world, particularly the euro region, may be exacerbating the situation, according to the Bank for International Settlements' quarterly report published on Sunday.
"Increased hedging needs may be linked to the recent increase in foreign-exchange volatility," the BIS said. "On the supply side, financial intermediaries' ability to supply hedging instruments such as FX swaps has remained subdued as they have significantly reduced their leverage since the financial crisis."
Fed Decision
There are ways for currency traders to manage risks before events that may spark price swings, such as this week's Fed interest-rate decision, according to Lisa Scott-Smith, a money manager at Millennium Global Investments in London, which oversees $13.4 billion in foreign-exchange assets.
"While transaction costs increased during the recent turbulent period, currencies remain one of the most liquid markets," she said. "Calibrating positions slightly smaller to adjust for higher volatility or utilizing long option positions" can help, she said.
The decline in liquidity is common to many financial markets and the risk of dislocations will continue or even worsen, said Mark Dowding, a London-based partner at BlueBay Asset Management LLP, which oversees $60 billion.
"We have seen more of these short-term volatility spikes," said Dowding. "It seems almost inevitable at some point an accident will occur."
(For a Currencies column daily alert SALT FXCOL)
Before it's here, it's on the Bloomberg Terminal.
LEARN MORE