S&P 500 Caps Best Week Since July in Prelude to Fed Rate Meeting
Dow Industrials post biggest weekly gain since March

Volatility remains elevated before Federal Reserve decision
U.S. stocks climbed for a second day amid light volume, with the Standard & Poor's 500 Index capping its best week since July before a Federal Reserve interest-rate decision next Thursday.
The S&P 500 rose 0.4 percent to 1,960.73 at 4 p.m. in New York, surging in the final minutes after earlier falling as much as 0.7 percent. The gauge climbed 2.1 percent this week amid wide swings with global stocks before the Fed meeting. The Dow Jones Industrial Average rose 102.69 points, or 0.6 percent, to 16,433.09 and marked its best weekly gain since March. The Nasdaq Composite Index advanced 0.5 percent.
"The market just can't make up its mind," said Joseph Tanious, an investment strategist at Bessemer Trust in Los Angeles. The firm oversees more than $100 billion. "There is some conflicting information. There is confusion around what the Fed is going to do. There is uncertainty around the future of China and where oil prices are heading. I think investors are having a hard time wrapping their mind around it."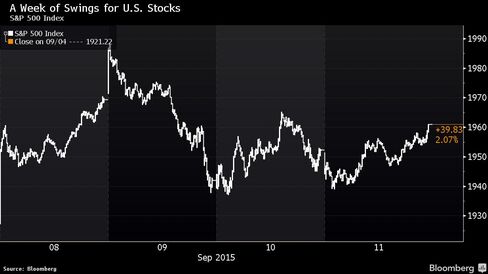 Technology and health-care companies drove the advance for a second day. Gilead Sciences Inc. and UnitedHealth Group Inc. added at least 1.6 percent, while Apple Inc. rose 1.5 percent. Kroger Co. rallied 5.3 percent after raising its earnings forecast. Energy companies slumped as oil fell. Hess Corp. and Transocean Ltd. lost at least 2.9 percent. Marvell Technology Group Ltd. tumbled 16 percent after disclosing an internal investigation of its accounting.
A rebound in Apple yesterday helped the S&P 500 extend its weekly advance to its best since July 17. Market swings and rapid shifts in investor sentiment have become more prevalent, with the benchmark index closing with moves exceeding 1.3 percent in 11 of the last 16 days. That includes the biggest rally since 2011 as well as the deepest rout in four years. The S&P 500 has lost 7.9 percent since peaking in July, which was the last time the gauge closed within points of its May record.
The Chicago Board Options Exchange Volatility Index fell 4.8 percent Friday to 23.20, after erasing an early 5.9 percent gain. The measure of market turbulence known as the VIX is down 18 percent this month after a record 135 percent jump in August. About 6 billion shares traded hands on U.S. exchanges today, 15 percent below the three-month average.
"It's normal to have volatile markets ahead of such an important decision from the Fed," said Ralf Zimmermann, a strategist at Bankhaus Lampe KG in Munich. "It's been such a long time -- there are a lot of traders who have never seen a rate hike in their career. Investors are pricing in a pretty low probability of a rate hike at the moment, so the risks are more to the downside. Markets will have to live with uncertainty until then."
Traders remain confident the Fed will raise borrowing costs this year for the first time since 2006, though pricing in only a 28 percent chance the central bank will do so next week. That's down from 48 percent before China's currency devaluation triggered concerns that the nation's slowdown would hamper global growth. Odds of a move at the December gathering are about 59 percent.
Data Watch
Fed policy makers have already seen the major economic data available to them before their rate decision next week. Investors are also assessing the extent of the impact recent market volatility has had on officials' thinking.
The turmoil took a toll on consumer sentiment, which declined in September to the lowest level in year as Americans anticipated a weaker economy in face of a global slowdown and turbulent financial markets. Some 17 percent of respondents mentioned unfavorable news about equity markets in September, the highest share since the height of the last financial crisis in October 2008. A separate report today showed wholesale prices were little changed in August, restrained by lower fuel costs.
A Goldman Sachs Group Inc. report suggested recent turbulence in financial markets may affect the Fed's rate decision on Sept. 17. The recent stock market sell-off, an increase in corporate borrowing costs and the rise of the dollar have contributed to a tightening of financial conditions roughly equivalent to three 25 basis-point hikes in the central bank's benchmark federal funds rate, according to the Goldman report published late Thursday.
Eight of the S&P 500's 10 main groups rose Friday, with consumer discretionary, utilities and health-care shares rising the most. Apple added to yesterday's 2.2 percent climb to push its weekly rise to 4.5 percent. EMC Corp. and Avago Technologies Ltd. climbed more than 1.8 percent for the strongest gains in tech.
A rally in homebuilders helped pace gains among consumer discretionary shares. Lennar Corp. and PulteGroup Inc. rose at least 1.9 percent. An S&P measure of builders rose 1.9 percent, up for the first time in three days after jumping the most since January on Monday. Also among consumer shares, Best Buy Co., McDonald's Corp. and Starbucks Corp. increased more than 2 percent.
Energy Slides
Energy and raw-materials companies slid, with energy losing 0.7 percent to erase a gain for the week. Crude futures slumped 2.8 percent as Goldman Sachs Group Inc. trimmed its price forecasts. Murphy Oil Corp. dropped 5 percent to its lowest since March 2004. Consol Energy Inc. and Diamond Offshore Drilling Inc. sank more than 2.1 percent.
Marvell Technology had its biggest drop in nearly 13 years, down 16 percent, after disclosing an investigation into its internal accounting and reporting preliminary earnings that fell short of estimates.
Mattress Firm Holding Corp. plunged 23 percent, its worst decline in almost three years after cutting its earnings forecast. The Houston-based chain of bedding stores cited sluggish demand in markets hurt by oil-price volatility. Tempur Sealy International Inc. and Select Comfort Corp. fell at least 2.1 percent.
Avon Products Inc. shares sank 15 percent, the most since 2013 and down for a second day after a report about a possible private-equity investment sparked concerns about the cosmetics company's financial condition.
Despite the recent volatility, Bill Ackman, the founder of Pershing Square Capital Management, said he's a "little more bullish" on stocks than hedge fund manager David Tepper. Stocks are still "pretty cheap," Ackman said today in an interview with CNBC. He added that this doesn't apply to energy stocks, which he said he doesn't invest in.
As a long-term investor, Ackman said he wasn't concerned about the short-term performance of his wagers. "I can't tell you where any of our stocks are going to be at the end of next month." Tepper, the founder of $20 billion hedge fund Appaloosa Management, told CNBC Thursday that market expectations for earnings are very high. He recommended investors who are fully invested take money off the table.
Before it's here, it's on the Bloomberg Terminal.
LEARN MORE