Risk Reversal in Stocks as S&P 500 Volatility Passes Small Caps
Russell 2000 volatility below VIX for six days since August

Appeal of domestic businesses has kept small-caps afloat
How unpredictable is the U.S. stock market right now? It's a place where the Standard & Poor's 500 Index, a collection of the world's most stable companies, is suddenly bouncing around more violently than small caps.
Since stocks started selling off last month, implied volatility, the options-derived measure of turbulence codified in the VIX, has repeatedly risen above a similar measure tied to the Russell 2000 Index of smaller stocks. It's closed that way six times since Aug. 24, compared with twice in the prior 11 years.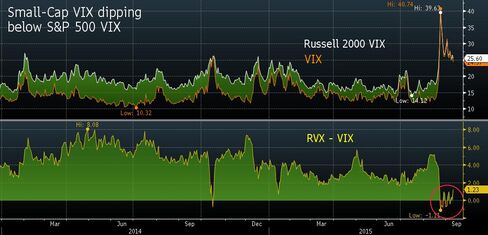 The quirk is another example of how China's travails and the rising dollar are upending relationships in U.S. equities, adding peril to safe havens and putting a premium on anything that doesn't rely on exports. Though usually perceived as riskier, Russell 2000 stocks actually outperformed in last month's plunge, losing 9.9 percent as the S&P 500 slid 11 percent in six sessions through Aug. 25.
"It's absolutely meaningful because typically the Russell is more volatile," Kevin Kelly, the New York-based chief investment officer at Recon Capital Partners, said by phone. "This means people would rather be in domestic, dollar-based small-cap companies."
Most of the time Russell 2000 stocks trade at a higher volatility than the S&P 500. Between 2011 and 2014, the Chicago Board Options Exchange Russell 2000 Volatility Index averaged 20.2, compared with 15.4 in the VIX. The gap started narrowing this year, falling to three points in the seven months through July, and has repeatedly reversed itself as U.S. shares suffered their worst losses since 2011 starting in August.
The change is mostly attributable to increases in the VIX. At Thursday's close of 24.4, the VIX is roughly 67 percent higher than its average level in the three years through July. The Russell VIX, at 25.6, is about 36 percent higher.
The same divergence can be seen in daily moves. The Russell 2000 has risen or fallen 1.1 percent on average each day since the beginning of August, compared with changes of 1.2 percent in the S&P 500. Last year, the small-cap gauge moved an average 0.82 percent while the benchmark gauge averaged a 0.53 percent move.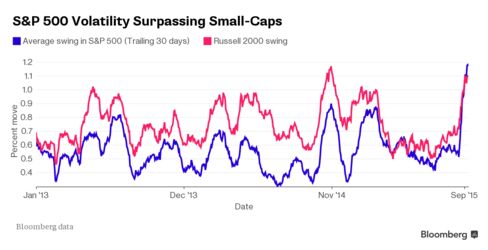 One interpretation as to why this is happening is that for all its size and stability, the S&P 500 suffers because of the diversity of its revenue sources. About 52 percent of sales in the large-cap gauge come from the U.S., compared with 85 percent in the Russell, according to data compiled by S&P Dow Jones Indices and Bloomberg.
That's a problem when most of the world's stress is emanating from emerging markets such as China. It also doesn't help that speculation about a Federal Reserve interest rate increase has driven the dollar up 6.6 percent in 2015, making exports more expensive for overseas buyers.
"If the risk perception is just about the U.S. economy, then you'd be more concerned about stocks on the Russell 2000," Russell Rhoads, senior instructor with the Options Institute at the CBOE, said by phone. "That's not how investors are behaving, which is very different than how they typically behave. There's a heightened risk perception of the global outlook versus the U.S outlook."
Another influence on large cap volatility may be buying and selling by quantitative traders whose focus is in stocks that trade the most. Robotic selling by computerized funds tuned to volatility and price trends was cited in research last week by JPMorgan Chase & Co. strategist Marko Kolanovic as contributing to turbulence during the selloff.
"Small cap names don't have the volume that large ones typically do and given the volatility, the place people may be playing more are the large cap names," said Rick Bensignor, chief market strategist RF Lafferty & Co. in New York. "Maybe what's going on with the machines is they're concentrating on large cap stocks more because they can get the what they need, they can find the liquidity much better in a large stock than a small one."
Before it's here, it's on the Bloomberg Terminal.
LEARN MORE