Purgatory Is Heaven for One Bond ETF
A bond ETF that profits from debt market dynamics.
Who knew being stuck in limbo could be so profitable?
Bonds that have lost their footing and been downgraded to junk status from investment grade — referred to as "fallen angels" — are running circles around their high-yield and investment-grade peers. And it has been that way for a while.
The Market Vectors Fallen Angel High Yield Bond ETF (ANGL) is up 28 percent since its April 2012 inception, which is double the performance of the SPDR Barclays High Yield Bond ETF (JNK) and the iShares iBoxx $ Investment Grade Corporate Bond ETF (LQD), as seen in the chart below.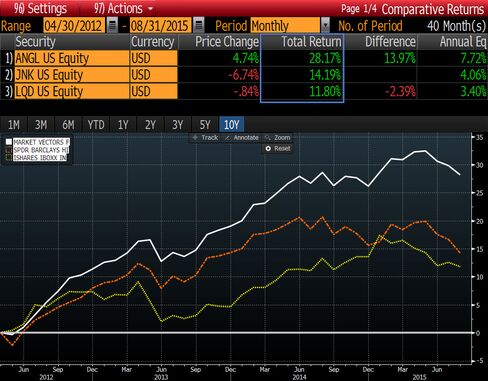 ANGL is doing this while yielding close to JNK's 6 percent and much more than LQD's 3.4 percent. So what's going on? What's the catch? How is ANGL beating both LQD and JNK? You'd think it would beat one and not the other. And with numbers like those, how does ANGL only have $40 million in assets?
The first thought on the outperformance is that ANGL must be taking on more interest rate risk. But it really isn't. ANGL has a duration of five years, which is actually less than LQD's eight years, albeit a touch more than JNK's four years. It can be a slight factor against JNK, but it is minor and doesn't explain the bulk of the outperformance.
What about credit risk? Well, compared with the investment-grade LQD, ANGL is definitely taking on more credit risk, which has in fact helped in the past couple of years as high-yield has generally outperformed investment grade. But compared with JNK, ANGL is taking on less credit risk and it still manages to outperform. This is where it gets interesting.
Generally speaking, it really comes down to a value factor in bonds that ANGL has tapped into. When these bonds — typically issued by large companies such as Alcoa, Sprint, and Nokia — get downgraded from investment grade to high-yield, they tend to get oversold leading up to the downgrade. Much of this selling is from active managers and institutions getting rid of these bonds that they owned to keep up with their investment-grade benchmarks. This means extra selling pressure.
"This selling puts downward pressure on the price of these bonds that historically has exceeded the decline warranted by company fundamentals. By buying these bonds after downgrade, ANGL is effectively taking a contrarian view that can lead to outperformance as prices revert back to more fundamentally justified levels," says Justin Sibears, managing director of Newfound Research.
In other words, ANGL is picking these bonds after the dust has settled during its monthly rebalance. The hope is that ANGL scoops them up and harvests profits as they move back to those "justified levels."
According to the numbers, it's working. If you look at where the juice is coming from for ANGL vs. JNK, it is from its heavy allocation to bonds rated BB, which is the first stop of recently downgraded bonds. You can see from the attribution analysis below that ANGL's combined 65 percent overweighting to BB and BBB bonds (purgatory-ville) accounts for the majority of its 14 percent in outperformance over JNK.*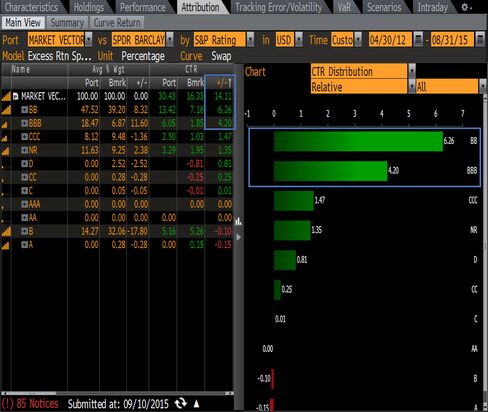 Of course some of these bonds get downgraded further and that can hurt the ETF, hence some of the B and CCC exposure in the above. On the flip side, part of this is balanced out when one of these fallen angels gets its wings back and is promoted back to investment grade, something that happens less than 10 percent of the time in a given year, according to the issuer Van Eck. But by and large this activity is a minor performance driver compared with the harvesting of the recovery after being oversold.
What about the risks? Well, besides the obvious credit and interest rate risks, ANGL doesn't trade all that much, and at least one investor has been burned trading it. Back in 2013, an investor put a market order in and it got struck 38 percent above fair value. This is the issue with using market orders with thinly traded ETFs. This is why any ETF analyst will encourage investors to use a limit order that comes with specified share prices for an ETF like this.
As to the question of why ANGL doesn't trade more or have more assets than its minuscule $40 million, it mostly comes down to the overly blunt way the world buys bond funds. Bond funds are either investment grade or high-yield. That's it. As such, most investors probably chose one of the big dog junk-bond ETFs like JNK for their high-yield exposure and were done with it. ANGL looks redundant when viewed through that broad lens.
This is why despite ANGL's halo of performance, it also falls into a sort of ETF purgatory.
*ANGL uses the Merrill Composite for bond ratings, not Standard & Poor's. All this means is that those BBBs are part of the downgraded bonds in the ETF.
Eric Balchunas is an exchange-traded-fund analyst at Bloomberg. This piece was edited by Bloomberg News.
Before it's here, it's on the Bloomberg Terminal.
LEARN MORE