Nine Weekly Reversals Show S&P 500 Traders Have No Clue on Fed
U.S. stocks climb 2.1 percent in holiday-shortened week

Gains and losses have alternated for the last two months
Trying to divine a signal on Federal Reserve interest rate policy from the U.S. stock market right now probably isn't going to work.
For the ninth time in a row, the Standard & Poor's 500 Index just posted a weekly return that amounted to a reversal of the prior week's performance. This time it rose, gaining 2.1 percent, after retreating 3.4 percent in the previous five days. Before that it climbed 0.9 percent, fell 5.8 percent, climbed 0.7 percent -- you get the idea.
Such a streak of alternating gains and losses has happened only three times in 20 years, according to data compiled by Bloomberg.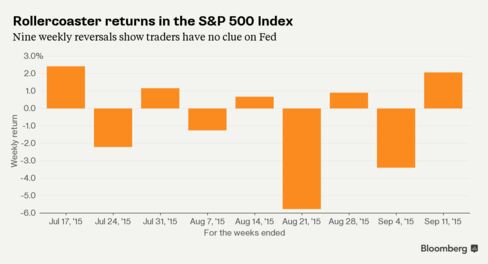 While concern about China has worsened volatility, it's been the imminence of the Fed decision on liftoff that has dominated sentiment for the better part of the year. That event has never been more in focus as policy makers prepare to gather next Wednesday and Thursday in Washington.
The rollercoaster message from equities isn't unique. Among 78 economists surveyed by Bloomberg, 49 percent are predicting a rate increase. Fed funds futures contracts, a bellwether for traders, currently embed a 28 percent likelihood -- although their odds have been as high as 54 percent and as low as 24 percent during the last two months.
The confusion has made for some "pretty interesting" swings in stocks thanks to a "back-and-forth debate about whether the Fed's going to hike or not hike," said Brent Schutte, senior investment strategist at BMO Global Asset Management in Chicago, which manages $250 billion.
Part of the problem is that the equity market itself is showing signs of affecting both rate-hike odds and the health of the economy. For a month, fed fund futures have been tracking fluctuations in the S&P 500, bottoming in the last full week of August as stocks plunged then making up as much as a third of the lost ground in the past two weeks as they slowly rebounded.
Equity swings took a toll on consumer sentiment, which declined in September to the lowest level in a year as Americans anticipated a weaker economy. Some 17 percent of respondents mentioned unfavorable news about stocks, the highest share since the height of the last financial crisis in October 2008.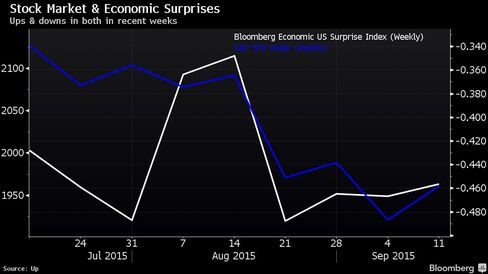 Fund flows reflect the chaos. Clients of exchange-traded funds pulled $11 billion from the biggest exchange-traded fund tracking the S&P 500 in the five days through Thursday. That withdrawal, the most since August 2014, followed five days in which they added $7.2 billion.
Investors are reallocating based on their individual views about what a rate hike means -- and what's clear is there's no consensus, Schutte said. "Some people are hanging on to the last trend, while some are moving on to the next one."
More volatility is likely for the next few weeks at least, but Fed action alone won't stabilize the market, Matt Kaufler, a portfolio manager with Federated Investors Inc., said in a phone interview from Rochester, New York. Federated manages about $360 billion. "Whatever happens with rates isn't going to reset the direction of the market."
Rather, third-quarter earnings and "what companies will say about the fourth quarter" and their expectations for 2016 will "weigh more in importance," Kaufler said.
More Disagreement
And just how will the market react if central bankers raise rates for the first time in nearly a decade? Again, more disagreement.
There could be "some sort of corrective move next week" if the Fed tightens, said Aaron Kohli, an interest-rate strategist in New York at BMO Capital Markets. The low probability implied by fed funds contracts suggests a group of investors don't think the Fed will move until next year -- meaning "there is one subset of investors that is probably really wrong."
At the same time, such news could bring a "relief rally" to the market, albeit one that's more likely to be temporary, said Bob Landry, a portfolio manager who helps oversee $23 billion at USAA Investment Management Co. in San Antonio. Whatever happens, policy makers' commentary about their decision will also influence how traders react, he said.
While Landry wishes the central bank would just act already, he's doubtful it will. "All this hand-wringing about what the Fed's going to do is distracting."
As investors await policy action, "markets are almost just going to be on hold until the Fed raises interest rates because everyone wants to see what happens," Joseph Tanious, an investment strategist at Bessemer Trust in Los Angeles, said in a phone interview. The firm oversees more than $100 billion. "Perhaps once they raise rates, kind of like ripping the Band-Aid off, then markets can go ahead and focus on the underlying fundamentals, which quite frankly aren't that bad."
Global stocks rose this week as China was able to rein in equity-market volatility and thwart speculation of further currency depreciation, easing concern its financial-market turmoil will derail growth.
With seemingly good news followed by bad week-to-week, volatility is likely to linger, Landry said. That's because macro uncertainty is weighing on many investors' minds, particularly those with a longer-term outlook, he said. That has the potential to trump a rate hike, as concerns about the health of the global economy could "continue to roil the equity market."
Such uncertainty is reflected by the performance of the S&P 500 on Fridays, as two of the five biggest selloffs since Aug. 1 have happened on the final trading day of the week. With so much volatility day-to-day and week-to-week, this shows that "no one wants to be caught long over the weekend," Schutte said. "People aren't willing to look past the few weeks. There are different risks that are out there right now."
Before it's here, it's on the Bloomberg Terminal.
LEARN MORE