Harriet Tubman for New $10 Note, Say Historians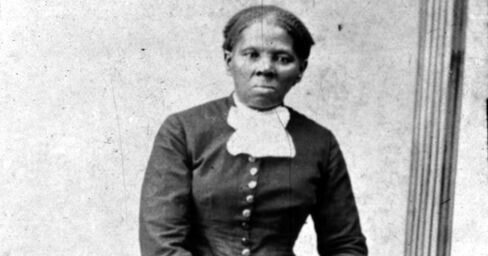 As U.S. Treasury Secretary Jacob J. Lew asks the public which famous woman he should put on new $10 bills, historians he's surveyed privately are building a convincing argument for abolitionist Harriet Tubman.
Catherine Clinton, a Tubman biographer, pressed her case at a meeting Lew held with more than a dozen academics and researchers in Washington in August. Together with other Tubman supporters, she swayed some of her colleagues, including Arwen Palmer Mohun, a history professor at the University of Delaware, in Newark.
"I walked into that meeting with a list in my head, but a pretty firm conviction that it should be a woman of color," Mohun said in an interview. "And I walked out convinced that that woman should be Harriet Tubman."
The Treasury Department has been polling people since June about which woman to honor on redesigned $10 bills that will debut in 2020. That year will be the 100th anniversary of the passage of the 19th Amendment, which gave women the right to vote.
Lew said July 29 he will announce his decision "in the very near future."
Mohun said the U.S. economy was built on the backs of slaves, and the latest redesigned currency should recognize that legacy. Clinton, a professor at the University of Texas at San Antonio, argues that Maryland-born Tubman liberated herself and others, repeatedly risking her life. During the Civil War, she served as a nurse, a scout and a Union spy.
Those attending the Aug. 5 meeting at the National Museum of American History agree it wasn't a debate that resulted in a winner. Still, most of those interviewed either pointed to Tubman as their top candidate or said that while they back other candidates, the arguments for the escaped slave were particularly strong.
'Remarkable Reformer'
"Tubman was a remarkable reformer," said American University history professor Alan Kraut, whose first choice would be Eleanor Roosevelt. "The United States is a racially and ethnically pluralist nation. It is only fitting that the faces that adorn U.S. currency reflect that heritage."
A Treasury spokeswoman declined to comment.
According to the Treasury, the first image of a woman on U.S. currency notes in more than a century should "feature a woman who was a champion for our inclusive democracy." Tubman's story fits that criteria, her backers say.
While the Treasury collects public opinion through social media, town hall meetings and gatherings behind closed doors, Lew has held seven in-person meetings to discuss the candidates. He has also met with presidential biographer Doris Kearns Goodwin, local leaders in Charlotte, North Carolina, and students in New York.
Parks, Roosevelt
Goodwin later said in an e-mailed statement that her top three candidates are Roosevelt, civil-rights activist Rosa Parks and Tubman.
Roosevelt's story is much different. She was a person "born to privilege" who obtained much of her position in life because she was the wife of a U.S. president, said Jon Butler, professor emeritus of history, religious and American studies at Yale University, who also attended the historians' meeting with Lew in August.
Bill Maurer, a cultural anthropologist at the University of California at Irvine, who participated in the same gathering, said the discussion reduced his enthusiasm for Roosevelt after hearing that another first lady, Martha Washington, had already been featured on a currency note.
"We actually had people of African descent on currency in the past, but it has been people who were represented as slaves and these were on Confederate bank notes," Maurer said. Putting Tubman on the $10 bill would be a good way to balance that history, he said.
Before it's here, it's on the Bloomberg Terminal.
LEARN MORE