The Jockeying Has Begun to Fill a High-Paid Job in Washington
Multiple Candidates Want to Lead Accounting Regulator

Position Makes More Money than Obama and Yellen Combined
The race is on to land one of the highest-paying regulatory jobs in Washington.
At least three candidates are jockeying to become chairman of the Public Company Accounting Oversight Board, a little-known body that polices the country's largest audit firms.
James Doty, the current chairman who's fighting to keep the job, makes more than $670,000 a year. Among those being considered to replace him are Lewis Ferguson, a sitting PCAOB board member, and William Duhnke, the top Republican staff member on the Senate Banking Committee, according to two people with knowledge of the matter.
All three have made their case to U.S. Securities and Exchange Commission Chair Mary Jo White, whose agency appoints PCAOB members, said the people, who asked not to be named because the process for selecting a new chairman is private.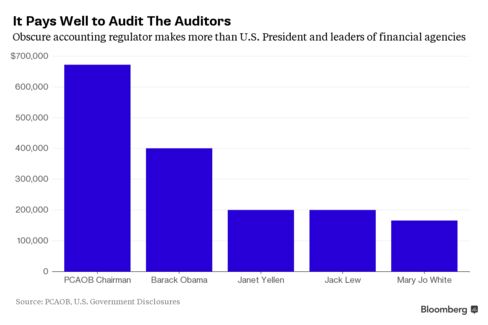 Political Minefield
For White, the appointment is a political minefield and could be crucial in lighting a fire under the PCAOB, which Congress created in 2002 after Enron's meltdown eroded investor confidence in accountants. Since Doty took over in 2011, the board has struggled to enact regulations in the face of industry lobbying.
Last year, it dropped plans for a rule that would have forced companies to switch auditors every decade. While the goal was to make accounting firms less cozy with their clients and bring in fresh eyes to scrutinize corporate financial statements, the PCAOB backed off after House lawmakers voted to block the regulator's authority.
In December, the SEC's own chief accountant, James Schnurr, publicly chastised the PCAOB, saying too many of its rulemaking priorities "simply have been moving too slowly."
Recently SEC officials have signaled they're more pleased with the PCAOB's momentum. For instance, the board issued a plan in June for identifying benchmarks that make up a good audit. White said at a Wednesday meeting attended by accountants and investors that she is "very pleased with the level of coordination between the commission and the PCAOB."
Some of the lobbying over the PCAOB's leadership is coming from Capitol Hill. Senate Banking Committee Chairman Richard Shelby recommended Duhnke to White, according to people familiar with the matter. The pressure has put White in a sensitive situation, as Shelby's committee oversees the SEC's activities. Torrie Miller, a spokeswoman for Shelby, declined to comment.
Lofty Salaries
Congress required the lofty PCAOB salaries to discourage the board's officials from leaving for jobs in the accounting industry. Doty earns $672,676 a year, while board members such as Ferguson make $546,891. By comparison, White earns $165,300 a year as SEC chairman and Federal Reserve Chair Janet Yellen makes $199,700.
High pay isn't the only reason the PCAOB is a plum job. The board has historically escaped the media attention and congressional oversight that the SEC and other financial regulators often attract.
In a brief interview Wednesday, Doty said he wants a second term. He declined to discuss any conversations he's had with SEC officials about the job.
Behind the scenes, his friends are lobbying on his behalf. Twenty-nine supporters of Doty's, including former Fed Chairman Paul Volcker and Vanguard Group Inc. founder Jack Bogle, wrote White urging her to reappoint him.
The group, which includes former SEC chairmen Richard Breeden and Arthur Levitt, praised Doty's leadership in reaching an agreement that allows PCAOB staff to police auditors of Chinese companies that trade on U.S. exchanges.
Auditor Names
Doty has occasionally clashed with some of the big accounting firms. The chairman, a lawyer who was once general counsel of the SEC, often highlights the high rate of deficiencies found by PCAOB inspectors who comb through company audits. Accounting firms have also fought Doty's effort to require that auditor names be published in financial statements, a move that would reveal to investors who actually reviewed a company's books. Audit reports have long carried only the firm's identity.
White said Wednesday the SEC is in the midst of identifying "interested and qualified candidates" and declined to comment further.
White can't decide on her own. The five-member SEC, which has been riven by its own political conflicts, has to vote on the appointment. In a sign of how fraught the selection of a chairman may be, Ferguson's recent reappointment to the board dragged on for eight months before SEC commissioners voted in July to give him a second term.
Before it's here, it's on the Bloomberg Terminal.
LEARN MORE