Pfizer Made 'Groundless Threats' to Pharmacies in Patent Dispute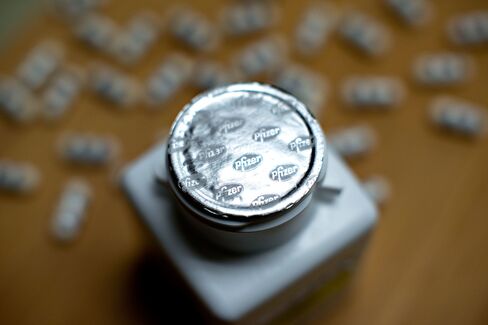 Allergan unit wins patent clash over generic version of Lyrica

U.K. judge chides Pfizer over messages to doctors & drugstores
Pfizer Inc. was accused by a U.K. judge of making "groundless threats" of legal action against British doctors and drugstores if they prescribed or sold a generic version of its best-selling Lyrica treatment.
Judge Richard Arnold issued the rebuke as he ruled that Allergan Plc's Actavis unit didn't infringe Pfizer patents with its version of the drug pregalbin.
Pfizer "cannot justify the threat" in letters and e-mails to British health authorities and pharmacy groups that they may have been breaking the law by offering a generic version, Arnold said. Some of the messages were "calculated to have a chilling effect on the willingness of pharmacies to stock and dispense generic pregalbin."
Sales of Pfizer's Lyrica, used to treat epilepsy and anxiety, reached $5.2 billion last year, making it the New York-based company's best-selling medicine. Patents covering some of the drug's uses have lapsed in the U.K. but Pfizer says its use to relieve pain is protected until 2017.
Pfizer said it a statement it was disappointed with the ruling and would appeal. Responding to the judge's findings on threats, Pfizer said: "Our intention was only ever to communicate the existence and importance of our second medical use patent for the use of Lyrica in pain.
"With the benefit of hindsight and having navigated particularly challenging and complex legal issues, we wish we had been able to explain this better and sooner," the company said in the e-mailed statement.
Actavis began selling its Lyrica copy under the name Lecaent in February for epilepsy and anxiety. Pfizer said Actavis knew the drug would also be dispensed to treat pain, an argument Judge Arnold rejected.
Neither Actavis nor the doctors and pharmacists distributing Lecaent infringed Pfizer's patents, the judge said.
Pfizer has also sued Dr. Reddy's Laboratories and Teva Pharmaceutical Industries Ltd. over their generic pregalbin products.
For Related News and Information:
Top Stories:TOP
Top Legal Stories:TLAW
Top Healthcare News:TOP HEA
Before it's here, it's on the Bloomberg Terminal.
LEARN MORE